Big Technology balances bleeding- leading-edge datacentre tech
Big Technology's Jason Dance tells Alex Scroxton how the newly-established distributor walks a tightrope between evangelising emerging technologies and selling money-spinners today
Last year self-styled super VAD Exclusive Networks – fresh from a lengthy acquisition spree – took the decision to spin out a number of storage and converged compute vendors - Extreme Networks, Silver Peak, Tegile Systems, Avere Systems, Coraid, Nimbus Data and Nutanix, into a new business unit, feeling that it had not really been able to do them justice.

Download this free guide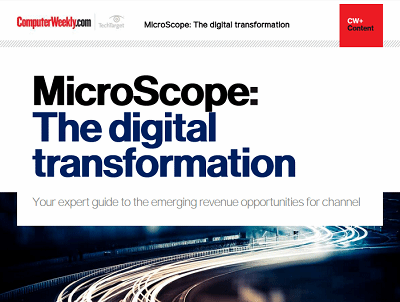 Emerging revenue opportunities for the channel with digital transformation
Digital transformation is a phrase that means many things to many people but for it to have any real relevance to the channel then it needs to mean a chance to make money. This guide will share some of the recent developments in the channel and the latest thoughts about the issue.
Since then, Big Technology, under the stewardship of former Exclusive sales boss Jason Dance, has been refining its messaging, making sure the market understands it is not a pure-play storage distie – it refers to itself as a datacentre transformation business, and has only comparatively recently begun to expand its vendor portfolio.
In terms of its key areas of focus moving into mid-2014, Dance picks up three areas of technology that he is keen to get the channel talking about, virtualised services, where the business benefits are already widely known; virtual desktop infrastructure, or VDI; and network function virtualisation, also known as NFV, a growing move to virtualise network functions normally carried out by proprietary hardware, first demonstrated at the SDN and OpenFlow World Congress in late 2012.
However, in spite of the noise being made around technology such as NFV, it still remains a closed book to many, and reference customers for the channel to study are still few and far between.
"We're always looking at staying at the leading edge – where customers are buying – and the bleeding edge – where they are not," says Dance. "Take VDI – we've known for some time that there were challenges around delivering it because the tin wasn't designed to support compute going from the edge to the core, hence VDI was expensive and people didn't take to it. We now have hardware and software that makes it effective, so people are buying it.
"The next stage is NFV, and already I see vendors decoupling and presenting IP as a virtualised appliance – what we need to do is look at creating the reference architecture for that," he says.
The challenge is, according to Dance, the ability to balance both bleeding and leading, something Big Technology is currently taking very seriously, since at the end of the day its employees still have mortgages to pay and dinner to cook.
"Although we have found a few resellers are starting to embrace NFV and we're getting inbound requests, they are still heavily reliant on ourselves and the vendors," says Dance. "We're still evangelising NFV, but we have to balance bleeding edge with leading edge – Tegile, for example, is today a lower risk and an easier sale. Pluribus [Big Technology's recently launched NFV vendor partner] is potentially more disruptive, but still more conceptual.
"But this is what we've always done," continues Dance, "back to VADition and vendors like Palo Alto or Fortinet five years ago. We've always been aware we must be able to make money today, but demonstrate we understand where the market is going.
"We have a big job on our hands with SDN and NFV, the risk is that we start looking too far into the future and get tied up with stuff that is too far out," he says.
"The sweet spot for me is to remain aware of what's out there but not to get too invested. In terms of products we hear about new ones all the time, but we can't and don't want to take on each one."
As Big Technology continues to roll out across Europe during 2014 – it is already becoming established in France, and Benelux is set to follow soon – Dance believes staying ahead of both vendors and technology will become even more critical, and says the unit will continue to lean on its parent for banking, logistics and so on, freeing up its time to concentrate on aspects such as presales and marketing. In this way, it hopes, it will keep both reseller and vendor partners sweet.
Read more on Infrastructure-as-a-Service (IaaS)