Taking care of datacentre demands
Whether customers opt for an on-demand hosted datacentre or a dedicated in-house facility, there's a key role for the channel. Billy MacInnes reports
Just how big does a company have to be to justify having its own datacentre? Or to put it another way, is there any need for SMEs and mid-market businesses to have their own datacentres? In fact, might we be coming to a point where it starts to become possible for people to begin asking whether there is any need for even large enterprises to have their own datacentres?
From a channel perspective, the issue of whether a company needs its own in-house datacentre or not is significant because it affects the relationship a channel partner might have with a potential customer and the services it delivers.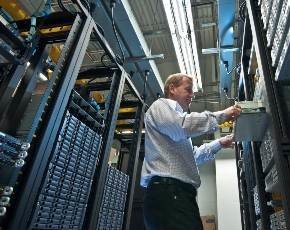 Of course one man's datacentre might not be someone else's. Gary Moore, European partner director at Colt, says it all depends how you define datacentre. "Is a customer which operates six racks of various equipment in one place, with no special arrangements for power, fire, comms redundancy, etc, operating a datacentre?" If that's your definition, then you could argue there are quite a few datacentres in the SME space, he suggests.
It is also probably worth emphasising that the justification for having an internal datacentre is not always dependent on a company's size. As Dominic Wordsworth, product group manager at ComputerLinks, points out, whether a mid-market or SME organisation should go for an in-house datacentre or hosted services depends on their industry and how they process data.
"There is no definitive answer based on company size or turnover – a three-person e-commerce company may need far more computing power than an organisation with a 200-strong workforce," he says.
Datacentre options
There are some fairly obvious reasons why SMEs and mid-market companies might think twice about investing in or continuing to maintain an internal datacentre. One of the most glaring is cost, especially when you look at the alternative of co-location or hosting.
Dominic Phillips, managing director of Datum, highlights "the high capital cost of fitting out an in-house computer room to the levels of efficiency, resilience and service quality available in modern colocation facilities".
Colt's Moore says SMEs and midsized businesses with limited IT staff and budget constraints on upfront capital investment are looking, unsurprisingly, at services such as colocation and managed IT services as an alternative to housing and managing their own in-house datacentres.
And those that do already house servers on their own company premises have a lot to consider. "Not only do they have to provide sufficient redundancy and continuous power and cooling, they must also secure against physical access and invest in disaster recovery systems," he says.
"Moreover, businesses also need to have in-house employees who possess all this expertise. For these reasons, there has been an evolution in recent years towards third-party datacentres and cloud-based providers, which involves 'renting' physical servers or even virtual machines located in a remote datacentre."
This presents an opportunity and a threat to channel partners. Those SME 'datacentres' he mentioned earlier are mostly constructed and managed with the assistance of local resellers. Those resellers have the option of trying to add more hardware on-site, thereby exacerbating SMEs' exposure to imperfect arrangements, he says, or helping the customer migrate into the more modern business paradigm, either through co-location or cloud-based infrastructure, while keeping healthy margins and reducing some of the lower-level maintenance tasks.
Co-location, hosting and the cloud mean that the datacentre market does, in many ways, extend far further today than it did before. Stephen Scott, managing director of Sentrum Colo, believes it spreads as far down as the sole trader level via multiple tiers of resellers and providers.
Things have changed since the days that datacentres were the preserve of enterprises for hosting their own apps and data. Obviously, it was not a sustainable model for smaller businesses when the minimum order for a hosted datacentre was a rack with as much as 4kW power. That has changed as brokers, middlemen and resellers have broken up single racks into chunks to provide a more flexible, affordable solution. Often, they have combined traditional co-location with managed IP Transit, firewalls, intrusion detection or intrusion prevention.
Reseller opportunities
Scott says there are opportunities for channel partners to work with companies that provide what he dubs 'classic' co-location and usually have beneficial arrangements with telcos for point-to-point connections, IP Transit, etc. "They will then be able to add value," he claims, "in the form of managed devices, private cloud solutions, managed backups, VDI management, for example, in a highly secure environment that can produce very good margins without the worry of running the actual datacentre themselves."
Lloyd Butler, head of datacentre sales at Pulsant, agrees. In a data-intensive market, where companies are in desperate need of datacentres and rack space, resellers "can offer the racks companies need without having to make their own investments or worry about the capital implications". With the need for data growing faster than datacentre space, there is an opportunity for resellers to capitalise on the market.
Like Scott, Butler is an advocate for co-location, claiming it offers resellers an unprecedented opportunity to use larger providers' datacentre resources and allow ISP and managed hosting customers to utilise their space. Colocation providers like Pulsant have the scale and security to give resellers and their customers the space to expand and sell extra racks while still making a good margin, he says. Resellers can also make the most of datacentre providers' incentives such as partnerschemes by offering rack space at a reduced cost and setting up a framework to allow expansion to an account and additions to individual client packages.
Hosted datacentres
Everybody seems to be agreed that the channel stands to gain. Tim Pat Dufficy, managing director of ServerSpace, believes there is a huge opportunity for the channel moving into 2013. "The days of the in-house datacentre are numbered for SMEs," he argues – assuming they ever existed in the first place.
Dufficy says it is very hard to justify the cost of running an in-house datacentre given the increased supply and competition in the datacentre market, along with the economies of scale provided by building larger facilities. "I would compare running an in-house datacentre in the 21st century to factories that generated their own electricity during the industrial revolution," he adds.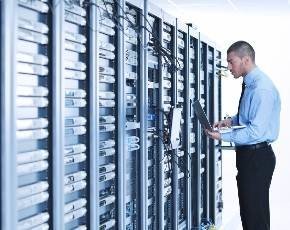 Laura Harman, sales director at Avnet Technology Solutions UK believes there is "little value in building small in-house datacentres (in the traditional sense) for SME customers. It is all about the economies of scale, both from a financial and knowledge/skills perspective".
At the lower end of the mid-market, she notes, Avnet is seeing the emergence of 'hyper-converged platforms' that include compute, storage, hypervisor and networking into a single device, called a block. "Connecting these blocks together makes a solution scaleable and capable of providing compute requirements as and when required," says Harman.
"There is an opportunity for business partners to use hyper-converged platforms to form the basis of an outsourced datacentre model for SME customers." Resellers can transform their business by generating revenues on a monthly subscription basis.
She believes there is a significant opportunity for channel partners to provide hosted datacentre infrastructure and applications to SMEs either via Platform as a Service (PaaS) or Infrastructure as a Service, (IaaS), or applications delivered via the cloud (SaaS). "This is happening now, and channel partners which are not prepared and do not get involved may regret it," says Harman.
Darren Briscoe, technical director at Comms-Care, also sees a great opportunity for channel partners to provide datacentre services for clients via a trusted, specialised IT partner. To do so, they will need to offer computing power on demand, as well as backup and disaster recovery. "In many cases, these datacentre services will be designed and tailored to meet individual client needs as the trend to outsource data requirements continues to grow," he says.
Like many, Briscoe thinks the advent of cloud computing and the option to outsource infrastructure means more and more SMEs will opt to avoid managing their own datacentres and link up with specialist IT support firms to "assist with the smooth transition from internal to external IT operations".
The cloud is making datacentres much more accessible to small and medium-sized businesses, says David Blakey, CEO and founder of Snapt. He says there is a vast price difference between a home-grown solution and the cloud. "When you include the skills shortage and costs of managing the infrastructure, the in-house datacentre market is going to become controlled by large businesses only. As time moves forward and big data abilities grow in the cloud, the in-house datacentre will slowly begin to disappear," he says.
The cloud has helped SMEs to save costs on infrastructure and technical resources, while giving them access to large amounts of resources for limited times as their budget or needs find necessary – abilities that were previously out of their reach, says Blakey.
There also seems little incentive for SMEs and mid-market companies to build datacentres in-house when they can gain access "to top level security and uptime at an increasingly reduced cost" as Butler puts it. Security is a key feature that resellers can emphasise, along with 24/7 support, guaranteed uptime and a T3 level service, all of which are at the top of customers' priorities.
Varying requirements
Jerry Dixon, compute on-demand business development manager at OCF, provides an on-demand service to a number of engineering SMEs that require significant compute resources for short periods of time.
Building a datacentre for a dedicated server cluster to support their work is not practical, he says. The flexibility of an on-demand service is ideal for many SMEs, he says, because they can "avoid costly investments that could be seriously under-utilised when workload is low".
But there are instances where this type of model will not suit certain SMEs. For those that have an ongoing requirement for significant compute resources, the financially sensible route to take is to invest in their own server cluster to support the baseline workload. But they need to be aware of issues such as physical space to house the cluster, power and cooling and the skills to deploy and manage a cluster.
Simon Bearne, UK sales director at Claranet, acknowledges that it is not unusual for SMEs to site equipment on-premise, but most mid-tier organisations increasingly understand the need to site equipment off-premise in appropriate datacentre facilities as they grow.
He believes a higher proportion of the needs of SMEs and mid-tier organisations will be met with off-premise and SaaS offerings over time. "This is less about route to market or technology, and more about increasing confidence, trust and transparency and adherence to standards for compliance and data integrity," says Bearne.
Like everyone else, he points to cloud as a prime mover. Bearne says the gradual collapse of the industry to a set of common standards, coupled with the trend to consume technology as a managed service versus in-house, means there are fewer reasons for mid-size organisations to run their own datacentres.
The same goes for SMEs, says Colin Sheard, managing director of Synapse360. "There really is no need for SMEs to deploy their own onpremise datacentre anymore," he says. "The connectivity and the technology are there and the channel is ready to help and reassure them by providing implementation and support services. Above all, the business case for SME/mid-market cloud services is getting harder to beat."
The good news is that the channel is well poised to lead the charge. As ComputerLinks' Wordsworth puts it: "Whichever option mid-market and SME customers go for, there are opportunities for resellers to help by providing consultancy around them making the decision, offering hosted or cloud infrastructure services, or helping them build out their own, dedicated datacentre."