Storage Expo 2009: preview
We highlight the product launches happening at the data storage and information management event next week. It is a measure of how far things have changed over the past year or so that cost savings should be such a dominant feature of this year's Storage Expo.

Download this free guide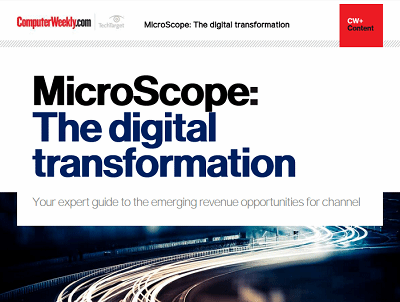 Emerging revenue opportunities for the channel with digital transformation
Digital transformation is a phrase that means many things to many people but for it to have any real relevance to the channel then it needs to mean a chance to make money. This guide will share some of the recent developments in the channel and the latest thoughts about the issue.

By submitting your personal information, you agree that TechTarget and its partners may contact you regarding relevant content, products and special offers.

You also agree that your personal information may be transferred and processed in the United States, and that you have read and agree to the Terms of Use and the Privacy Policy.



We highlight the product launches happening at the data storage and information management event next week.

It is a measure of how far things have changed over the past year or so that cost savings should be such a dominant feature of this year's Storage Expo. And while there had been a strong emphasis on green IT at the 2007 and 2008 events, it seems to have slipped more or less completely off the agenda in 2009 (with only one seminar devoted to green issues) as customers and vendors concentrate more on how to better use existing systems in an era where money is tight.

With a strong line-up of exhibitors (and plenty of them), the pressure is on resellers to use their time as effectively as possible. The following guide, in alphabetical order for ease of reference, provides a selection of product launches and vendor information to help guide resellers through the event this week.

On the subject of resellers, it is worth highlighting that this year's event will, for the first time, feature a "channel zone". The zone includes small meeting areas for resellers to hold conversations with users over the course of Storage Expo.

Exhibitor information

Acronis
Acronis (stand 415) is showcasing its recently launched Acronis Backup & Recovery 10, a portfolio of disaster recovery products that combine data deduplication, enhanced support for virtual environments and centralised management features, based on its disc imaging and bare metal technology.

A-Server
A-Server (stand 299) is active in providing back-up and disaster recovery appliances for channel partners. The A-Server Backup Appliance is installed at the user's site by the channel partner and includes virtualisation to bring live back-up servers instantly. The company also specialises in ready-to-go cloud computing products. A-Server provides turnkey products with DAAS.com that include hardware, cloud computing software and monitoring services delivered to customer datacentres worldwide.

BakBone
BakBone (stand 570) is unveiling the latest version of its flagship product, NetVault: Backup, which reduces storage costs and shrinks back-up windows even further. The latest upgrade will enable BakBone's channel partners to offer customers the latest cutting-edge technologies to effectively address real-world issues while maximising existing investments.

C2C
C2C (stand 100) provides refined email archiving for 25-200 mailbox environments with its C2C ArchiveOne Express product to improve mail system capacity and performance, provide advanced PST management and meet compliance and e-discovery requirements. Configuration is wizard-driven and ideal for smaller organisations that wish to archive everything versus developing an intricate policy library.

CA
CA (stand 440) has recently launched new versions of its ARCServe and XOSoft 12.5 recovery management software. This is the first time both products will be on show in the UK. CA will also launch its latest SaaS product, Instant Recovery on Demand, designed to reduce the risks associated with systems failure for small and medium-sized enterprises.

CommVault
CommVault (stand 360) will be concentrating on its Simpana deduplication product. "With eDiscovery, compliance and SLA requirements still driving data storage requirements up, there could not be a better time for our channel partners to be confidently positioning deduplication as the product that reduces storage pressures," says Vince Blackall, CommVault's EMEA channel director. "Deduplication gives the reseller two big ticks in the boxes marked 'compliance' and 'demonstrable return on investment'."

Compellent Technologies
Compellent Technologies (stand 390) is announcing the launch of QuickStart SE bundles, which it claims enable businesses to adopt storage virtualisation for increased data efficiency and scale from entry-level to enterprise-level storage management capabilities on a single platform.

Data Domain
Deduplication storage specialist Data Domain (stand 250) will be showcasing the industry's first cascaded replication capability, one of several enhancements to its Data Domain Replicator software option. The ability to cascade replicated data enables enterprises to enhance their disaster recovery strategy by using network-efficient replication to electronically transfer deduplicated back-up and archive data to a third destination or additional offsite locations. In addition, Data Domain will be showcasing DD880, which it describes as "the industry's highest performance inline deduplication storage system for enterprise back-up and archive applications".

Dell
Dell (stand 230) will be showcasing its broad range of storage products for organisations of all sizes, including PowerVault, EqualLogic and Dell/EMC offerings.

Double-Take Software
Double-Take Software (stand 340) will be launching two new products at Storage Expo – Double-Take Backup and Double-Take Availability – to make up the company's full workload optimisation suite, alongside its existing Move and Flex products. For the channel, Double-Take's launch of these two new products will offer a wider range of availability and back-up options. Double-Take Backup pulls together continuous data protection, archiving and data replication into one product, which customers can then configure to meet their specific needs.

FalconStor Software
FalconStor Software (stand 435) will be concentrating on its File-interface Deduplication System (FDS) appliances. The company recently announced a number of "double your margin" pricing offers to resellers in an effort to boost reseller numbers across EMEA. Resellers and integrators buying any FalconStor FDS storage appliance may also buy the next appliance up in the range for the same price. The promotion runs until 15 December 2009.

Fordway Solutions
Fordway Solutions (stand 380) is demonstrating an optimised infrastructure solution which enables organisations to improve business efficiency, reduce infrastructure costs, increase resilience and maximise their return on investment. Managing director Richard Blanford will be on hand to discuss how consolidation and virtualisation have delivered cost and efficiency improvements and a greener storage solution for Fordway's clients.

Hewlett-Packard
Hewlett-Packard's highlight of Storage Expo 2009 will be the new Extreme Data Storage (ExDS) product, which can scale up to petabytes of data. HP (stand 240) will feature its virtualised storage portfolio of products and services and hold real-world demos of back-up, disaster recovery and virtualisation.

Hitachi Data Systems
Hitachi Data Systems (stand 350) is showcasing its entire product portfolio and demonstrating how customers can better manage their storage arrays, drive business value from their data and achieve operational and capital expenditure savings. With customers looking to utilise existing assets rather than make new investments in IT hardware, Hitachi Data Systems will be showing visitors how to achieve their goal without compromising on performance.

i365
i365 is expected to announce enhancements to its EVault Plug-n-Protect technology, an all-in-one back-up and recovery appliance designed for fast, economical system and data protection. The EVault Plug-n-Protect appliance consists of pre-configured hardware and storage, and a complete suite of software including EVault Software, EVault System Restore and EVault Real Time Protection.

Infortrend
Infortrend (stand 385) will focus on its ESVA enterprise level storage product line, which it claims provides superior price/performance, a single point of administration and an enterprise scalable virtualised architecture.

Isilon Systems
Recently appointed vice-president for EMEA Mark Stevens will be in attendance at the Isilon Systems stand (285) to provide an overview of the company's focus on virtualisation and future strategy, along with examples of how customers are using its scale-out NAS to deliver solutions within VMware and other virtualisation platforms.

Just Rams
Attending Storage Expo for the first time, Just Rams (stand 510) will be demonstrating NAS and RAID technology using integral solid state drives (SSDs) and unveiling its Micro SSD storage system and small form factor RAID array with custom software.

LSI
LSI (stand 470) will highlight its recently announced Engenio 4900 mid-range storage system, which provides the performance, reliability and robust functionality enterprise customers have come to expect at an affordable price. The Engenio DE6900 high-density drive enclosure is capable of housing 60 3.5in low-cost, high-capacity SATA drives and supports up to 60TB of data in a single enclosure.

Microsoft
Microsoft (stand 550) is expected to feature its System Center Data Protection Manager back-up and protection tool which provides continuous protection integrated with Microsoft applications to create multiple recovery points for IT professionals or application owners to simply and rapidly restore servers or data.

Mimecast
Mimecast (stand 430) is exhibiting the latest version of its next-generation cloud-based e-mail management platform, which provides the features and capabilities of on-premises e-mail offerings in a flexible, cost-effective SaaS delivery model. Mimecast will also be showing several other new features that improve the user experience, including its Litigation Hold, e-Discovery Case Management and Message Retention functionality.

Plan B
Plan B (stand 594) will be unveiling a financial penalty-based guarantee for its fully managed, virtualisation-based, IT disaster recovery service, which is targeted specifically at the UK mid-market. Plan B is so confident of its "100% testing regime" and that customers can be "100% certain recovery systems can be immediately started if needed in a disaster" that it has introduced the recovery guarantee as a standard part of its service terms.

Pillar
Pillar (stand 210) will be concentrating on its "Stop Storage Waste Campaign" and demonstrating how organisations can maximise their storage infrastructure and stop the chronic under-utilisation currently evident in some many storage environments. To support the overall campaign, Pillar will be discussing its recently launched 2TB SATA drives for enterprise customers.

Symantec
Symantec (stand 220) will focus on some of the wider storage issues at the event, rather than sticking to product demonstrations. Four technical PODs will look at storage management, information risk management, data protection, virtualisation and deduplication. There will also be two business PODs focusing on issues around datacentre optimisation and business continuity

TADASoft
TADASoft (stand 127) will be demonstrating its energy-efficient range of low-powered Restorepoint 500 appliances. The appliances can handle up to 500 multi-vendor network devices but use approximately 60W power consumption on an average load.

Texas Memory Systems
Texas Memory Systems (stand 150) will unveil a brand new product that combines servers and tiered storage to offer a performance breakthrough for Oracle users while also delivering scalable tiered storage capacity and extreme reliability at a competitive cost.

Weast Limited
Weast Limited (stand 515) will be launching Netac's AES256-bit encryption USB disc, which features built-in AES256 encryption. The disc can encrypt and decrypt any files on the computer, totally shred any files in the disc and has the ability to be split into secure and non-secure zones.


---

Keynote topics

The keynote sessions include topics such as "Optimising storage through the downturn", "What to look for when buying virtualisation solutions" and "The truth about cloud: myth or reality?".

There are two seminar programmes taking place in tandem over the duration of Storage Expo. The first, titled "It all starts with storage", features 18 seminars, and it is perhaps indicative of the current market conditions that eight of them are focused on reducing or cutting costs. Five of the seminars tap into the current interest around cloud computing and four look at different aspects of virtualisation.

There are 16 seminars running over the two days in the "Don't just store it, do more with it" programme, covering areas such as management of the storage cloud, deduplication, online business continuity and e-mail archiving for SMEs.


---

Focus zones

For the first time the show has set aside a zone for the channel which features small meeting areas for resellers to hold important conversations with users.

There are five other areas. Sponsored by Iron Mountain, the cloud zone will showcase a number of vendors that provide cloud products and services.

The new virtualisation showcase, sponsored by VMware, will provide an exclusive area on the show floor dedicated to key software and hardware vendors that offer products and services which enable server, storage, application and network virtualisation.

With many customers viewing information and content management as inherently linked to storage, information and content management, classification, search and retrieval will be given more focus than ever before in the information and content management area. The proliferation of powerful parallel and distributed systems and an ever increasing demand for high-performance computing (HPC) has led Storage Expo to establish a dedicated area (the HPC zone) for companies that offer high-performance computing solutions.

The Microsoft Solution Pavilion will feature a number of Microsoft Gold Partners providing in-depth knowledge and demonstrations of the capabilities and importance of the infrastructure for supporting business requirements. A variety of Microsoft applications and workloads will be represented and discussed by partners, including experts in virtualisation with Hyper-V, Exchange, System Center and SharePoint.


---
Find out more about the event >>
Read more on Storage Virtualisation Solutions and Services