Stop the press: Managed print services becoming sought after
Most businesses print every day, but are not fully aware of how much they are spending on document management. Billy MacInnes finds that amid this setting, the popularity of MPS is increasing
One aspect of managing IT costs that many firms overlook is printing expenses. Perhaps it's too much of an everyday event to register on the radar. But according to CompTIA research, almost 75% of offices print every day.

Download this free guide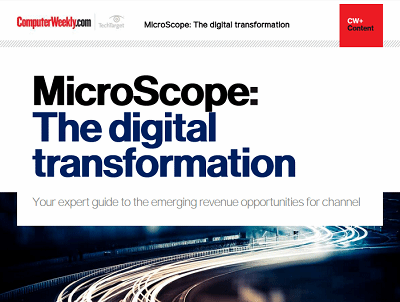 Emerging revenue opportunities for the channel with digital transformation
Digital transformation is a phrase that means many things to many people but for it to have any real relevance to the channel then it needs to mean a chance to make money. This guide will share some of the recent developments in the channel and the latest thoughts about the issue.
The same research found many businesses expect to maintain or increase their level of printing and scanning, but few of them know how much they spend on document management – some executives even believed printing was free or extremely low cost.
"In reality," says Vaughan Shayler, director of channel strategies at CompTIA, "the cost of printing per employee is more than they know."
Increasing take-up of MPS
It's against this backdrop that managed print services (MPS) is becoming widely adopted by vendors and channel partners as a means for customers to manage print costs. Graham Lowes, marketing director at Oki Systems UK, says vendors and distributors are starting to shout louder about MPS because the opportunities for the channel are huge. "Many firms are still wasting money through inefficient processes and diverse and ageing printers," he says. "This is often because they do not realise what can be done to cut costs and update workflow using the new generation of small-footprint, more energy-efficient devices."
A managed service helps businesses buy printers, supplies, maintenance and support in an all‑inclusive ongoing contract classed as operational expenditure rather than having to make large capital investments. "It also provides resellers with regular income and the chance to build strong long-term customer relationships with up‑sell and cross-sell potential," says Lowes.
MPS can also give resellers a chance to deepen their engagement with customers. "Offering an MPS is just the start, and can evolve into a managed document service where the reseller works with customers to streamline the document workflow for quicker and easier archiving, retrieval and sharing across the organisation within a highly secure infrastructure," says Lowes.
But others believe MPS has become an integral part of many resellers' service offerings, which looks set to continue in 2014. Matthew Searle, director of Canon's partner channel, describes MPS as a critical part of what its resellers can offer in conjunction with the provision of a wider range of managed services.
"We work with our partners to help them transform their businesses and become service providers capable of optimising their customer's business and document processes," he says.
Many vendors are launching MPS accreditation schemes to shape their partners' work in this area. "Canon launched an MPS scheme to help identify and develop our leading resellers and the high standards they are achieving in managed print service delivery, technology and customer care," Searle says. The vendor is using imaging research and consulting firm Photizo to independently manage the audit process required for the scheme.
Selecting the right MPS
But not all resellers are the same, so not all MPS offerings should be either, warns Paul Gaiser, general manager for Xerox partner print services sales operations at Xerox Europe channels group.
He says some partners may have a strong background in MPS already and might be looking for ways in which vendors and distributors can add to their strengths. "Others may be new to the game, and may prefer to focus on the customer relationship and commercial opportunities, leaving the print vendor to deliver everything from MPS sales cycle expertise to the full execution of MPS contracts," Gaiser says.
There are differences between what partners expect from vendors and distributors when it comes to MPS. But there will also be big differences in the services their customers require, "ranging from basic print services to more advanced MPS, including print and document-related solutions". Gaiser says this means print vendors need to provide a configurable MPS platform with process capabilities, resources and flexibility across an entire continuum of MPS offerings.
To achieve this, print vendors need expertise they can share with partners through training and certification programmes, and partners need to ensure their print vendors are capable of providing MPS.
"Last, but not least," Gaiser says, "the print vendor or distributor should be able to show a growth path and strategic roadmap."
A natural shift
Lee Mockett, head of MPS at Brother UK, views MPS as part of the natural shift towards services that are dominating the whole of the IT market. "Major changes in working practices are affecting the products we supply and who we supply them to," says Mockett.
He believes MPS solutions are becoming more widely available, filtering down from the enterprise level to the mid-market and SME sector.
Mockett says a service-led approach can help develop a more value-led relationship with customers and establish a level of trust and understanding in supporting customers' long-term aims for their business requirements. He says MPS provides future contracted income in a tough business environment.
Matt Hopkinson, managed print specialist at LDD Group, describes MPS as a great opportunity for resellers to broaden their service portfolio, which plugs a need for SMEs that lack the in-house IT expertise required and need to focus on their core business.
He also echoes Gaiser's point about the different requirements for partners depending on how far down the MPS path they are: "Vendor support is essential for resellers taking their first steps into MPS as they lack the capital to manage maintenance contracts themselves."
But there are dangers in the market as MPS becomes more widely promoted. "Some vendors and distributors have gone from offering an opportunity to selected resellers with the necessary skills and background, to mass marketing MPS to everyone, putting both the customer and reseller at risk," Hopkinson says.
"Without the right expertise, the wrong solutions end up being put in place, which will damage the industry and see MPS reduced to a pricing battle that will be won by the larger companies," he says.
Mindset for longer-term sales
Elaine Hewitt, IT channel team leader at Kyocera Document Solutions UK, is also concerned that, while MPS "remains a considerable source of revenue" to the vendor and its partners, wider availability could have negative consequences.
"With MPS solutions now easily available and widely adopted, it is becoming difficult to offer users anything new," she argues. "That's a concern because it's essential that we can add value as IT budgets continue to be squeezed, hardware margins decline and competition intensifies."
Hopkinson says vendors need to invest in the right support for resellers to make building MPS solutions fast and effective. "As for resellers, they need to think carefully about whether MPS is for them, as the modern MPS contract is about producing a solution, not just cheapest price per page," he says.
Searle at Canon says resellers need to adapt to a longer-term sales mindset if they want to become successful in the MPS market. "It could represent a fundamental change in their traditional sales cycles," he says. "The approach of addressing an isolated business issue by offering a single product or managing an isolated element is no longer a business model for growth."
MPS requires resellers to understand customers' businesses as a whole and identify how software and solutions can improve and streamline processes in the long term. "To achieve this service-orientated approach and consultancy status, resellers must work closely with vendors to open the door to MPS sales opportunities," he claims. "Additional support and training from vendors means resellers can develop skills within their teams and move to a sales model that considers longer-term customer needs."
Lowes at Oki Systems agrees: "These services require far more than just a one-off technology sale and vendors have a big role to play in the ongoing training of channel partners to support them in providing the business consultation required."
Differentiating
Shayler at CompTIA says resellers considering MPS should not jump in full throttle without a plan. "Experienced MPS providers ecommend newcomers take some time to learn the market and continue to tweak their strategy to succeed," he comments.
In response to Hewitt's concern that it is becoming difficult to offer anything new, Shayler says there is a requirement for vendors and partners to differentiate their business from the competition. He suggests one way is to use CompTIA's vendor-neutral Managed Print Trustmark business credential, which is designed to advance and differentiate organisations offering MPS.
Ricoh Managed Document Services has gained the accreditation, which marketing director Dominic Keogh believes reassures customers that its services have undergone a rigorous assessment. "It will assure a high level of customer service and delivery," he says. "It affirms our promises to deliver efficiency, productivity and sustainability saving. The Trustmark also gels with Ricoh's five-step process, but with the peace of mind for the customer of an independent validation."
The vendor is seeking to extend the accreditation to its partners, Keogh reveals: "We are also working with our channel partners to help them attain the accreditation. We believe there is a big opportunity for our partners to move from products to services, expanding their markets and profit potential. Being able to show they adhere to industry best practice gives them a head start.
"A broader level reseller should assess the trends in their market, define its strategy and do a SWOT analysis to determine changes needed and support levels they should seek from a print vendor or distributor," says Gaiser.
A good print vendor or MPS provider with broad capabilities will be able to guide resellers through such a process, he believes. "It's important for resellers to look for print vendors that can deliver a spectrum of MPS capabilities so they are able to find the MPS solution and support that best fits their needs."
At Kyocera, Hewitt emphasises the benefits of its Elite education programme for support channel partners to understand its ranges of products, including MPS. But he thinks another way to potentially provide some differentiation is its cloud print service (CPS). "It expands the scope of MPS to include the complete document environment, outsourcing the print server, software and security to an offsite datacentre," she says. "We think CPS has the potential to be a natural successor to MPS. It builds on the same proven benefits, making for an easy sale and helps customers release even greater resources while making the print environment more flexible."
Amid all the upheaval to sales models and revenue models threatened by the shift to MPS, Shayler at CompTIA says there is another unintended consequence of a successful MPS contract: that the reseller will not be visible to the customer. "A problem in MPS is that doing your job well – by running the printers at peak efficiency without any problems, for example – can make you appear invisible, leading the customer to question the contractor's value," says Shayler. "MPS executives recommend meeting regularly with customers to provide progress updates. The meetings keep your company top of mind with clients."
With vendors becoming ever more active in the MPS space and the lure for resellers becoming stronger, Hopkinson at LDD wants to bring some perspective to where the market will go this year. "The last couple of years have been a bit of a trial period for vendors introducing resellers to opportunities into the MPS arena," he says, "and as with everything, mistakes have been made. I think in 2014 things will begin to settle and vendor services and solutions will become slicker and more comprehensive."
Read more on Managed Print Services