New rules for flexible working and shared parental leave
How changes to flexible working arrangements and shared parental leave will affect employers when they come into force this year
The Children and Families Act 2014, which received royal assent on 13 March 2014, makes key changes to the law in relation to vulnerable children, children whose parents are separating, children with special educational needs, working parents and adoption.
However, although the headline involves children and families, by definition, the Act will have an impact on employers. In particular, employment law will change in relation to flexible working and shared parental leave, which takes effect at the end of June.
Also, from 1 October 2014, prospective fathers or a mother's partner may take time off work for up to two antenatal appointments.
Flexible working rules
From 30 June 2014, the rules in relation to flexible working will change, widening the category of employees eligible to make a request for flexible working. The intention here is that the overall productivity of the workforce should increase, with staff turnover and sickness-related absences being reduced.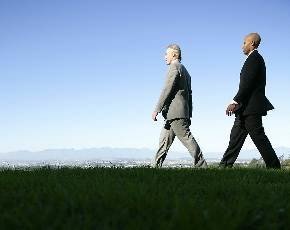 Until 30 June, only parents of children under 17 years old (or 18 years old if the child is disabled) or those registered as carers are eligible to make a request for flexible working. But as of 30 June, all staff with 26 weeks' continuous service will have the right to request flexible working as long as they have not already made a request in the last 12 months.
As well as widening the category of eligible employees, the statutory procedure contained in the Flexible Working (Procedural Requirements) Regulations 2002 will no longer apply. This will allow employers more flexibility in how they handle requests as long as the requests are dealt with in a "reasonable manner" and the decision is notified to the employee within three months (including any appeal/appeal decision).
Under the new rules, employees will have the option to agree an extension to this timeframe with their employer and this might be of benefit, for example, where an employer suggests a trial period before a final decision is made.
To ensure that employers handle requests in a "reasonable manner", employment advice organisation Acas has produced a draft code of practice that will be given statutory force and be taken into account by any tribunal. The code of practice provides simplified guidance on how the decision process should look.
Employers should first arrange to talk to the employee as soon as possible. This should be a professional conversation out of earshot of other members of staff, with the employee having the right to be accompanied.
Even if an employer intends to grant the request, it is advisable to speak to the employee first because the need for flexible working may only be temporary, and this is important for an employer to know so it can manage its workforce effectively. Alternatively, an employer may intend to refuse the request but, after discussions with the employee, realise a compromise can be reached.
Business impact
Each request should be considered carefully and objectively, weighing the benefits of the request for the employee and the employer's business against any adverse business impact. Under current law, the request can only be refused on the basis of one of the eight business reasons set out in s80G(1)b) of the Employment Rights Act 1996.
Whatever the decision, the employer should inform the employee, preferably in writing to ensure clarity.
If the request is accepted, the employer should discuss how the changes will be implemented and detail any changes in terms and conditions. If the request is refused, the employer should provide a valid business reason and notify the employee of their right to appeal.
Although many employers already allow flexible-working requests from all staff, employers will no doubt be worried about the influx of new requests and the lack of guidance on how to treat competing requests.
There will certainly be a risk of employers reaching saturation point. It is therefore encouraged to ask other employees, who are already working flexibly, whether they would like to return to work full time.
Employers will also need to be careful not to inadvertently discriminate against employees who are making a request in relation to the Equality Act 2010 for reasonable adjustments in working.
Getting it wrong
Employers that fail to deal with a flexible working request in accordance with the required procedure risk facing an Employment Tribunal complaint. Failure to follow the correct procedure may result in a tribunal ordering the employer to reconsider the employee's application and potentially pay the employee compensation.
Perhaps more seriously, an employee may argue that the reason for their employer rejecting their flexible working request was discriminatory, and seek compensation from an Employment Tribunal for the injury to feelings that they have suffered as a result. The awards for discrimination are uncapped.
Shared parental leave
It is proposed that the draft shared parental leave and pay regulations will come into force in October 2014 and will apply to babies born on or after 5 April 2015. These new regulations will also apply to adoptive parents. There are also draft maternity and adoption leave curtailment regulations that will allow individuals to curtail their entitlement to maternity/adoption leave to take shared parental leave.
The regulations as currently drafted are particularly complicated and in need of simplification. The government is expected to publish further guidance this summer.
These regulations are intended to provide a change in culture and encourage flexible working. Mothers will have fewer barriers to career progression and will be able to return to work after the birth of their child without having to wait until the child is 20 weeks old before their partner can go on leave.
Maternity leave
Mothers will continue to be entitled to 52 weeks' maternity leave, but the new regulations will allow them flexibility as to whether to take all 52 weeks as maternity leave or share some leave with their partner.
Mothers must take two weeks' compulsory maternity leave, but 
the remaining 50 weeks can be taken as maternity leave or as shared parental leave, provided the mother (or main adopter) has curtailed her 
maternity leave.
Fathers will continue to be entitled to two weeks' paternity leave immediately after a child's birth, but additional paternity leave, whereby the father could take a further period of 26 weeks once the mother had gone back to work and the child has reached 20 weeks old, will be replaced by the new regulations.
For an employee to be eligible for shared parental leave, they must have 26 weeks' continuous service at the relevant date (at the end of the 15th week before the expected week of childbirth or the notified week of adoption) and still be employed in the week before shared parental leave is due to start. The employee's partner must also have 26 weeks' continuous service and meet the minimum earnings test.
It is proposed that statutory shared parental leave pay will apply for 39 of the 52 weeks (reduced by any element of statutory maternity pay received by the mother). The first six weeks will be paid at 90% of the average weekly earnings, before tax, of the parent who is on leave.
The further 33 weeks will be at 90% or £136.78 a week, whichever is the lower. It is, of course, open to employers to pay enhanced shared parental leave pay.
Eight weeks' notice
Employees are required to give their employer eight weeks' notice of their intention to take shared parental leave (including an indication of the pattern of leave requested) or to curtail their maternity leave. This should help reduce uncertainty for employers.
The regulations also contain details about how many times an employee may request a change to their shared parental leave pattern and in what circumstances and by using what procedure an employee may change their mind.
Alternating blocks
Shared parental leave will allow a mother and her partner to take 50 weeks concurrently, separately or in alternating blocks of at least one week at any time up to 52 weeks from the date of birth (or the date the child is placed for adoption).
Employers cannot refuse shared parental leave, but they can refuse discontinuous blocks of leave. It is worth noting that a company policy of refusal may result in discrimination issues.
Smaller blocks of leave could be advantageous for both an employer and an employee, particularly where the period of leave would otherwise cover a critical time for the employee in terms of promotion, or the employer in terms of work demand or the need for specialist skills.
Right to retain a job
The right for an employee to retain their job remains the same: if the period of leave does not exceed 26 weeks, the employee has the right to return to the same job. This will apply whether or not the leave is taken continuously. If the period of leave exceeds 26 weeks, the employee has a right to return to the same job or, if not reasonably practicable, a similar job.
Keeping-in-touch days
Mothers on maternity leave will still be entitled to 10 keeping-in-touch (KIT) days. The new regulations will provide 20 additional KIT days for each parent on shared parental leave.
It remains to be seen what remedies may be available to employees if their employer fails to act in accordance with the new regulations. It is likely that a failure to implement the rules correctly will result in employees raising grievances and pursuing Employment Tribunal claims against their employer.
Again, employees are likely to argue that they have suffered discrimination and will seek compensation from their employer for the injury to feelings they have suffered.
Summary
Employers are advised to examine the changes carefully and implement new policies for both flexible working and shared parental leave in consultation with employees and their representatives.
Current maternity, paternity and adoption leave policies will need to be amended in light of the changes and employers should also consider amending their current disciplinary policy to include the provision of fraudulent information in relation to shared parental leave in the list of instances amounting to misconduct/gross misconduct.
It may also be wise for employers to provide precedent forms to ensure employees include all of the prescribed information in their notice or request. This could be particularly useful for flexible working requests, serving as a means for the employer to enquire whether the request is in relation to the Equality Act 2010.
Mark Stevens is a solicitor at Veale Wasbrough Vizards.