MicroScope ACEs 2013: A lifetime of channel achievement
Simon Quicke talks to Martin Hellawell, winner of the lifetime achievement award at the MicroScope Awards for Channel Excellence
Ever since the MicroScope Awards for Channel Excellence started, there has been a lifetime achievement award to recognise some of the incredibly talented individuals that have spent their working lives in the channel.
Over the last few years there have been winners from all levels of the channel – resellers, distributors and vendors – and this year the award goes to someone that has many working years left to go but has already made a major impact at a reseller level.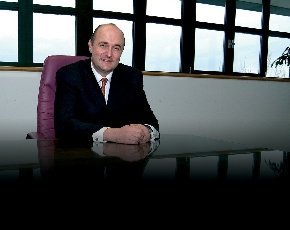 Over the years, he has worked in both the UK and on the continent and his success has stemmed from his value of colleagues and staff and the passion he feels for an industry he describes as a community he loves being part of.
There can be few in the channel who have not heard the name Martin Hellawell and increasingly fewer conversations where Softcat does not crop up as an example of a mid-market player that is a leading exponent of what the channel can do well.
Just going to visit Hellawell at the Softcat office in Moorgate, London, involves walking past rows of young staff busy on the phones and sampling the buzz of an office that is based on rewarding and appreciating the people that work for it.
For Hellawell, the decision to enter the IT industry goes back to his university years when he was looking for a career that would provide him with the chance to quickly make his mark.
It was an era when there were role models that had shown how it could be done, with both a young Bill Gates and Steve Jobs starting to make waves the other side of the Atlantic.
"I made a conscious decision to get into the world of IT," says Hellawell. "I was ambitious and I wanted to get on and it seemed to me that in IT young people could get on quite quickly and there were 26 year olds who were leading the world at the time. There was Bill Gates and Steve Jobs and they weren't that much older. You looked round the traditional things like banks and insurance and you had to be 55 until you really got to do anything. It was about where could I get on quickly in a vibrant industry."
Even before he set out to get a job in IT he had enjoyed a year working with Alcatel as part of his university course, which was a double honours of management studies and French. The choice to study that language has had quite an affect on Hellawell personally and professionally as his career has taken him over to the other side of the English Channel on many occasions. The first destination for a young and hungry Hellawell was Miles 33, where he was taken on board to help with marketing but quickly started flexing his muscles in sales and then got a chance to show off his skills ordering beer in a French bar after being given responsibility for setting up a subsidiary on the continent.
He might describe himself as rusty these days but he lived in France for around seven years and found his style of speaking French with a British accent managed to make him memorable for customers.
But with Apple moving into the publishing market that Miles 33 operated in, he decided to look at what else was happening on the PC scene and from his Parisian location, managed to seek out ICG, the French joint venture of Computacenter.
Peter Ogden, one of the original founders of Computacenter, had responsibility for the international operations and spotted something in Hellawell that led to him being brought back to the UK to become the group marketing director.
"I had a fantastic time. It was around 1993 and they were really good times in the computer industry Computacenter was flying and it was great fun. Mike Norris was a great leader and there was a really good team and lots of talent there. They gave me lots of free rein, so I picked up the software licensing business and it became like an incubation unit The Sun business started there and the IBM business and then grew out into the main business," he says.
The key to success
"There is no magic formula," says Softcat chairman Martin Hellawell. But there are things that you can do to make a reseller successful. At the heart of making the business work is a passion for people, whether they be staff, customers or suppliers.
"Leading by example, working bloody hard, being honest when there is a problem but giving a pat on the back and being consistent and doing it for a long time," is his personal approach to leadership.
But Softcat also looks for fresh talent to join the business and to avoid complacency creeping in: "The key is identifying bright young talent to join you. We put so much effort into that because if you have the right ingredients in the first place you have a chance of success."
The change in responsibility led to a change in job title to corporate development director, which coincided with plans to do more acquisitions and expand further internationally. Come 1997 and Hellawell found himself flanking Mike Norris, the CEO, as they went into a meeting with the French management team. Relationships were not at their best and after a difficult session, the two UK staff members popped out of the room for a break. What happened next would determine the next period of Hellawell's career.
"I went out of the room with Mike and we had a little debriefing in a quiet room during a break. I said to Mike that the issues seemed serious and that if he really wanted me to help I would have to spend a lot of time out here. He said that it would be difficult because there was a lot that I had to do back in London. We went back into the room and he looked at me, he didn't say a word, then he said 'I have considered the situation and I have just appointed Martin to be your new managing director'."
Becoming managing director of the French organisation was a period that Hellawell describes as "hard work but a great time", as he helped turn the organisation from a €50m turnover to a €300m operation in just three years and become the number one Compaq reseller in France.
He returned to the UK after three years because he had a daughter and the commute he had been doing working in France four days a week wasn't going to be sustainable once his family started.
Returning in the dotcom era Hellawell came back to Computacenter and helped at Biomni, the channel players e-procurement system specialist that had been spun out at the height of the boom.
"The dotcom thing had cooled so they sent me in as COO to help turn it into a sustainable business," he says pointing out with pride that the business is still running today.
After 12 years with Computacenter Hellawell started to think about life outside the firm. But with the opportunity to acquire GE in the UK and France, he spent three months working on that deal with its many meetings with numerous GE executives and lawyers. "It was an interesting deal because we ended up selling them our German business and we bought their UK and French businesses," he says.
Stepping down
A spell running the Hatfield logistics operation followed, but Hellawell was still wondering what life could be like outside Computacenter and he finally decided to step out of the firm.
Previous winners of the MicroScope ACEs Lifetime Achievement Award
"I regretted that for two or three years," he says "I left on friendly terms and I am still good friends with lots of people and I still love the organisation but there wasn't a position at the time that I fancied."
He was going to go and live in New Zealand, his kids were pre-school and so they could have gone for a couple of years, but the move didn't come off and so he stayed in the UK and ended up working at SCC.
"It was a really good company that treated me really well but it just wasn't for me," he says. "We had a good deal where we said 'let's try it for six months' and we got to the end of that and I said 'it's not going to work' and left on good terms and I thought that was it. I thought I would do some consultancy but never thought I would get back into the industry again full time," he says.
There were moments he even considered leaving the IT industry altogether, but on closer inspection the alternatives did not offer what the channel could deliver: "The IT industry is a great industry. When I left Computacenter, I thought that I would get out of the IT industry because there must be other industries out in the world but they were so boring and had been the same for the last 10 years and I liked the vibrancy of the IT world where things are changing every five minutes."
Headhunted
One day a friend called and said that a headhunter had approached him about a job that, although wasn't right for him, would, in his view, suit Hellawell, and from that initial friendly suggestion the Softcat story began.
More on Softcat
"They called me up about nine and a half years ago. I went through the interview process but I told them I was not looking for a job but was happy to talk. We got to the end of the process and they offered me the job and I turned it down. I was not sure I wanted to get into something full time. A month later they phoned and said 'we think you are making a mistake'. They knew I was a consultant so they got in me in as a consultant and told me they thought I would enjoy it and want to stay, which is exactly what happened," he says.
He identified areas he could add value and make an impact at Softcat and he started by helping the firm work out where it was going.
"First thing we did was say we don't just want to be a software licensing company we want to be a full blown IT services and solutions reseller," Hellawell says.
There was also a focus on being a "nice, friendly, fun company to deal with that delivered good results at the same time" making sure both staff and customers were happy. Where that philosophy came into its own was when the bad times started to bite.
"Four years ago, pretty much all of our competitors in the mid-market saw the recession and battened down the hatches. They stopped recruiting and had an internal focus looking at cost reduction. We had a good balance sheet and I remembered from my Computacenter days that it was during the recession of the early 1990s that it became the great company that it is, because it invested, so I thought let's invest and we went hell for leather on recruiting and training them up. We invested really heavily and got aggressive in the right way – hard-working and focused – and it paid off in droves," he recalls.
Staying relevant for the future
Those plans of leaving the industry could not be further from his mind and the last few years at Softcat have reignited his passion for the channel: "I still love this industry. When I was 20, I wanted to retire when I was 50. After SCC, I thought I was in semi-retirement early. But something has happened over the last eight or nine years and now I want to continue forever. The things I really enjoy are meeting people and making new friends and contacts and I like seeing businesses and people develop. I do enjoy this industry and it's not just the work, it's the community."
Bringing in Colin Brown as managing director of Softcat last year was an attempt to avoid the complacency that Hellawell thinks is one of the biggest dangers in the industry and the firm tries to bring in new blood to ensure things keep moving.
"I was very hands on and operational, so that has been a learning curve to pick up the news skills of adding value to Softcat but give the managing director the business," he says. "Letting go of the operational stuff and the running of the business has been easier than I imagined, but demonstrating my value when trying not to get involved is pretty hard. I do a lot of external stuff and working with the vendors. That largely keeps me out of trouble."
That might provide a longer term buzz than the excitement of being there when the deals are struck but with his passion for people and the channel community, it is one to which Hellawell is ideally suited as he enters the next phase of his channel career.