In depth: Selling Windows 7
It is the biggest release of the year and arguably the most important in Microsoft's history, but will Windows 7 live up to expectations and erase the ill will caused by Vista?


It is the biggest release of the year and arguably the most important in Microsoft's history, but will Windows 7 live up to expectations and erase the ill will caused by Vista?

Windows 7 marks the first time since the Wintel partnership began that most home and business users will have no reason to upgrade their hardware to manage the next operating system.

This places the PC industry in the position of having to find ways to ship more desktops and portables other than on the back of a new operating system. This situation may inspire a higher level of innovation in the hardware space, but it may also inflict some short-term pain.

More broadly though, it is a reflection of the stripped-down, web-oriented style of computing that has emerged over the past few years and which has seen the likes of Google causing small beads of sweat to form on the foreheads of Microsoft executives. Clunker operating systems are a thing of the past, while web-based applications are real and here to stay.

The development and launch of Windows 7 shows that Microsoft is responding to the times, and this will have big implications for the entire tech sector, including the channel.

A shot in the arm

Apay Obang-Oyway, head of software and mobility at Ingram Micro, thinks Windows 7 will boost innovation as well as deliver a much needed shot in the arm for an industry battling tough times.

"Windows 7 presents new prospects for channel partners to marry business strategy with technology strategy," he says.

"It is not just another operating system that enhances the CPU experience; it is about looking at the entire estate. Particularly from an organisational perspective, Windows 7 makes it possible for resellers to sell on value."

Because Windows 7 is able to run on less powerful machines, such as netbooks, this release is expected to be far and away the most lucrative Microsoft has produced. According to Martin Gilliland, vice-president for IT research at Frost and Sullivan, Microsoft has a target of at least 250 million of the installed base for a PC upgrade. He says this is a number Microsoft has never seen before.

"In Microsoft's current situation it doesn't matter if a user is on Windows 98, 2000, XP or Vista; as long as users have a PC that is 'Vista-ready' then they are a target for an upgrade to Windows 7 – with or without a hardware upgrade."

Many resellers will have to take a hit from the fact that plenty of users will simply upgrade their existing machines to Windows 7 and not be in the market for a new desktop or portable. They are, however, expected to see a marked increase in integration and services business.

"Much of the value for the channel will be in integration," says Laurence Painell, Windows OEM & WGA product manager at Microsoft.

Windows 7 has been described as a polished version of Vista, which means that upgrading from Vista should be fairly straightforward for most users. Not so moving from XP.

Three years after the launch of Vista, most of those users who stayed with the more popular XP operating system are starting to feel a little anxious about support, and it is expected that there will be quite a large number looking for someone to hold their hands as they leapfrog Vista to Windows 7.

Testing timescales

Analysts estimate that most companies will take between 12 and 18 months to get through all of the testing and preparation to fully move over to Windows 7.
"This is not an inexpensive project," Gartner analyst Michael Silver warned attendees of a recent Windows 7 webcast.

However, users should take comfort from the fact that Windows 7 is the result of a very wide consultation. In fact, with eight million beta testers worldwide (800,000 of whom were in the UK ), this was the biggest beta test of all time.
"This has been a far more public and open process – we wanted to capture as much feedback as we could," says Painell.

The infamous device driver problems with Vista are gone, along with many of the other shortcomings of the OS. But the scope of the beta test also ensured that several smart user-driven ideas were incorporated into Windows 7.
There is better cache management, improved system search facilities and, for the first time, a multi-lingual user interface.

The security features of Windows 7 are considered to be way ahead of those in Vista. Microsoft says Windows 7 gives administrators more control over how data in their environment is protected, from policy-configured Active Directory Domain Services integration for the escrow of recovery keys to simple and efficient hardware recovery processes.

Featured with Windows 7 Enterprise, BitLocker provides an integrated management experience for IT professionals. BitLocker to Go also gives administrators control over how removable storage devices can be utilised within their environment and the strength of protection that they require.

Mobility

Microsoft has also done plenty of work on the mobility front. For example, a new feature in Windows 7 Enterprise called Direct Access gives mobile users seamless access to corporate networks without the need for a virtual private network (VPN).

"Windows 7 has a number of incredibly powerful technologies to help people be productive on the move," says Obang-Oyway.

Users interested in virtualisation should probably consider the 64-bit version of Windows 7, which is expected to be far more usable than it was with Vista. And as development of 64-bit versions of Office and other applications advances, it is likely that larger numbers of users will go for the more powerful version of the operating system in future.

As more companies seek to utilise virtualisation in their datacentres, they are also going to need assistance on the technical front as well as with licensing issues, which are notoriously complicated.

"Microsoft reps don't even really understand VECD (Virtual Enterprise Centralized Windows Desktop)." says Gartner's Silver.

Windows VECD is an annual device-based subscription that enables organisations to license virtual copies of Windows 7 (or prior OS versions) in a variety of user scenarios.

Licensing

Ingram Micro's Obang-Oyway says Microsoft has worked hard to simplify its licensing programme, while the resellers have worked hard to increase their capabilities, particularly in understanding the transactional nuances that face software customers. For the past several years the distributor has run boot camps designed to improve its partners' grasp of Microsoft licensing.

"The channel must ensure it has the understanding of the various software vendor's licensing programmes built into its capability in order to give resellers the ability to give end-user customers the best possible transactional advice for their technology needs," says Obang-Oyway.

For Windows 7 the channel needs to familiarise itself with the terms of Software Assurance and Volume Licensing.

Once Windows 7 Professional licences have been acquired, either through Volume Licensing upgrades or through an OEM, users can cover them with Software Assurance to get rights to Windows 7 Enterprise. Enterprise offers special features such as BitLocker Drive Encryption and Multilingual User Interface Language Packs, as well as access to the Microsoft Desktop Optimization Pack.

Users with Software Assurance also get TechNet benefits, extended Hotfix support, 24x7 support, access to e-learning services, and training vouchers.
For PCs not covered by Software Assurance, there is the cheaper option of purchasing upgrade licences through a Volume Licensing programme.

Each desktop that runs the Windows 7 upgrade must first be licensed to run one of the qualifying operating systems – Windows Vista Enterprise/Business/Ultimate or Windows XP Professional – otherwise the PC will not have a valid Windows licence.

Few would disagree that Windows 7 marks a major departure for the PC industry from the traditional CPU cycle. However, Microsoft's Painell expects that the new operating system will lead to some exciting innovations on the hardware front, allowing manufacturers to create greater differentiation between their products.

For starters, Windows 7 is written to better utilise more modern hardware types and is better equipped to accept extended memory. Up to 196Gbytes of memory, he says.

There is also support for "touch" computers and GPS location-based features. "All PC manufacturers have taken the opportunity to upgrade all or most of their product line for Windows 7," Painell says.

Of course, there is a potential downside for Microsoft to this in that hardware manufacturers will increasingly look at making products able to run or already installed with software other than Microsoft's. Dell, for instance, recently launched a PC pre-loaded with Linux.

The Google factor

With Google pushing a world where cheap or free applications can run anywhere on anything, Microsoft knew it had to come up with an operating system with some flexibility.

When Windows Vista was released no one was talking about web-based office applications in the cloud, nor would the chiefs at Redmond have thought that seriously about Google as a direct rival. There can be no doubt about that now, with the internet giant's "Gone Google" advertising campaign for its cloud-based office applications going global last week.
Microsoft has been cultivating its own web-based services. How these will interact with and complement Windows and the Office suite remains to be seen.

To be sure, Microsoft has a lot to fear, and if Vista was a somewhat slapdash and hasty effort, Windows 7 by comparison has been a finely tuned military operation.

The new OS will be supported by an unprecedented number of software products from other developers. Painell notes that when Vista Service Pack 1 came out there were around 2,700 compatible applications available to run on it. There are already more than 7,000 for Windows 7, with another 1,400 on the way. This is all good news for resellers.

End of an era

The arrival of Windows 7 signals the end of an era in many respects, and the channel must now begin to wean itself off its long dependency on Moore's Law and think more laterally about its customers' needs in the context of web-based applications, mobile computing and the inherent benefits and challenges presented by them.

"It is in understanding the wider role Windows 7 and other complementary technologies play in achieving sustainable competitive advantage for businesses that the true opportunities start to present themselves," says Obang-Oyway.

Microsoft has not set a date for the release of Service Pack 1 for Windows 7. However, users are being urged not to wait for it because the beta version of the operating system was so successful and there will be plenty of online updates along the way. It is estimated that most businesses will take between 12 and 18 months to move themselves across to the new operating system.
For resellers, Windows 7 represents an opportunity to develop strong relationships with their customers. This time around though, it is as much more than agents for Microsoft, with users looking at and needing a much broader array of options from more companies.

The emergence in the software market of companies such as Google and the rapid acceptance of web-based applications and cloud services meant that Windows 7 had to be more than a repeat of the same old Wintel narrative.
"With Windows 7 Microsoft has been more focused on what people actually want," says Gartner's Silver. "Microsoft has shown more flexibility than we have seen in the past."

In short, it knows that the landscape is changing and that it needs to change with it to survive.

Silver says, "Windows and Office may not dominate the next decade, but Microsoft still may."


Download this free guide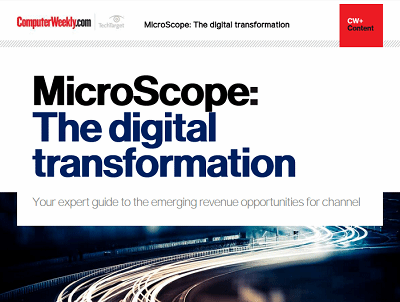 Emerging revenue opportunities for the channel with digital transformation
Digital transformation is a phrase that means many things to many people but for it to have any real relevance to the channel then it needs to mean a chance to make money. This guide will share some of the recent developments in the channel and the latest thoughts about the issue.
By submitting your personal information, you agree that TechTarget and its partners may contact you regarding relevant content, products and special offers.
You also agree that your personal information may be transferred and processed in the United States, and that you have read and agree to the Terms of Use and the Privacy Policy.
Read more on Business Intelligence Tools and Services