Five Minute Interview: Tim Beck, Overland Storage
This week, MicroScope's famous Five Minute Interview catches up with Tim Beck, regional sales manager for northern EMEA at Overland Storage
Tell us what you do for a living.
I am the regional sales manager for northern EMEA, Overland Storage. I look after the day-to-day running of the team including our people, our partners, our services and most importantly our sales.
Why are you the right person for this job?
I have been in the storage industry for many years. Having worked for IT vendors for most of my career, I understand the challenges and issues facing my team and my customers.
What gets you up in the morning?
My lovely collie dog Harry, but in a work environment, it's the challenges that a new day brings.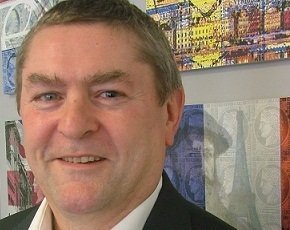 Who helped you get to where you are today?
Lots of different people, I couldn't say one particular person. It also takes a lot of hard work and good advice from experienced people along the way.
What is the best or worst business advice you have received and from whom?
Best advice – never burn bridges because you never know when you're going to need to cross them again. Worst advice – just wing it.
What advice would you give to someone starting out today in IT?
Work hard and be professional. You need to keep your wits about you because IT changes so much.
What's running on your smartphone?
Business apps, including: Salesforce, LinkedIn, business news, stocks and shares. I don't have the time for games such as Angry Birds unfortunately.
Even relatively complex storage solutions are being dumbed down by certain vendors which makes it difficult to maintain USPs
What does the next five years hold for the channel?
Lots of uncertainty and many more challenges. The biggest one is the constant change and the requirements of businesses. Products are becoming more commoditised and it's affecting the way we do business. Even relatively complex storage solutions are being dumbed down by certain vendors which makes it difficult to maintain USPs.
Tell us something most people do not know about you
I dabbled with some amateur dramatics and played Jesus in Jesus Christ Superstar for a drama group when I'd left school.
What goal do you have to achieve before you die, and why?
To pay off my mortgage because my pension won't be enough to cover my retirement and I want to be able to enjoy myself.
What is the best book you've ever read?
Red Storm Rising by Tom Clancy, because I love thrillers, it was a real page-turner. I couldn't wait for what was going to happen next.
And the worst film you've ever seen?
Firefox with Clint Eastwood because it was seriously corny.
What would be your Desert Island MP3s?
Stairway to Heaven – Led Zeppelin; Time – David Bowie; and Funeral for a Friend – Elton John.
What temptation can you not resist?
English ale.
What was your first car and how does it compare with what you drive now?
Ford Cortina Mark I, I'd always wanted one and I saved up to get one, it was noisy, cold and bumpy but I loved it. There's no comparison between that and my current Audi A4.
Who would you least like to be stuck in a lift with? Why, what did they do?
Graham Norton, I find him very irritating. He just squeals at everyone.
If you could be any animal for a day, what would you be and why?
My dog, not just any dog, my dog, because he's spoilt.
If you could take part in one event in the Olympics, which would you choose and why?
The event I'd like to represent doesn't feature in the Olympics (that's rugby). Otherwise a marathon, because it takes endurance and stamina.
If you were facing awesome peril and impossible odds, which real or fictional person would you most want on your side and why?
Superman, because he can do anything.
And finally, a grizzly bear and a silverback gorilla are getting ready for a no-holds-barred rumble. Who is your money on and why?
I'd go for a grizzly bear because they've got big teeth and claws and they fight dirty.