Five Minute Interview: Graham O'Reilly, EveryCloud
Graham O'Reilly, CEO of cloud email security and file-sharing specialist EveryCloud Technologies talks IT inspiration, app addiction, and elephants
Tell us what you do for a living.
I'm the CEO and co-founder of EveryCloud Technologies; the channel exclusive, cloud email security and file-sharing provider. It's my job to make sure we're all working toward giving our partners the most possible value, which in turn drives the business forward.
Why are you the right person for this job?
I'm very enthusiastic but a pretty calm person, which really helps. I really care about the team and I being as effective as possible at what we do, which I think has to be at the centre of this type of role.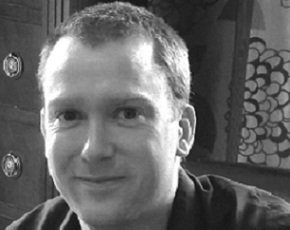 What gets you up in the morning?
I'm easily excited so it's generally some project or another we're working on to change the world!
I always wanted to be an entrepreneur so living your dream makes getting up pretty easy. That and crumpets.
Who helped you get to where you are today?
A combination of my amazing wife, parents, friends, mentors and my business partner, Matt. I feel very lucky to have had each of them in my life.
What is the best or worst business advice you have received and from whom?
Best - Richard Branson; Always protect the downside. This has become more and more relevant since I first read it at 18 years old. Aim as high as you can, but always think 'what if?' This has helped with some pretty challenging periods.
What advice would you give to someone starting out today in IT?
IT makes almost anything possible but it's only a tool. Think about how you can help people, and then use IT to make it happen.
What's running on your smartphone?
Right now I'm really into the following; Evernote is an amazing app for gathering information and notes, I use it every day, Jotnot lets you take photos of paperwork (with which I'm useless) and converts them into PDFs to share with your team and Cozi has helped my wife and I automate our shopping as it shares shopping lists between our phones.
I'm always trying out new apps out, mostly to try and make things more productive.
What does the next five years hold for the channel?
I try my best to work to the here and now as humans are notoriously bad at predicting the future. That said we're betting on the continued adoption of cloud services among both businesses and channel partners. Even factoring in the recent PRISM scandal, the costs and efficiency savings associated with the cloud are too great to derail it.
Tell us something most people do not know about you
I'm clumsy as hell... The upside of this is that I've become very good at catching things.
What goal do you have to achieve before you die, and why?
I'm just checking my goals notebook in Evernote… I have to learn to play the piano properly, this year in fact! I brought one a couple of years ago and have even learned a few songs, but I'm been telling myself I need to book some lessons for ages now.
What is the best book you've ever read?
For running a business; E-myth Revisited by Michael E. Gerber. It's really helped me form a clear idea of where I should be focusing my time.
And the worst film you've ever seen?
Anything with Nicolas Cage.
What would be your Desert Island MP3s?
The two artists I listen to again and again are Jackson Browne and Counting Crows. I'm a fan of great song writing, which these two personify.
What temptation can you not resist?
A challenge. My friends use this to their advantage so I've ended up eating strange things or jumping out of planes!
What was your first car and how does it compare with what you drive now?
My first car was a Vauxhall Nova (strictly speaking it was my Mum's car, but I used it more). It was an amazing car and I went everywhere in it. Now I drive a BMW, but secretly miss the Nova.
Who would you least like to be stuck in a lift with? Why, what did they do?
The lift repair man.
If you could be any animal for a day, what would you be and why?
An elephant. I think it has the most potential for an interesting day.
If you could take part in one event in the Olympics, which would you choose and why?
It would be great to be good at tennis, but I think diving would probably be the most fun. I'd be pretty ecstatic to take part in anything really.
If you were facing awesome peril and impossible odds, which real or fictional person would you most want on your side and why?
Bear Grylls. An obvious one, but he's really going to give you the best shot at survival.
And finally, a grizzly bear and a silverback gorilla are getting ready for a no-holds-barred rumble. Who is your money on and why?
To be honest I have fairly limited knowledge of either, but I'd go with the gorilla. It'd imagine he's going to be far more agile and likely to use his initiative.