In depth: VAT – are you ready for 1 January 2010?
Resellers will hopefully all be aware that the temporary reduction of the VAT standard rate to 15% will end on 31 December 2009.
This Article Covers
RELATED TOPICS

Download this free guide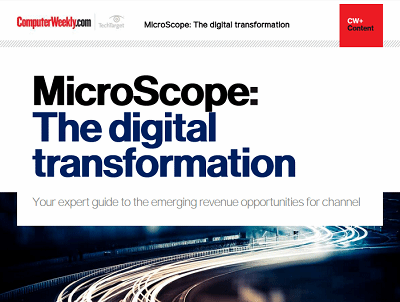 Emerging revenue opportunities for the channel with digital transformation
Digital transformation is a phrase that means many things to many people but for it to have any real relevance to the channel then it needs to mean a chance to make money. This guide will share some of the recent developments in the channel and the latest thoughts about the issue.

By submitting your personal information, you agree that TechTarget and its partners may contact you regarding relevant content, products and special offers.

You also agree that your personal information may be transferred and processed in the United States, and that you have read and agree to the Terms of Use and the Privacy Policy.



Resellers will hopefully all be aware that the temporary reduction of the VAT standard rate to 15% will end on 31 December 2009. Many businesses reported that the cost of implementing the reduction last year outweighed any positive effect, and matters could be worse this time, with the costs of implementing the increase to 17.5% perhaps compounded by a negative effect on sales.

Once again, catalogues, brochures, price lists, price labels, stationery and tills and online systems will have to be revised, reprinted and reprogrammed, and this should certainly not be left until the last minute. Two points should be noted:

● Retail businesses are required to show individual prices, but the Price Marking Order 2004 allows businesses 14 days to amend their prices if they display a general notice of the changes. Consideration is being given to extending this to 28 days.

● The normal VAT time of supply rules apply when there is a change in rate, except that businesses may choose to split supplies spanning the date of change into their respective parts – each subject to the appropriate rate – and supplies made before the change of rate can be invoiced at the old rate after the change.

HM Revenue & Customs (HMRC) has announced a concession in relation to the change which some businesses will find helpful. Certain businesses which will operate after midnight on 31 December 2009 will be allowed to account for VAT at 15% until the earlier of the close of the trading session or 6am on 1 January 2010.

There are some exclusions – the concession will not be available in respect of mail order or online sales, or where VAT invoices are used to account for VAT. Also excluded are arrangements which seek to obtain an advantage by pre-paying for goods or services.

HMRC also says that it will adopt a "light touch" approach when dealing with any mistakes made in implementing the change – the correct tax will still be payable, but penalties may be reduced.

Opportunities to save VAT by pre-paying for goods or services before 1 January 2010 are limited, because of special "anti-forestalling" rules. However, depending on the circumstances, it may be possible to achieve some savings, and specialist advice should be taken.

But will the 1 January rate change be the final one? Accountancy experts suspect that none of the political parties will be offering a cast-iron guarantee that there will be no VAT increase after the general election.

Cross-border changes
Another important change on 1 January 2010 will affect businesses that either supply services to businesses in other countries or buy in services from other countries. In some cases this could significantly increase VAT liabilities.

It is all to do with where the supply of a service takes place for VAT purposes. Currently, the basic rule for business-to-business services is that they are supplied where the supplier is established. So, for example, if a UK company provides management services to a French subsidiary, the UK company must account for VAT in the normal way.

From 1 January 2010, the opposite will apply – the basic rule will be that services are supplied where the customer is established. So, the UK company that provides management services to its French subsidiary will no longer need to account for VAT – the French company will have to do this on what is known as the "reverse charge" basis.

This change could be expensive for some UK businesses. For example, many businesses have back-office functions in locations such as India and South Africa, and there is currently no UK VAT liability on the cost of those services. From 1 January 2010, most services will be treated as supplied where the customer is established – ie, in the UK – so the UK business will have to account for VAT on the reverse charge basis.

This will not be a real cost for businesses that do not provide any VAT-exempt services, as they will be able to recover the VAT as input tax in the normal way.

Exceptions to the rule
As is often the case, there are exceptions to the basic rule. One exception is that "intellectual" services, such as consultancy, professional and advisory services, are currently treated as supplied where they are received. So, for example, if a German company provides consultancy services to a UK company, the German company does not charge VAT, and the UK company must account for VAT on the reverse charge basis.

This is the same as the new basic rule, and from 1 January 2010 intellectual services will no longer be an exception, but will simply fall under the basic rule, so their treatment will be unchanged.

There are several other current exceptions, each with its own VAT treatment, which in some cases will change, and in others will remain the same.

● The position for services in relation to land and property is that these will remain an exception, with services being treated as supplied where the land is situated.

● The position for intermediary services (where a person arranges or facilitates a supply between two parties) will change. Currently, this is an exception, with services being treated as supplied where the principal supply takes place, but from 1 January 2010 these will come under the new basic rule, and services will be ­treated as supplied where the ­customer is established.

● The position for services in relation to the transport of goods will change. Currently, this is an exception, with treatment depending on the exact circumstances, but from 1 January 2010 these will come under the new basic rule, and services will be treated as supplied where the customer is established.

● The position for services in relation to auxiliary transport services, and valuation and work on goods, will change. Currently, this is an exception, with treatment depending on the exact circumstances, but from 1 January 2010 these will come under the new basic rule, and services will be treated as supplied where the customer is established.

Getting the timing right
From 1 January 2010, the tax point for cross-border services which are treated as received where the customer is established will also change.

For a single supply, the tax point will be the earlier of the date of completion of the service or the date of payment (or part-payment). This new rule may be problematic for businesses whose systems cannot identify the date of completion of a service, and specialist advice should be sought.

For continuous supplies, the tax point will be the earlier of the end of each billing period or payment period, or the date of payment (or part-payment). In the absence of any such tax point in the previous 12 months, there will be a compulsory tax point on 31 December each year.

More red tape
As if all this is not enough to contend with, UK business that supply cross-border services to other EU member states that are treated as received where the customer is established will, from 1 January 2010, have to submit quarterly or, if they so choose, monthly EC Sales Lists detailing those services.

This is despite the fact that they do not have to account for VAT on such services.

And it gets worse – the submission deadline will be only 14 days after the end of each period (generously extended to 21 days if the forms are submitted electronically).

Is there any good news?
In general, the changes to the rules for the place of supply of services are helpful to business and remove many anomalies where it is currently necessary to add UK VAT to a service provided to an overseas customer – management services being a good example.

Further, If a UK business incurs VAT on the cost of goods or expenses in another EU member state, this can currently only be recovered by submitting a repayment claim to the VAT authority in that member state, which can be time-consuming, expensive, and may not lead to payment for many years. From 1 January 2010 UK businesses will have to make electronic repayment claims to HMRC.

Standardised codes should eliminate or reduce the amount of information that needs to be provided in another language, and there will be no requirement to submit original invoices with the claim. This should simplify and accelerate the repayment process, particularly as the tax authorities have been given a shorter time to make the repayment and must pay interest if they are late.

There is also some good news for VAT-registered businesses which import goods from other EU member states. Such businesses have to submit Intrastat Arrivals declarations (containing detailed descriptions of the goods) if the total value of Arrivals exceeds a threshold in each calendar year (£270,000 for 2009). For 2010, subject to final Parliamentary approval, the threshold will be more than doubled, to £600,000.

This will take a significant number of businesses out of the reporting net. However, declarations also have to be submitted where the value of goods dispatched to other EU member states exceeds a threshold (£270,000 for 2009). For 2010, this will be reduced slightly to £250,000.

More changes ahead
Further changes are scheduled for 1 April 2010. From that date, all existing business with a VAT-exclusive turnover of £100,000 or more, and all newly VAT registered businesses, will have to file VAT returns online and pay VAT liabilities electronically.

In many cases, this will involve changes to systems and perhaps a need for new software. Once again, this should be addressed sooner rather than later.
There are several more changes in the pipeline over the next few years, and the supply changes outlined above are part of a series of changes planned up to 2015.

MicroScope+
Content
Find more MicroScope+ content and other member only offers, here.
Read more on Sales and Customer Management