In-depth: UK firms still in first gear in cloud drive
While substantial growth in cloud computing and its various sectors is being predicted, reports are that firms in the UK are a little behind the global take up. Linda Endersby investigates.

Download this free guide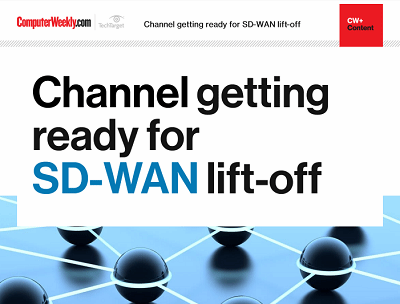 Channel getting ready for SD-WAN lift-off
SD-WAN - the analysts are tipping strong growth, the vendors are emerging and customers are starting to understand the potential. We've got your vendor reviews and whys to move here!

By submitting your personal information, you agree that TechTarget and its partners may contact you regarding relevant content, products and special offers.

You also agree that your personal information may be transferred and processed in the United States, and that you have read and agree to the Terms of Use and the Privacy Policy.

While substantial growth in cloud computing and its various sectors is being predicted, reports are that firms in the UK are a little behind the global take up. Linda Endersby investigates.

There might be differences of opinion about speed and size but as any analyst will tell you, and all of the major ones have done recently, the market for cloud services is growing.

Forrester analysts have recently forecast that the global cloud computing market will grow from $40.7 bn in 2011 to more than £241bn in 2020. The report from Stefan Ried and Holger Kisker based on previously published cloud taxonomy outlines different market dynamics for the three core layers of the cloud - public cloud, virtual private cloud and private cloud and reveals the current and future sizes of the 12 defined market segments.

Gartner named cloud computing as its top inquiry topic in 2010. It predicts that cloud computing will be adopted at an accelerated pace by business users and that in less than five years, there will be major shifts and higher adoption ratios. Gartner believes the value of the worldwide cloud computing market could reach $150 bn by 2014.

IDC meanwhile report that the growing importance of cloud computing technology is driving more businesses to invest in server virtualisation. The analyst house's Worldwide Quarterly Server Virtualisation Tracker show that 19.4 per cent of all servers shipped in the fourth quarter of 2010 were virtualised. This represents an 18.4 per cent increase on the proportion from the corresponding period of 2009, while virtualised server end user spending rose by 13.5 per cent across 2010 as a whole, reaching a total of $16.8 billion (£10.28 billion).

Brett Waldman, senior research analyst for software appliances and virtualisation at IDC, said this trend is due to companies looking to lay the groundwork for cloud computing systems, as virtualised servers are an essential part of this process.

"The hype of cloud computing was all the rage in 2010, but it is the foundation of virtualisation that makes it all possible," he said.

Meanwhile at CA Technologies Channel Summit , Bill McCracken CEO said business adoption of cloud computing enablers, from virtualisation management to software-as-a-service, is happening faster than even the most optimistic projections. "The rate and pace is going to pick up," McCracken told a gathering of CA solution providers in New York last week, discussing cloud adoption.

"The industry estimates are wrong. They're low. You can write that down. It's growing faster and moving faster than we're predicting. The opportunity is standing in front of us."

These reports all confirm that there is much excitement in the industry about the growth and opportunity in providing these services, but what about the take up from its potential customers?

Cloud Adoption
A new global survey conducted by US based IT Service Management software provider Axios systems revealed the 68 % of global companies plan to adopt a cloud strategy in the near term. However only 28% of respondents said they had already adopted a cloud strategy with a further 21 expected to implement cloud services in the next 6 months.

AFCOM, an organisation for data centre managers shows that of 358 respondents to a recent survey 39% have implemented some form of cloud computing, 35% are considering implementing it and only 28% were neither running nor planning to implement cloud services. The implementation figure is up from 14% in 2009.

However in the same week a survey of 1600 companies by VMware showed that small businesses in the UK are adopting the cloud more slowly than European companies, the survey showing only 48% of British SME's are adopting some form of internet based IT as apposed to 60% on the continent.

Despite the cost saving elements of standardization, simplification and dedicated data centre footprint reduction that cloud computing promises there are many cynics.

Unsurprisingly their main concern is security, not only in terms of data loss and exposure but also of lost service to customers in the event of failure. Amazons recent loss of service to its cloud computing services, bring websites down across the US and the recent loss of data within Sony PlayStation gaming services are two high profile outages fueling the argument against the public cloud.

Caution urged
In a recent report from Gartner Frank Ridder, research vice president warned: "Cloud service sourcing is immature and fraught with potential hazards. The hype around cloud computing services has increased interest, as well as caution, for CIOs trying to determine where, when and if cloud services can provide valuable outcomes for their businesses."

"Cloud computing is driving discontinuity that introduces exciting opportunities and costly challenges. Organizations need to understand these changes and develop realistic cloud sourcing strategies and contracts that can reduce risk," he added.

Ridder said that traditional IT services often find organizations locked in, fighting with rigid delivery or hesitation to change when engaged in traditional IT services deals. Innovation seldom materializes and solutions fail to scale, and service providers often struggle with their profits.

In the new cloud services scenario, however, flexibility, agility and innovation are design principles and, over time, service providers will succeed in delivering on these principles. The market also expects scalability, cost-efficiency and pay-per-use pricing models from cloud services solutions. Although cloud services already provide these, service providers manage their risks through terms and conditions that are still immature. However, Gartner believes that solutions and their commercial terms are maturing quickly.

To avoid the potential pitfalls and hidden costs of cloud sourcing, Ridder said that organizations need to ensure they understand the short- and long-term implications of cloud services, on the demand and supply side, as well as on the sourcing life cycle itself. The services sourcing life cycle includes four crucial elements: sourcing strategy, vendor selection, contracting, and management and governance.

"The life cycle is a critical area to plan and manage, regardless of whether organizations source their IT services through internal or external resources. Our forecasts indicate that organizations spend 53 percent of their IT services budget on external services, and that spending is growing 3.9 percent per year, while new categories of services are experiencing double-digit growth," said Ridder.

Mean while at Symantec's annual user conference in Vegas last week Francis deSouza, senior vice president of the enterprise security group stated: "As businesses look towards the cloud for services, they must hold providers to the same security standards they hold themselves to."

"Symantec Customers love the agility and lower cost the cloud promises, but they need to remember they are still "on the hook" when it comes to security, because they can still be liable if their data is breached, he added.

"We're seeing very clearly that not all SaaS [Software as a Service] providers are created equal," deSouza said, explaining that there are ones that build in security from the beginning as well as others that do not. "Though industry standards can help, organizations still need to talk to their cloud provider and auditor about their security needs", he added.

UK specific issues
There are specific issues that may take some of the decision out of the hands of UK SME's and perhaps explain the slower uptake found in the VMware poll.

The Cloud Industry Forum (CIF) have warned that unless Britain increases its regional broadband coverage with high-speed services, cloud computing simply isn't an option for scores of small and medium sized UK firms.

Andy Burton, chair of the CIF, stated: It is small to medium sized businesses that represent our broadest employer base, our diversity and creativity, and it is they who are best placed to create the Jobs and revenues the country needs.

However, their route to market in many cases is hampered by poor ADSL speeds which in turn restrict their ability to benefit from advances in technology like cloud computing, making it more costly, laborious and challenging to operate.

Small business owner Richard Banister, managing director of Baniftec, stated: "I live some 22 miles from Victoria as the crow fly's and nearby Kent communities of Pootings, Crockham Hill in the majority of cases can only get a 500kbps ADSL service which was introduced by BT in about 2003 rural communities had been promised a minimum service of 2mb by 2012 by the last government, sadly this commitment does appear to have fallen by the wayside. What is so tragic is that I am so close to London and yet I might as well be on a desert island."

The government has pledged to make the UK the best place for super-fast broadband in Europe by 2015 and under the announcement made last week £50m will be made available to local authorities around the UK.

It would appear then that the cloud computing market as a whole is still going through growth as it becomes established. Though its various components and ideas are not brand new, many of the technologies and the way companies are packaging them for today's economy are still seen as forward thinking.

In order for the phenomenon to not become a bubble that may burst it would seem that vendors, businesses and governments all have a part to play in provding the infrastructure, security and business processes required to make the cloud a stable place to operate and fulfill its economic potential.



MicroScope+
Content
Find more MicroScope+ content and other member only offers, here.
Read more on Business Intelligence Tools and Services