In depth: The desktop revolution
Could 2010 be the year that virtualisation finally reaches the desktop? Billy MacInnes talks to the industry's experts. Now that virtualisation has proved itself at the server level and in the datacentre, people are starting to ask whether this could be the year for desktop virtualisation.

Download this free guide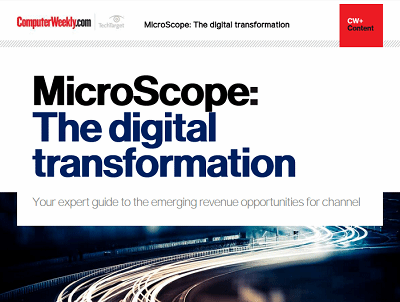 Emerging revenue opportunities for the channel with digital transformation
Digital transformation is a phrase that means many things to many people but for it to have any real relevance to the channel then it needs to mean a chance to make money. This guide will share some of the recent developments in the channel and the latest thoughts about the issue.

By submitting your personal information, you agree that TechTarget and its partners may contact you regarding relevant content, products and special offers.

You also agree that your personal information may be transferred and processed in the United States, and that you have read and agree to the Terms of Use and the Privacy Policy.

Could 2010 be the year that virtualisation finally reaches the desktop? Billy MacInnes talks to the industry's experts

Now that virtualisation has proved itself at the server level and in the datacentre, people are starting to ask whether this could be the year for desktop virtualisation?

Some of those same people were asking the same question in 2008 and 2009, but there are signs the conditions could be falling into place to make it more feasible this year.

Recent research from the Citrix Virtualisation Index found that just over a quarter of UK CIOs are planning to roll out desktop virtualisation in the next 12 months, prompting James Stevenson, vice-president of the UK and Ireland at Citrix, to declare that "2010 is set to be the year of desktop virtualisation - the tipping point when CIOs move beyond trials to adopt the technology as part of their organisation-wide IT strategy".

This is a view endorsed by Pierre Hall, solutions director at Citrix partner Computacenter, who says the research backs up what the company is seeing in the market.

"In terms of take-up, we're already seeing many of the pilots that were implemented last year moving into full-scale production. When the results of the next Citrix Virtualisation Index are revealed in six months' time, I would anticipate seeing a substantial increase in the take-up of desktop virtualisation."

And it's not only Citrix that is singing the desktop virtualisation song.

Chris Hammans, EMEA managing director at thin client provider Pano Logic, reports seeing "an increase in interest in desktop virtualisation".

He argues there are "two major inflection points" that will underpin adoption in 2010.
"Most organisations have held off from conducting any desktop refresh and now are actively looking to do so. Second, most organisations deferred their Windows upgrade and did not take up Vista but stayed with XP. Now they need to move forward with the take-up of Windows 7. This is what is going to drive the urgency in 2010."

Jim Campbell, Europe market development manager for Hewlett-Packard's client solutions business, is not so sure. In the four years he has been involved with the business, pundits have been saying 'this is the year of virtualisation'. However, Campbell remains unconvinced, although he does think that 2010 "is the year when things will start to accelerate. There's a much wider and more general acceptance to the principle of virtualisation".

Alternative desktop strategy

The migration to Windows 7 highlighted by Hammans is cited by many as a potential driver for desktop virtualisation.

Rhys Sharp, CTO at SCC, says many organisations that held off adopting Vista, opting to sweat their assets and prolong the time between refreshes, are starting to re-evaluate their desktop strategy. He suggests a lot of them want to understand how an alternative delivery mechanism such as desktop virtualisation works, because they resent the time and effort associated with the usual migration process.

Windows 7 will "be the most significant conversation we have with customers" over the next two or three years, Sharp adds, and virtual desktop infrastructure (VDI) will be one of the subjects in that conversation, because it "offers an easy route to get to a centralised datacentre-based desktop".

Kevin Bland at Citrix also believes Windows 7 will provide an impetus for desktop virtualisation.

"Using Microsoft Windows 7 as a further launchpad to adoption," he says, "channel players can expect to see businesses finding desktop virtualisation increasingly appealing as they seek ways to take advantage of their PC refresh budget in migrating from Microsoft Windows XP at zero additional cost."

Management and support costs are also playing a part, as companies preparing to migrate to Windows 7 begin to consider the implications. Andy Boyle, UK sales manager at Systancia, believes cost reductions can make a "compelling case" for desktop virtualisation.

"We'd estimate the cost of managing a single desktop can be as much as £1,000 a year, taking into account maintenance, security, back-ups of data and updating applications. With desktop virtualisation, these operations are centralised and organisations can save 40%-70% on their operational and management costs."

But there are question marks over the return on investment (ROI) delivered by virtualisation. Recent research conducted for Computacenter found that only 6% of organisations felt they had fully achieved ROI from their server projects, and only 4% from VDI.

There may well be total cost of ownership (TCO) benefits, but, as Pano Logic's Hammans points out, because desktop virtualisation is relatively new, "proving that TCO has never been more important".

Confused market

The issue is compounded by the "bewildering number of choices" customers face, with multiple vendors providing thin client, connection brokers, management tools and other technologies.

"All new technologies carry a degree of risk and getting it wrong could end up being a very costly exercise," Hammans warns. "The channel and VARs have a huge part to play in understanding what is out there and, ultimately, assisting customers to avoid a bad experience with the technology and proving TCO."

He suggests the actual cost savings in a VDI project will arise from operational expenditure savings, in areas such as ease of deployment, reduced complexity and effective management of the end-point device, rather than capital expenditure.

Sharp at SCC says customers are faced with "a very confused market with a number of solutions from different vendors. Customers don't know what decisions to make. We're trying to help them find their way through that market".

Part of that confusion also applies to how and where desktop virtualisation can be applied. Sharp believes a lot of customers have a difficulty in understanding it is not always the right solution. They need to spend more time understanding their users and their IT requirements, so they can be precise about what they're trying to achieve.

This is a point emphasised repeatedly by those involved in the desktop virtualisation market.
"The customer needs to be clear what they are trying to achieve and be able to specify the application mix and classify the user base," says Chris Whiteley, head of product strategy at Avnet Technology Solutions. "Delivering a desktop from the datacentre to a thin client or an existing PC is relatively easy and generally understood. It is managing the applications and user data that require the most attention."

Jacqui Davey, vice-president of the business partner organisation at IBM UK & Ireland, agrees that the channel needs to understand that one size does not fit all. Any large organisation has many functions, she says, and each may have specialised needs for which some very specific desktop virtualisation solutions may work better than others.

"The key is to start with the business needs and then to determine what the options might be and how the costs versus benefit would stack up," she says.

Davey also advocates "an incremental modular approach where pilots are implemented, lessons learned, the solution evolves, and slowly but surely, the delivery model of how desktop computing is delivered to the user is changed".

As Davey suggests, the adoption of desktop virtualisation is not an overnight panacea that can be applied across the entire organisation. VMWare group manager for EMEA product marketing, Richard Flanders, says customers typically deploy it across 10% or 15% of their users. Normally, these user communities are office-based and use their computers for set applications and set tasks, so the shift to desktop virtualisation is easier than it would be for mobile workers or those with intensive graphics requirements, where latency, connectivity or CPU power could be an issue.

Latency and quality of connection are potential pitfalls for organisations with large numbers of mobile workers, although some companies provide WAN optimisation products and services that help to address them.

Potential pitfalls

CIOs in organisations that take on desktop virtualisation are aware that such projects are extremely high profile and "can't afford to fail", in Flanders' words.

Campbell at HP has something similar to say when he stresses that companies need to make sure they undertake a pilot to validate the process and the infrastructure.

"For some companies, transitioning to virtualisation is getting close to being a bet the farm decision. It's high cost, it can be high risk and it can be a no-way-back step."

Another important area that vendors and channel partners need to focus on, according to Parallels EMEA general manager Stefan Hoelzl, is to ensure desktop virtualisation does not alienate users.

"It's important to give people the ability to personalise their desktops with familiar settings, such as icons and menus just where they like them, or a family picture in the background."
Flanders at VMWare agrees. "Unless you can deliver [an experience] that's as good as or better than, you've not fulfilled the promise of desktop virtualisation, [and] the user feels like a second-class citizen."

How wide-ranging and widespread desktop virtualisation should be is a decision that needs to be taken by a customer as it applies to different groups of users, but Sharp at SCC argues that for some it may well be worthwhile sticking to the rather more well-worn application virtualisation route rather than jumping into the desktop virtualisation space.

He claims customers are revisiting the Citrix XenApp environment because it delivers "the greatest ROI". Customers may 3discount a shared application environment because of a bad experience in the past, but he believes in many cases the fault lies with poor implementation.
"It's a perfectly valid environment that will deliver the greatest cost savings to you," Sharp says.

The place of the channel in desktop virtualisation is interesting because the dominant player in the server virtualisation space, VMWare, is in the process of trying to push some of its existing partners to move into the desktop space with its View 4 product. Flanders reveals it is trying to train and empower partners to sell desktop virtualisation, which has a "slightly different message" from the one they are used to around server virtualisation.

Part of VMWare's message is to emphasise its credentials in the datacentre as a platform that is "reliable, scalable and proven in the enterprise - VMWare has positively proved it is mission-critical capable within an organisation; why not trust it to run your mission-critical PC loads as well?"

Mel Wilks, virtualisation sales manager at Magirus, says that some partners have got the message, but there is "a risk VMWare is running too fast for the channel to keep up with it" as it introduces new competencies. He believes there is a disparity because "most VMWare partners concentrate on the enterprise space. The uptake on desktop virtualisation and business continuity hasn't matured yet". The aim is get people who are able to go out and have the desktop virtualisation conversation with customers.

It's an important issue because Citrix has always played strongly in the desktop space with its application virtualisation roots and Microsoft is starting to gain visibility. Flanders likens the current situation to being 30m down the track of a 100m race. "Who knows if Microsoft and Citrix will come out of the blocks and storm ahead?"

Sharp at SCC believes Citrix currently has the advantage because it has the greatest maturity in this market. "This is Citrix's bag. It understands delivery via this technology and has the best range of technologies there. The VMWare side of things is sort of interesting and the reputation built in the server arena will help here because desktop virtualisation is taking things back to the datacentre."

It is probably no surprise to find customers with both environments: Citrix at the application/desktop level and VMWare for server virtualisation.

Campbell at HP reveals it is in the process of putting more than 300 resellers in Europe through the process of accreditation for its thin client business. Many of them are existing VMWare and Citrix partners. It's also worth noting that those partners drawn from HP's existing base are not from the personal systems space but from the enterprise.

"It's a project business," he says. "It requires an element of consultative selling. Thin client is not a box resale business."

Channel opportunities

Lisa Hammond, CEO at Centrix Software, believes channel partners could gain a bigger role around services and consultancy as customers seek to avoid being locked into a single desktop virtualisation platform by moving to a "seamless provision of services from across "traditional, web, virtual and cloud environments - multivendor, multiprotocol and multiplatform, with secure federation across internal and external resources".

The cloud is certainly looming in the background as most vendors agree the logical progression from virtualisation at the data centre level is not just down to the desktop, but up to the cloud.

It is perhaps no coincidence then that Bland at Citrix says the vendor expects "at least 50% of our channel partners to have some form of cloud offering by the end of 2010, with desktop virtualisation playing a part in driving that shift. Our channel mix is also changing; notably with more 'pure play' service providers now coming on board than ever before".

He adds that it is up to vendors and channel partners to work closely together to "generate a thirst from customers to apply desktop virtualisation throughout the organisation, once they realise the doors it opens to improving their day-to-day working practices".


MicroScope+
Content
Find more MicroScope+ content and other member only offers, here.
Read more on Business Intelligence Tools and Services