In depth: Making software count
Vendors and resellers in the accounting market say they have begun to see signs that the worst of the recession is over. Customers are buying reporting tools to give them a better understanding of how their businesses are spending money and to manage cash more closely.

Download this free guide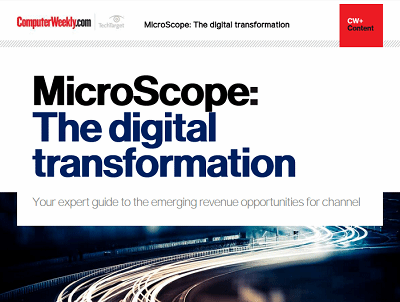 Emerging revenue opportunities for the channel with digital transformation
Digital transformation is a phrase that means many things to many people but for it to have any real relevance to the channel then it needs to mean a chance to make money. This guide will share some of the recent developments in the channel and the latest thoughts about the issue.

By submitting your personal information, you agree that TechTarget and its partners may contact you regarding relevant content, products and special offers.

You also agree that your personal information may be transferred and processed in the United States, and that you have read and agree to the Terms of Use and the Privacy Policy.



Vendors and resellers in the accounting market say they have begun to see signs that the worst of the recession is over. Customers are buying reporting tools to give them a better understanding of how their businesses are spending money and to manage cash more closely.

However, the market is unlikely to return to its old self. Three senior managers at Pegasus, Mamut and Microsoft Dynamics left their companies during the summer, a surprising upheaval in the normally stable world of accounting software.

Resellers are consolidating, either by selling up completely, or by selling off part of their customer base. In June, for example, FD Systems, a Sage reseller based in Cardiff, bought the Microsoft Dynamics reseller Clarita, increasing its staff total to 130 and taking its turnover to £14m. A month later it bought another Dynamics reseller, Information Systems for Business.

Pegasus says that while it had 110 resellers in March 2008, it now has 85, with its top resellers producing 60% of its revenues.

The recession has led to one high-profile reseller collapse – in May the £10m turnover Sage reseller BDE Group went into administration.

Steve Atwell, Sage's general manager for business partners and retail, confirms that Sage has lost money as a result of the collapse, but would not be drawn on the amount. "From information in the public domain I can say that BDE Group over-stretched itself in terms of investment in more buoyant times," he says. Twenty resellers have since picked up the Sage maintenance contracts once run by BDE, he adds.

National presence

Jim Henderson, sales and marketing director at TSG, now the largest accounting software reseller in the UK with an expected turnover of £45m for 2009, believes BDE had tried unsuccessfully to copy TSG's own acquisition model.

"The business of trying to create a national presence in the UK is a challenging one. We have been able to do it with more process."

TSG says it is now back on the reseller acquisition trail, having called a halt to its expansion plans in March last year. TSG has grown to its present size by buying 23 businesses. "We are looking at reseller businesses in all areas of the UK, looking to add customer volumes in certain geographies," says Henderson.

Resellers typically over-estimate the value of their operations, and the number of customers they actually have," he adds. "We look very carefully at the cost ratios in resellers. We like to see 80% of a reseller's costs covered by recurring revenue."

High-value deals

Pegasus' operations director, Stuart Anderson, says he has been encouraged by the level of new business in the past quarter. "There have been a lot more business opportunities, and the size of the deal has been a lot higher," he says.

Anderson adds that the company's discount scheme, which offers a £3,500 saving on a five-user, seven-module version of Opera 2, plus a zero interest finance scheme, is proving popular with customers. "We have always had a traditional discount when customers move from a competing product, but what we are finding is that 70-75% of our trade-ins are coming from Sage Line 50 customers who want better reporting and analysis," he says.

Customers are particularly attracted to the Pegasus XRL tool, which allows customers to export accounts data straight into Excel, as well as document management tools which allowed payroll managers to check that overseas workers have permission to work in the UK.

Sage, for its part, is offering discounts of 10-20% to customers who trade in accounts software from Mamut, Iris, Kashflow and Pegasus Opera II.

Mamut's new UK country manager Bryan Richter – Mamut's former UK managing director Alan Moody left the company in the summer – says the fact that Sage is discounting its software is an indication of a changing market. "I think it is interesting when you have a company that is perceived as the market leader offering competitive discounts. It says something about the potential threat it sees, and the shift in the market away from buying accounting software to buying business software," he says.

Sage's Atwell says the company regularly runs software promotions, but declines to elaborate on Sage's current discount strategy – or the Kashflow video posted on YouTube in June which featured a box of burning Sage 50 software. The video was part of a Kashflow promotion offering a year's free software to anyone who sent in a boxed copy of Sage software, which was going to be put on a large bonfire and publicly burnt. Kashflow, which says it is growing at 10% a month, had second thoughts about the bonfire after the Environment Agency threatened it with a £20,000 fine.

Other new online vendor entrants, such as Danish company E-conomic or the New Zealand company Xero, are pushing hard at the traditional, channel-based accounting business model. In July, Xero appointed Gary Turner as UK managing director. He was previously product group marketing director for Microsoft Dynamics.

Microsoft was unable to provide a spokesperson for this article.

Cloud-based accounting

Although most of the cloud computing accounting is so far concentrated around small businesses, FinancialForce, a spin-off from Coda's parent Unit4Agresso and Salesforce.com, was launched in October to sell online accounting to Salesforce.com's 63,000 customers, many of which are mid-sized companies.

FinancialForce chief executive Jeremy Roche says he has already sold the package to non-Salesforce users. "There are a lot of old, unloved accounting systems that people have not touched for many years. A lot of them are looking at online accounting to streamline processes," he says.

Roche denies that FinancialForce will compete head-on with Coda, where he used to be chief executive. "Coda is a thriving organisation focusing on enterprise customers with a very good customer base," he says. "But we seeing that larger businesses, while not ripping out their on-premises accounting systems, are moving certain parts of their business into the cloud and need to account for it. With FinancialForce we can generate debits and credits in the cloud, and pass them off to another accounting system of record."

He hopes that online accounting will one day be viewed in the same light as online CRM. "Analysts report that between 30% and 40% of all CRM applications are now deployed as SaaS. Five years ago, less than 5% of CRM applications followed a SaaS model. We think online accounting has a similar growth opportunity," he says.

Although much of the innovation and momentum in the accounting market appears to be coming from online vendors, E-conomic's new managing director Anders Bjornsbo admits that the UK market has not proved as simple as the company had first hoped. There is less interest in going online in the UK compared with Scandinavia, he says.

Bjornsbo took over from Mark Davies, the former UK country manager, who left the company in August.

E-conomic has a turnover of £5.3m and has grown rapidly in Europe, with several large contracts. It persuaded accounting practice Ernst & Young Sweden, for example, to introduce E-conomic to all its 1,500 Swedish clients. But other European Ernst & Young operations have not followed suit, he says.
"In the UK, we expect to break even in the third quarter of 2010, a year later than we expected," says Bjornsbo. E-conomic has reduced its basic monthly cost to £12.99 from £15.99, and the software remains free to accountants.

Andrew Peddie, managing director of NetSuite reseller First Hosted, says he switched to selling hosted systems four years ago because of customer demand. In a recent sales win for a wholesale shoe distribution business he replaced Sage, a customer website, a content management system, as well as ACT, with a single offering from online vendor NetSuite.

Traditional software

Resellers of conventional accounts systems, such as Access value-added reseller DHC, say they continue to make a good living integrating on-premises Access systems with other software.

With one recent sale to Southampton Solent University, DHC integrated its own workflow iConnekt software into the university's back office accounting system. A quarter of DHC's 500 clients use the iConnekt software, giving the company much better margins over a traditional standalone accounting package sale.

"A large number of organisations are still making do with what they have got. We see semi-manual systems for time-keeping or sales orders that are not connected to anything, as well as the re-keying of data into an accounts system – and then out of it into an Excel spreadsheet," says DHC managing director Matt Garman.

For the time being, the traditional accounting vendors are solid in their belief that accounting data will remain, by and large, an in-house operation.
Sage's Atwell says the company is keeping a "close eye" on the cloud market, but believes it to be more appropriate for the small business that does not require any integration with other products. "We take cloud computing seriously, but we don't feel it is appropriate to enter wholesale into this market," he says. Sage withdrew its small business online offering in the UK early this year.

Infor, owner of SunSystems and Pegasus, says that while there is interest in putting expense management and HR on line, accounting systems are viewed differently. "With core accounting there is still a psychological barrier – people want their general ledger on a computer they know, or in a secure building they know about," says Infor's regional vice-president for the Emea channel, Tim Szabronski.

Norwegian vendor Mamut, which targets small businesses, agrees with Infor. It says it finds a ready market for its hybrid model, which combines installed software with a range of web-delivered services. It recently launched Mamut One for £595, a software suite which includes accounting, CRM, stock control, e‑commerce and hosted services.

"Cloud-based accounting is playing catch-up from a functionality point of view," says Mamut's Richter. "On-premises accounting is critical, but there is potential to add services and integration," he says. Mamut One customers can expect to pay a minimum of £19 a month in services.

Mamut UK took on 20,000 MYOB customers in April 2008, when it bought the UK arm of the small business accounting software firm for £1.7m in cash, after the Australian firm MYOB announced that it was withdrawing from Europe and the US. The integration has gone well, says Richter. Mamut UK took on 15 MYOB employees who continue to support the product while offering MYOB customers a migration path to Mamut.

Ian Caswell, managing director of Sapphire Systems, a major reseller of SAP BusinessOne and SunSystems accounting products, says there is more interest in hosted data from his clients, but he continues to see strong demand for the company's tried and tested in-house implementation and consultancy skills.

"We have had a number of £100,000 deals close recently, and can expect two £250,000 deals every year. Those deals will take six to 12 weeks to implement, with consultants charged out at £900 per day." His company has specialised in developing accounting systems for reporting across different legislative requirements, and has just opened an office in Mumbai.

A market for traditional skills still exists – Sage says that its latest Enterprise Resource Planning X3 software, which is designed to hook together the CRM, sales, finance, purchasing and manufacturing operations of mid-sized, international companies, can be implemented in "just 35 to 55 days". Sage expects X3 deals to be in the £150,000 bracket.

If the traditional accounting software vendors are right, then there is nothing to fear from cloud computing. But E-conomic's Bjornsbo, who started his business in 2000, says that the companies he worries about are not those like Sage, but newcomers such as Kashflow and Xero. "The biggest competition and the ones we fear are the garage start-ups. The Kashflow and Xero proposition will grow in depth – they are where we were five years ago."

MicroScope+
Content
Find more MicroScope+ content and other member only offers, here.
Read more on Business Intelligence Tools and Services