In-depth: Keeping an eye on energy bills
With the winter nights drawing in there is another drain on energy with lights, heaters and numerous brewed up hot drinks all adding to the demand on electricity. In just a short period of time, the world has become utterly dependent on technology.

Download this free guide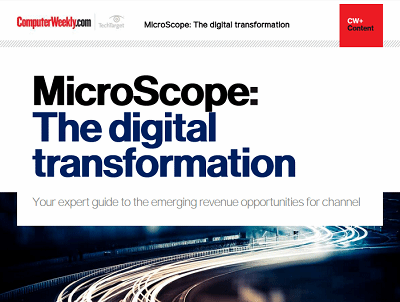 Emerging revenue opportunities for the channel with digital transformation
Digital transformation is a phrase that means many things to many people but for it to have any real relevance to the channel then it needs to mean a chance to make money. This guide will share some of the recent developments in the channel and the latest thoughts about the issue.

By submitting your personal information, you agree that TechTarget and its partners may contact you regarding relevant content, products and special offers.

You also agree that your personal information may be transferred and processed in the United States, and that you have read and agree to the Terms of Use and the Privacy Policy.

With the winter nights drawing in there is another drain on energy with lights, heaters and numerous brewed up hot drinks all adding to the demand on electricity. In just a short period of time, the world has become utterly dependent on technology. Our voracious appetite for energy consuming devices causes much angst and hardship as utility prices go ever higher. And it's not going to get any better, writes Adam Bernstein.

As recently as June 2011, energy industry regulator, Ofgem, said that it wanted to 'radically overhaul' the energy market. It's put the big six power companies on notice that their incredibly complex tariffs are going to be put under the microscope - again - over the next few months.

So with the background of rising prices can business do anything to lower their energy bills?

Unlike the world of telecoms where users choose different technologies to make and receive calls, energy provision is much simpler - gas and electricity goes into a network and users take it out. The issue really is a question of who provides the utility, whether they're trusted to bill correctly and do their contracts stack up.

Be Proactive
Savings can be made if you overcome inertia. Suppliers often rely upon inaction from their customers when it comes to pricing. The supply of energy is no different. Tariffs are always changing so what seemed like a good deal when you signed up may be hopelessly out of touch with the market price now. Whether it's banking, insurance, telecoms or utility provision, it's worthwhile shopping around at least once every year. Loyalty rarely helps your bank balance.

Check your present deal and don't delay
Before you can make any changes you need to be certain of the deal you're on, the terms of the contract you've signed up to including the rate you are being charged, whether there's a standing charge, and most importantly, what the notice period is.

Energy companies are obliged to give notice of tariff changes and the end of a contract under rules that were introduced by Ofgem in January 2010 but which took effect in April 2011. But this only applies to domestic users and micro-companies (under 10 employees, annual gas usage under 200000 kwh or electricity usage under 55000 kwh).

If that letter doesn't arrive - or you fail open or act upon it - you could be automatically rolled over into another contract with no exit route; householders in contrast can switch supplier on demand.

Be mindful that to change to a different supplier you don't have long to act; sometimes you may only have a 30 day period in which to instigate a switch. Further, the window of opportunity when a switch can be made can come (and close) when it's least expected - sometimes 90 to 120 days before the contract expires. Failure to give the right notice at the right time can leave you rolled into a new contract with rate of the supplier's choosing, which more likely than not will leave you with more expensive unit charges.

However, according to energy consultancy Utility-options.co.uk, if businesses can prove (or debate long enough) that the letter wasn't sent some utility suppliers will admit defeat and break a rolled over contract. Arguably, if a letter was sent there should be an electronic reference to it; you should request a copy under data protection rules.

Seek assistance
Make It Cheaper, another energy consultancy, offers a free webpage that can calculate how long a business has to switch provider - http://www.makeitcheaper.com/how-to-switch/window-checker.aspx. At the very minimum, diarise when your notice period starts and finishes when you take out a new contract. Consultancies such as Utility Options will do this for you as well as manage your account, deal with queries and any metering problems.

Apart from the consultancies, all of the main names that you probably know - moneysupermarket.com, gocompare.com, uswitch.com and others - can assist. But unlike comparison websites for consumers, these sites will not run an online search leaving you to pick the best deal from the options listed. Instead, they require you to make contact where they then take the details needed to perform a search. They'll then let you know what is in their opinion the best deal for your circumstances.

Exit route
As we've seen, businesses cannot get out of their energy contracts just because they don't like the tariff. But there is an exception - if you move premises you can leave your old supplier. However, don't move into the new premises and forget to review your energy needs thinking you've escaped a tyrannical supplier and are now contract free. On the contrary, you'll have inherited the supplier that the previous occupier was tied to and you'll be charged 'deemed' or 'out of contract rates' which will be much higher - sometimes twice as much as was charged to the previous tenant - as you are potentially a bad risk. There is only one solution and that is to enter into a formal energy supply contract.

If you play your cards right and keep switching you can take advantage of 'new customer' rates offered by the energy suppliers as they try to win new business. These rates are often used as loss leaders on the basis that a good proportion of businesses that sign up for them stay and end up on more expensive tariffs. Again, you'll need to keep tabs of your notice window to play this game.

Gotcha's
Unlike supplies made to domestic users, businesses users have a different set of criteria that determine the rates that will be charged - that's the reason why you cannot search for a supplier online. Further, unless you are a huge consumer of electricity, say an aluminium smelter, there's no haggling over the price per unit.

The first thing to note is that your credit score has a serious impact on the rate quoted and some suppliers won't offer to supply businesses with a credit score under 46/100. By definition this means that those firms with a score over 46/100 get better rates. Crucially, you need to do what you can to improve your business credit rating which will yield results for your business overall.

Your postcode will have a bearing on the rate too as, for example, electricity transmission costs charged by National Grid (who own the power lines) are built into the unit charge. There are, for example, some pockets of Scotland where transmission cost are very high because the distance between generation and 'consumer' is so great. Whilst this something you cannot affect it can add between 10 to 15 per cent to the cost of a unit of electricity.

The length of the contract will also determine the prices you pay. Rather like the deals offered on a fixed rate mortgage, you'll pay more initially for longer term deals because you're hedging against rises in unit rates. But as rates rise - as they surely will (and are) the better the value you will see being returned and indeed, you could end up with a proportionately better deal than the market is offering to others.

Whilst it makes little odds when you use gas, there are deals for night time electricity usage. So is your business able to utilise electricity at a lower night rate? At the same time, consider if your business is seasonal or a relatively low consumer of power? If so, you could be better off with a tariff that features a low standing charge leaving you to pay per unit consumed.

Some energy suppliers are pushing businesses to install so called 'smart meters' on the basis that it will save money as they only pay for energy consumed instead of estimated. Bills that are estimated often lead to positive cash balances with the energy supplier. However, you need to be aware that smart meters are in their technical infancy and whilst they can aid cashflow, they will restrict the suppliers you can move to as a number of energy suppliers don't yet support them. Ideally you should return meter readings to the energy supplier on a regular basis.

One other thing to consider with smart meters is that whilst they report on usage through a built in phone mobile phone SIM (not at your expense), they can also receive instructions to cut off your supply should a bill go unpaid.

Unlike domestic energy users, there is no financial advantage to having a dual fuel deal with a supplier. However, for administrative purposes, it may still be easier to have one supplier for both gas and electricity. But just like domestic customers, there are savings that can be made by paying for usage via direct debit rather than by cheque on receipt of the paper bill - at the time of writing you can save 2 per cent with EDF and 4 per cent with EON.

Lastly, charities shouldn't lose sight of a valuable concession; that they only VAT at 5 per cent on fuel rather than the 20 per cent businesses pay (domestic users pay at 5 per cent too). Charities that have missed this trick can apply for a rebate of the VAT paid over the last three years.

So whatever your situation, don't let inertia stop you from switching. Moving energy supplier is not hard, difficult or time consuming. The new supplier, or the consultant, will make the switch for you. The bottom-line? Read terms and conditions carefully.



Some statistical food for thought
Based on a 2011 Make It Cheaper Survey:
• 54 per cent of businesses have never switched electricity supplier.
• 18 per cent of businesses think that they cannot switch supplier.

Based on 2010 Ofgem Survey:
• 7 per cent of 500 businesses managed to switch electricity. (18 per cent of domestic users switched).
• 79 per cent of businesses say they've not had (or couldn't remember receiving) a renewal letter.

Business energy costs have almost doubled in the past 5 years.
• Only 15 per cent of small businesses know what rate they are paying for electricity.
• A good price for electricity at the time of writing is just under 10p/unit (kWh) but some suppliers are renewing contracts at around 16p/unit and out-of-contract (deemed) rates can be as high as 30p/unit.
• Savings to be made can average 30 per cent.


MicroScope+
Content
Find more MicroScope+ content and other member only offers, here.
Read more on Finance and Credit