In depth: Election fever – what the main parties promise for business
By 3 June 2010 the UK will have had a general election and quite possibly a change of government. Each of the main political parties has much to say in terms of their policies, but what specifically are they offering business?
This Article Covers
RELATED TOPICS

Download this free guide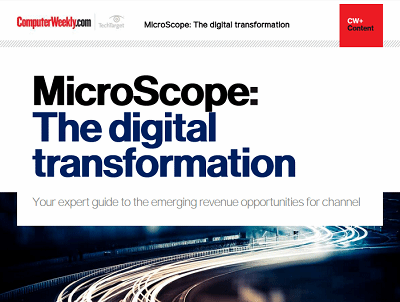 Emerging revenue opportunities for the channel with digital transformation
Digital transformation is a phrase that means many things to many people but for it to have any real relevance to the channel then it needs to mean a chance to make money. This guide will share some of the recent developments in the channel and the latest thoughts about the issue.

By submitting your personal information, you agree that TechTarget and its partners may contact you regarding relevant content, products and special offers.

You also agree that your personal information may be transferred and processed in the United States, and that you have read and agree to the Terms of Use and the Privacy Policy.



By 3 June 2010 the UK will have had a general election and quite possibly a change of government. Each of the main political parties has much to say in terms of their policies, but what specifically are they offering business?

Conservative
The Conservatives plan to cut government spending by a third if they come to power. The party will also create an Office for Budget Responsibility, which will have the job of ensuring that all government plans are balanced and long-term in vision.

In an attempt to prevent "boom and bust" cycles, the Conservatives propose measures to control "irresponsible behaviour". They would give the Bank of England a greater role in market oversight via a new Debt Responsibility Mechanism. The bank would then effectively have a direct hand in the management of debt within the financial system.

The Bank of England would report to the Financial Services Authority (FSA), which could then tackle individual banks. Also, the bank would have greater autonomy to deal with failing financial institutions.

At the same time, financial institutions which offer large bonuses to staff, encouraging risky behaviour for short-term gain, would have to hold higher cash balances to offset risks. These institutions would also have to second qualified staff to the FSA so that the regulator would have skills and experience on a par with the institutions it regulates.

If banking sector bonuses were seen to be getting out of hand again, the Conservatives say they would look to take further action. Also, barriers to entry for new banks would be lowered to increase competition in the lending market.
The Conservatives plan to reform the tax system, which they claim is uncompetitive and opaque. This, they say, would reduce the tax burden on families and businesses. They say their tax reforms would mean lower government spending, lower taxes and a simpler system.

However, the Conservatives want to increase the amount of tax collected by green taxes, introduce a Carbon Levy to encourage low-carbon energy use – this would replace the Climate Change Levy. There would also be what they call a "Fair Fuel Stabiliser" to reduce the UK's exposure to instability in the international oil market. There would also be incentives for developing and using green technologies. Labour's "stealth taxes", such as Air Passenger Duty and the Vehicle Excise Duty rises on older cars, would be removed.

Other tax proposals include:
● An Office of Tax Simplification would work on a simpler tax code.
● The headline rate of corporation tax would be reduced to 25% and the small companies rate of corporation tax would drop from 22% to 20% – both to be funded by a reduction in allowances.
● Struggling firms would be able to defer VAT for six months.
● The inheritance tax threshold would be raised to £1m.
● Stamp duty would be abolished on homes valued at less than £250,000.
● Parliament would be given much more time to scrutinise tax law.
● The Conservatives would keep Labour's 50p tax rate and would work with councils to freeze Council Tax rates.

Regulation would be curtailed by a new "Star Chamber" that would require any new rule or law to be balanced by another that is cut; the public would be allowed to nominate laws for review; and any changes to the employment and discrimination tribunals system would be consulted upon.

As for Europe, the Conservatives would amend the law so that further transfers of power to the EU could not happen without a referendum. They also want a restoration of national control over social and employment law.

Under other plans, the Conservatives would strengthen UK Trade and Investment to help UK businesses overseas; the regional development agencies would be reformed; and businesses would receive help via a £50bn National Loans Guarantee Scheme open to businesses of all types and sizes.

On employment law, the Conservatives would take the UK out of the EU Social Chapter and extend the right of employees to request flexible working to all with children under 18. They want employment law simplified to make hiring easier and they would offer businesses £2,500 tax breaks for creating new jobs. There would also be state provided skills training, at a cost of £775m, to provide "useful skills and that apprenticeships are real with actual employers".

At the same time, the newly unemployed would be allowed to re-skill while claiming jobseekers allowance and there would be £100m to help those not in employment, education or training into work.

Any new business started in the first two years of a Conservative government would not pay any national insurance on the first 10 employees it hires in the first year. The minimum wage would be maintained and the benefits system would be reformed so that people are better off working than claiming benefits.

In a different direction, the Conservatives would reduce the burden of health and safety legislation while trying to rein back the culture of excessive litigation.

Conservative transport policy mentions that they would build several cross-country high-speed rail links, stop the third runway at Heathrow and either build new roads or make better use of present capacity to reduce traffic congestion. Councils would also be allowed to apply for funding to create green travel initiatives.

Lastly, the Conservatives would tackle "rogue clampers", shorten the time to reopen roads after incidents and slow down the rate of speed camera installations.

Liberal Democrats
The Lib Dems also have much to say. Their programme would begin by reducing the regulatory and administrative burden on businesses imposed by government. To do this, they plan to consult on regulations and legislation that needs to be either simplified or repealed and by automatically abolishing regulations after a period of time.

Government would be required to carry out an impact assessment of regulations before implementation. At the same time, European directives will only be enacted "as is" rather then embellished.

The management of the economy would change. The Bank of England would be become more independent of government with appointments to the Monetary Policy Committee being made independently. The bank would get sole responsibility for the setting of inflation targets.

In the same vein, the biggest (nationalised) banks would be split up. The National Audit Office would be told to scrutinise government spending. The money markets would be controlled more tightly through changes to the disclosure regimes, the regulation of hedge funds and greater use of competition law in banking.

New policy from the Lib Dems would also place a 10% levy on bank profits, with proceeds going to reduce the government deficit. Further, the banks would be broken up so that they are no longer "too big to fail".

Lib Dem policy would also abolish the Department for Business, Innovation and Skills, making the chief secretary to the Treasury the Cabinet minister responsible for business. The party says the £1bn a year savings from the abolition would be ploughed back into education and training. Its functions would go to more appropriate departments. Failing industries would not be propped up and new spending would be paid for by cuts elsewhere.

The country would become greener; the Lib Dems want electricity production to have zero carbon emissions by 2050 and carbon-reducing industries and businesses that want to become more energy efficient would receive incentives. A National Infrastructure Bank would be set up to coordinate investment.

Air passenger duty would be scrapped and instead, each plane would be taxed on its emissions.

The Lib Dems plan to cut business rates for small businesses by reforming the valuation system to base rates on site values rather than rental ­values. Firms with a rateable value less than £25,000 could claim an allowance. Corporation tax would be simplified by removing a number of reliefs, which would be funded by a lowering of the tax rate by 1%.

In another move, small businesses could choose to pay corporation tax based on their net operating cashflow rather their accounting profits.

Research and development tax credits would be reviewed so that innovation is "properly targeted". And individuals would get a £10,000 nil rate tax allowance – the Lib Dems claim that people with income of less than £10,000 a year would be £700 a year better off. Council tax would be replaced with a new local tax based on income.

A General Anti Avoidance Rule would be introduced to replace the maze of other rules aimed at stopping tax avoidance schemes. It is intended that businesses would get a faster response to their tax questions and the Lib Dems would seek standardised tax rules (but not rates) across Europe to keep all businesses on a level playing field.

The Lib Dems would tackle one of the causes of the economic slowdown by creating an independent financial advice network and removing the ability of lenders to increase credit limits or overdrafts without prior consent.

The Lib Dems support the protection of employment rights under the EU Social Chapter, such as parental leave, European works councils, part-time work, burden of proof in sex-discrimination cases, fixed-term employees, information and consultation with employees and equal treatment.

The Lib Dems welcomed the signing of the Lisbon Treaty and would work for greater European integration. Job growth would be stimulated by redistributing government monies, selling assets and placing a charge on utility companies.

The Lib Dems would put a duty on employers to consult with their workforce while being able to create their own model for consultation. They do not support differentiation in the national minimum wage and would equalise the rates for all. The Lib Dems would tackle the gender pay gap with changes to women's rights and give flexible working rights to all (not just parents).

On transport, the Lib Dems would reopen railway lines, add new stations and increase capacity. This would be paid for by a per-mile charge on lorries and rail franchise holders.

For motorists, vehicle excise duty would be abolished and fuel duty reduced and replaced by road pricing. Motorway widening schemes would be stopped.

Labour
With Labour being the incumbent party of government, much of Labour Party policy is either in place or on-going.

The government has been forced to make changes to the way the financial markets are being run. Labour via HM Treasury says it has strengthened the UK's regulatory institution framework and increased oversight on firms considered "too big to fail".

Through the Banking Act 2009, the government gave the Bank of England, the Financial Services Authority and the Treasury greater ability to protect the banking system. The government has also gained the support of the five biggest UK banks in curbing bankers' bonuses, and RBS and Lloyds are to be split into three banks to enhance competition. There will also be legally enforceable lending commitments to increase business and mortgage lending.

The government via HM Revenue & Customs created the Business Payment Support Service, a service for those who owe taxes to HMRC to spread payments over a given period of time with minimal cost. There is on-going financial support via the Business Links and "Real help with finance now" scheme, which includes programmes such as the Trade Credit Insurance scheme, which insures a company's sales with credit insurance; government lending through the Enterprise Finance Guarantee, which helps businesses with turnover up to £25m with loans up to £1m; and the Working Capital Scheme, which helps banks release capital to lend to businesses.

£500bn was put aside to recapitalise the banks through a Credit Guarantee Scheme, which allows banks to swap illiquid assets for Treasury bills.

The automotive and associated industries received a kick-start through the car scrappage scheme, which has been extended. UK manufacturers can also tap into a £151m investment fund to help them invest in emerging technologies.

Labour wants to enhance Britain's green credentials. Various measures have tried to alter the use of energy in the UK. Changes to vehicle excise duty and emissions-based car tax calculations have changed our buying habits. The government claims to have helped five million households get better insulation, and it aims to reduce the UK's CO2 emissions by at least 20% by 2020 as it triples the UK's production of renewable energy.

A new energy policy proposes to fast-track the building of new nuclear power stations via a slimline planning process.

The government brought in the air passenger duty to cut pollution by making air travel more expensive (airlines benefit from no VAT on tickets or fuel). But still to come is the Renewable Transport Fuel Obligation, which requires that 5% of road fuels come from biofuels, and a broadband tax of 50p per month for anyone with a fixed-line telephone to fund investment in better broadband.

Government action in the employment market started in 1997 when the UK signed up to the EU Social Chapter. This was followed by the introduction of the national minimum wage in 1999 and changes to the law covering disability and age discrimination.

More recently, the Labour government has guaranteed work training for 18-24-year-olds who have been unemployed for 12 months or more. At the same time, the government offers businesses up to £2,500 to take on people who have been long-term unemployed. And statutory redundancy pay was increased to £380 a week.

Labour has also revitalised the apprenticeship programme, investing £90m in 12 employer-led skills academies to provide vocational training.
Transport has not been left untouched by Labour. The government announced £1bn in December 2008 to increase rail capacity and stimulate the economy. The desire is to double the number of passengers and the volume of rail freight over the next 30 years.

Labour has also announced £30m to support a Community Infrastructure Fund that will improve transport connections to new homes. It also plans to invest £925m to kick-start housing projects that have stalled.

As an addendum, the November 2009 Queen's Speech, which outlined Labour's plans for the next parliamentary session, did not contain much for businesses apart from an Equality Bill to grant further equality rights to employees and consumers, and a Financial Services Bill to further regulate the banks.

The Pre-Budget Report promised serious pain for businesses from 2011 with numerous changes, including a 1% rise in national insurance contributions, spending cuts and VAT returning to 17.5%.

Each of the parties is spewing out reams of policy documents. The highlights are have been listed here, but if you want to find out more, you should visit the parties' websites:

Labour Party website >>

Conservative Party website >>

Liberal Democrats website >>



MicroScope+
Content
Find more MicroScope+ content and other member only offers, here.
Read more on Sales and Customer Management