In-depth: A Statement sticking to plan A
The Chancellor delivered the 2011 Autumn Statement on 29 November. In the Statement he has kept to the course on which he set out last year, with no adjustment to current overall spending and borrowing, writes Jeff Webber.

Download this free guide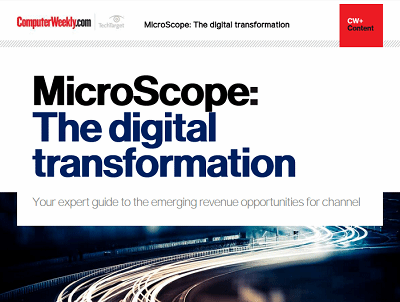 Emerging revenue opportunities for the channel with digital transformation
Digital transformation is a phrase that means many things to many people but for it to have any real relevance to the channel then it needs to mean a chance to make money. This guide will share some of the recent developments in the channel and the latest thoughts about the issue.

By submitting your personal information, you agree that TechTarget and its partners may contact you regarding relevant content, products and special offers.

You also agree that your personal information may be transferred and processed in the United States, and that you have read and agree to the Terms of Use and the Privacy Policy.

The Chancellor delivered the 2011 Autumn Statement on 29 November. In the Statement he has kept to the course on which he set out last year, with no adjustment to current overall spending and borrowing, writes Jeff Webber.

The Statement focuses mainly on further restraining the cost of the public sector, in response to revised forecasts from the Office for Budget Responsibility, and on introducing some initiatives to drive private sector growth. As expected, the Statement included few tax announcements, and we will have to wait until 6 December 2011, when a considerable amount of draft tax legislation will be published, for full details on most of the tax announcements in the Statement.

Restraining public sector costs
In brief, the government is responding to lower growth projections of 0.9 per cent for 2011 and 0.7 per cent in 2012, with a slower recovery thereafter, by proposing the following main measures:
* limiting public sector pay awards to an average of 1 per cent for each of the two years after the current pay freeze ends;
* freezing working tax credits and cancelling an above-inflation increase to child tax credits;
* looking further ahead, raising the State Pension Age to 67 between April 2026 and 2027.

Income tax and national insurance rates and allowances
The proposed income tax and national insurance rates and allowances for 2012/13 were published alongside the Statement.

Progress continues to be made under the coalition government's commitment to increase the personal allowance for individuals aged under 65 to £10,000, with an increase of £630 from £7,475 this year to £8,105 in 2012/13.
The level of taxable income in 2012/13 at which the 40 per cent income tax rate will apply will be reduced from £35,000 to £34,370, but the 50 per cent rate band will be unchanged, applying to taxable income over £150,000.

National insurance contribution rates will be unchanged for 2012/13, but there will be the usual small increases to the weekly earnings levels for employees' and employers' contributions.

Helping businesses
The single biggest tax/duty measure is the proposed deferment of the January 2012 fuel duty increase of 3.02 pence per litre until August 2012, and the cancellation of the planned August 2012 inflation increase. This will be worth around £900m for each of the next few years, which will clearly benefit businesses which have significant fuel costs.
Further assistance will come in the shape of an extension to the business rates holiday for small businesses and the opportunity to defer 60 per cent of the increase in 2012/13 business rate bills.

As part of a new Youth Contract, the government will also assist businesses by:
providing funding for an estimated 160,000 wage incentives of £2,275 to make it easier for private sector employers to take on young people; and
ensure the funding for at least 40,000 incentive payments for small firms to take on young apprentices.

To help promote exports, the government will also:
spend £10 million to make available to 500 mid-sized businesses each year the bespoke export support services of UK Trade & Investment (UKTI); and
spend £35 million to double, from 25,000 to 50,000, the number of SMEs that UKTI supports each year.

Credit easing
The Chancellor is again trying to increase the flow of much-needed finance for businesses by introducing a National Loan Guarantee Scheme. The government will allow participating banks to raise up to a total of £20 billion of cheaper funding over the next two years under a government guarantee, provided they pass through this lower cost of funding to smaller businesses. In many cases, this will lead to a reduction of up to one percentage point on the cost of the business loan. The scheme will focus on new loans and overdrafts, to help increase the supply of credit in the economy. Firms should be able to apply for these funds through participating banks in the normal way. The scheme will be operational as soon as possible, subject to state aid approval.

The government will also help businesses raise funds from non-bank sources by making available an initial £1 billion through a Business Finance Partnership, to invest in midsized businesses and SMEs in the UK. The Partnership will initially focus on co-investment with the private sector through loan funds, which will lend directly to mid-sized businesses in the UK. The government will begin the process of allocating funds early in 2012. The government will also consider options for investing through other non-bank lending channels, to help to diversify the sources of finance available to businesses.

Businesses - the losers
The cost of the fuel duty concessions will largely be met by two tax measures which will mainly only affect banks and some large businesses:
* an increase in the rate of the bank levy from 0.078 per cent to 0.088 per cent from 1 January 2012; and
* a restriction to the tax relief on 'asset-backed' company pension contributions, which will only affect companies using schemes to obtain higher tax relief than that which would normally apply.

In addition, Channel Island companies selling low value items such as CDs and DVDs will be hit by the removal of the VAT relief which gave them a competitive advantage, but this will benefit UK-based businesses selling the same goods.

The Air Passenger Duty will also be extended to flights taken aboard business jets, with effect from 1 April 2013.

Encouraging investment
A new Seed Enterprise Investment Scheme (SEIS) will be launched in April 2012, offering 50 per cent income tax relief on investments of up to £100,000 in new start-up companies, together with exemption for capital gains realised in 2012/13 and invested in the SEIS in that year. This will give overall tax relief at up to 78 per cent. This scheme is targeted at small start-ups, as qualifying companies will be restricted to a cumulative investment limit of £150,000.

There will also be consultations on relaxing connected person rules for the Enterprise Investment Scheme and anti-avoidance to prevent its general abuse. The £1m investment limit per company for Venture Capital Trusts will also be removed to reduce the administrative burden of the scheme.

The above measures will largely be paid for by a freezing of the capital gains tax annual exemption of £10,600 for 2012/13.

Consultation will commence at Budget 2012 to introduce an 'above the line' tax credit to encourage research and development activity by large companies.

The government will also make available additional funds to assist research and development in the scientific and technology sectors, including:
* £75 million in supporting technology-based SMEs to develop, demonstrate and commercialise new products and services;
* £200 million in science, including an £80 million investment in the Institute for Animal Health and £25 million for large-scale technology demonstrators.

Spending on infrastructure and housing
Some of the businesses which stand to gain most from the announcements are those engaged in construction and transport, as the government has set out a pipeline of over 500 projects, including road, rail and broadband improvements; a new Thames crossing; development of the London Gateway port; and energy, water, waste and flood improvement schemes.

Housing construction should also benefit from a new build indemnity scheme to increase the supply of affordable mortgage finance for new build homes, a new £400 million Get Britain Building investment fund, and a reinvigoration of the Right to Buy council homes scheme, with proceeds being used to build more homes.

Regional assistance
It is proposed that 100 per cent capital allowances would be available for plant and machinery investment incurred between April 2012 and March 2017 in the six English Enterprise Zones - Black Country, Humber, North Eastern, Sheffield, Tees Valley and Liverpool.

Discussions between the government and the devolved administrations may lead to enhanced capital allowances becoming available in other UK Enterprise Zones.

Summary
The general economic climate and in particular the continuing worries over the Eurozone problems have not allowed the Chancellor to announce any significant relaxation of the debt reduction plan on which the government embarked last year. Consequently, the outlook for businesses, families and individuals is likely to remain tough in the short to medium term, with no mention of any major change, such as abolishing the 50 per cent income tax rate.

However, larger companies can look forward to the phased reduction of the main corporation tax rate to 23 per cent by 2014. This is still on track, as the Chancellor reiterated the government's commitment to develop the most competitive corporate tax regime in the G20.

The crucial factor in the longer term will be whether the UK can return to a 3 per cent annual growth rate, as is now projected for 2015.

Jeff Webber is a Tax Director with BDO LLP
MicroScope+
Content
Find more MicroScope+ content and other member only offers, here.
Read more on Finance and Credit