Analysis: Time to face some social networking changes
Those in charge of communications and marketing in businesses should brace themselves. The goalposts are moving fast and the internet strategies that have found favour up to now might not win boardroom backing in the future.

Download this free guide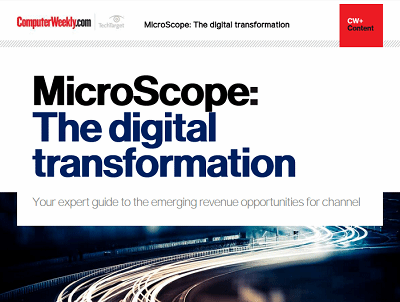 Emerging revenue opportunities for the channel with digital transformation
Digital transformation is a phrase that means many things to many people but for it to have any real relevance to the channel then it needs to mean a chance to make money. This guide will share some of the recent developments in the channel and the latest thoughts about the issue.

By submitting your personal information, you agree that TechTarget and its partners may contact you regarding relevant content, products and special offers.

You also agree that your personal information may be transferred and processed in the United States, and that you have read and agree to the Terms of Use and the Privacy Policy.

Those in charge of communications and marketing in businesses should brace themselves. The goalposts are moving fast and the internet strategies that have found favour up to now might not win boardroom backing in the future.

In the past, the general approach was to have a one-size-fits-almost-all policy of imposing blanket bans on certain websites, including some of the social networking platforms such as Facebook.

Seen by many employers as a waste of time and a distraction in the workplace, social networking was banned or blocked during office hours. Those who did go to social networking sites were expected to do so in their own time and employers had little or no idea what they posted to the world.

But when research analyst Gartner stands up and says that Facebook is going to be a key element in customer relationship management and marketing, then CEOs have to sit up and take notice.

But they face a problem. Because to make Facebook - as well as Twitter and other emerging social networking sites - work, it is not just security and productivity concerns that have to be addressed but also brand management issues.

On the security front it is going to be a challenge making sure that employees don't tweet about business deals or internal business decisions that might seem innocuous but in fact hand valuable information to competitors.

On the brand front, the issue of developing a personality for a social network site is one that, if thought through properly, could boost a brand; but if handled poorly, it could reflect badly on both the staff member and the brand.

Because of the recession, very few companies now have the internal resources to deal with these issues, but putting them off much longer is not an option.

"For most organisations, the single most logical way to differentiate the business is through great customer experiences, rather than having the lowest cost or most innovative products and services," said Ed Thompson, vice president and distinguished analyst at Gartner.

What that means in practical terms is that more companies are going to have to get involved with platforms that allow user participation and show a human face to marketing.

But as Nick Lowe, Northern European regional manager at Check Point, knows, companies are seriously concerned by the possibility this raises for not only breaking security policy but inadvertently publicising important and confidential corporate information.

"Security is moving to content," said Lowe, "and people are having to get their houses in order for today's environment and develop security skills in the next few years."

Lowe believes that in boardrooms up and down the country managers are starting to wrestle with the question of what their attitude towards social networking is, particularly as they come under pressure from suppliers to use web communication.

Where are the skills coming from to help in that challenge? Resellers could have a role to play in solving that problem.

After all it isn't just Gartner talking about this issue. Last autumn Cisco held an event to tell channel marketers that Twitter, Facebook and YouTube were essential tools. Why? Not just because they are free but because of the potential size of the audience they reach.

As Gartner tries to predict which way the market is moving, its advice is to try and pick the three or four social networking platforms that are going to emerge as the winners.

"Facebook membership hit 300 million in September 2009, and is roughly doubling each year," said Thompson. "It is reasonable to assume that it will attain a membership of 600 million (including inactive accounts and a small number of users with multiple accounts) by the end of 2010 based on the trajectory in 2009."

It seems that the goalposts are shifting, with social networking becoming part of a marketing plan whereas before it was seen as a waste of time.

Over the next few months the forecasts of Gartner and others that have an influence on those operating in marketing will filter through and the impact should be felt in the channel.

Vendors are starting to talk about the importance of resellers getting involved with social networking and that is not going to stop. Add to that the widespread feeling that with marketing budgets remaining tight it would be a missed opportunity not to take advantage of "free" online tools and you have a situation where change is almost inevitable.

It will take time but the signs are that what might have seemed a fad or a teenage rite a couple of years ago is here to stay and will have a business use after all.



MicroScope+
Content
Find more MicroScope+ content and other member only offers, here.
Read more on Data Protection Services