Analysis: Channel adjusts to Nortel exit
The purchase of Nortel's enterprise communications business by Avaya for $900m marks the beginning of the endgame for Nortel. With few units now remaining, this once powerful vendor has little left beyond its Metro Ethernet Networks unit and a handful of patents.

Download this free guide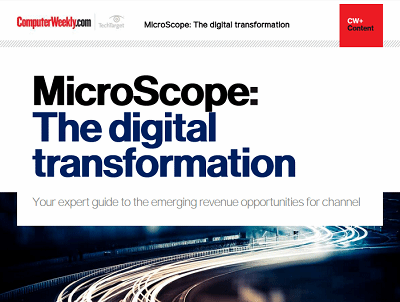 Emerging revenue opportunities for the channel with digital transformation
Digital transformation is a phrase that means many things to many people but for it to have any real relevance to the channel then it needs to mean a chance to make money. This guide will share some of the recent developments in the channel and the latest thoughts about the issue.

By submitting your personal information, you agree that TechTarget and its partners may contact you regarding relevant content, products and special offers.

You also agree that your personal information may be transferred and processed in the United States, and that you have read and agree to the Terms of Use and the Privacy Policy.

The purchase of Nortel's enterprise communications business by Avayafor $900m marks the beginning of the endgame for Nortel. With few unitsnow remaining, this once powerful vendor has little left beyond itsMetro Ethernet Networks unit and a handful of patents.

But whilethe Canadian ICT sector comes to terms with the demise of its flagshipcompany, Nortel's legion of channel partners see an upside.

Thedeal has been positively welcomed in the channel, according to AdamJarvis, sales director at Intrinsic Technology - which was one ofseveral resellers to rush to Nortel's defence when the administratorswere called in at the start of the year.

"Many Nortel resellerssaw this coming and have no doubt been in talks with Avaya to readythemselves for this eventuality. We have been talking to Avaya foraround a year," he says.

Business as usual
Jarvissays he anticipated little change to the services Intrinsic offers itscustomers, adding that he was committed to system longevity forcustomers, whether they use Nortel or Avaya solutions.

DarrenBoyce, CEO at Proximity - a Nortel partner for over a decade - revealshe has also been having discussions with Avaya before the announcementwas made: "Avaya wants a channel-friendly environment, and Nortel willgive them that base to build on."

Sales director Jane Emerson adds that, while the sale of the unit to Avaya was not a given, it was not a surprise either.

Accordingto Boyce, the deal enables Proximity to tender for greenfield Nortelinstallations instead of merely servicing current customers.

"Ourexisting business has been extremely patient through this process, butwe can now start having credible conversations with potential customersagain," he said.

Jarvis at Intrinsic says the deal wouldprecipitate a battle in the converged enterprise desktop sector, aswell as handing Avaya outright leadership of the contact centre space.

"Avayais in a strong position as the channel faces the inevitable entry ofMicrosoft and Cisco with improved media and feature-rich enterprisedesktop offerings," he says.

Jarvis believes Microsoft inparticular is itching to embrace the market, expanding on its ownershipof the enterprise desktop consumer market into the enterprise withOffice Communications Server. However, he adds: "It remains to be seenhow the company can further capitalise on this expertise to target UCfor business and improve on Silver Lake's superior offering."

Integration
Avayahas yet to go public with its plans for the enterprise unit, and forthe time being - aside from the usual guarantees of continued support -there is little indication of how it will integrate its two channelsand how it will continue to support Nortel installations in thelong-run.

It is, however, understood that Avaya'srecently-released Aura platform is already compatible with most Nortelgear and could be used to keep legacy kit running in a new Avayaenvironment.

Boyce at Proximity takes the view that common sensewill prevail, noting that Nortel's strength in some areas means manyproduct lines will be seen as valuable in the new Avaya.

"Someof the Avaya portfolio has advantages over the Nortel portfolio, andsome of the Nortel portfolio has advantages over Avaya," he says."Nortel has fantastic data capabilities, better than Cisco."

"TheNortel Avaya combination is a monster, but as long as they keep focusedon what their customers are expecting to see, they won't go wrong," headds.

Emerson continues: "Avaya are not going to completely ditch all the traction Nortel has in government and enterprise."

AskarSheibani, CEO at IT repair services house Comtek, argues the opposingview: "Avaya will not possess the necessary expertise to support andrepair legacy Nortel equipment, nor is it likely to have any motivationto gain this expertise."

Sheibani adds: "Avaya's goal will be tostreamline the two sets of products, migrating Nortel customers ontoits latest enterprise offerings. While the acquisition could result inbigger and better enterprise products, the truth is that manyorganisations are perfectly happy to continue using their existingequipment, and don't want to - or worse, can't afford to - be forcedinto replacing it."

Back in August, Comtek launched a Nortelcustomer rescue programme designed to use its own hardware repaircentres and engineers to offer continued support for legacy andend-of-life Nortel kit.

But if the reaction of Nortel resellersis anything to go by, Comtek's service can expect some stiffcompetition in the coming months. While the dust is still settlingaround the sale and complex legal challenges, the inevitable governmentinvestigation and the looming spectre of the due diligence process areall still to be contended with, there is a definite whiff of confidencein the air.
MicroScope+
Content
Find more MicroScope+ content and other member only offers, here.