Five Minute Interview: Lee Fisher, Abiquo
Abiquo's Lee Fisher discusses sausage rolls, his industry inspirations, and why future-proofing is they key to a successful career in IT
Tell us what you do for a living.
VP of products at Abiquo.
Why are you the right person for this job?
Having worked in IT for over 20 years, I'd hope that my experience and love for technology would make me the right person for this job!
What gets you up in the morning?
My iPhone and my kids jumping on my back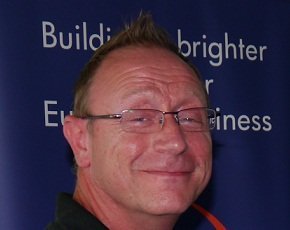 Who helped you get to where you are today?
Being in IT for as long as I have would equate to quite a few people! I was originally inspired by some of the personal computing 'founders' such as Bill Gates, Steve Jobs and Sir Clive Sinclair.
What is the best or worst business advice you have received and from whom?
I have had many people in my past tell me I should look at technologies that have become dead ends, most recently for example was the perceived belief that 'netbooks' were the next big thing, when they were not.
In terms of good advice, something valuable that I was once told is that I should look at how technology could be exploited; how to recognise its limitations and how long it will take for that technology to be superseded. Essentially, in order to succeed in IT you need to be able to be 'future proof'.
What advice would you give to someone starting out today in IT?
Only you will know what saves you time when it comes to IT and computing – it's the same in business.
It used to be that you had a faster internet connection at work, rather than at home, however now the opposite is true. It's the consumer – i.e. you and I – that's driving IT nowadays.
What's running on your smartphone?
160 apps – favourites include Flipboard, Spotify, Twitter and Real Racing 3.
What does the next five years hold for the channel?
I think that more and more users and businesses will begin to realise that the channel is an invaluable way of reselling services and will opt to purchase their IT services through it more. Inevitably the channel will become an IT broker.
I also think that the traditional relationship of selling tin and boxes will transition to selling more digital services, i.e. the cloud. However in order to do so, channel stakeholders will need to position themselves as the enabler; bringing the cloud, the business and the end-user together.
Tell us something most people do not know about you
I find the colour orange irresistible.
What goal do you have to achieve before you die, and why?
To spend at least a whole season following the Formula One races across the globe – not just on the telly!
What is the best book you've ever read?
Winston Churchill's biography, post World War Two.
And the worst film you've ever seen?
Either The Blair Witch Project or one of the Harry Potter films
What would be your Desert Island MP3s?
I simply couldn't choose. My Spotify playlists are endless….
What temptation can you not resist?
What was your first car and how does it compare with what you drive now?
My first car was a Vauxhall Chevette. However, I currently own an Audi RS4 and a mad, orange 700 HP Mitsubishi Evolution which I adore
Who would you least like to be stuck in a lift with? Why, what did they do?
Arthur Scargill or someone with bad wind.
More on Abiquo
Can cloud computing teach you to ignore your infrastructure?
If you could be any animal for a day, what would you be?
An eagle.
If you could take part in one event at the Olympics, which would you choose?
The 100m sprint.
If you were facing awesome peril and impossible odds, which real or fictional person would you most want on your side and why?
Bananaman or Dangermouse – he was brilliant!
And finally, a grizzly bear and a silverback gorilla are getting ready for a no-holds-barred rumble. Who is your money on and why?
The grizzly bear – my reasoning for this is that they have claws.