Five Minute Interview: Fraser Dean, Vidyo
This week, we catch up with Fraser Dean, EMEA channel sales director at Vidyo
Tell us what you do for a living.
I've worked in the video-conferencing industry since 1995 and am in my sixth year with Vidyo. I'm currently the EMEA channel sales director.
Why are you the right person for this job?
I take relationships seriously; I'm very much a people person and like to win.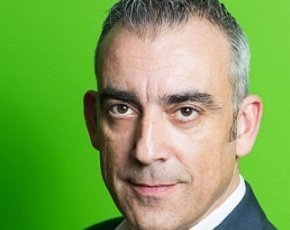 What gets you up in the morning?
I'm a nightmare when it comes to getting up in the morning - probably because I don't' like going to bed particularly early. So I drag myself out of bed around 6am and run five miles to wake myself up, clear my head and start planning the day ahead.
Who helped you get to where you are today?
There are two people that helped me; my wife for never doubting my capability and a past boss and mentor for pushing me hard every single day and dedicating so much of his time to me.
What is the best or worst business advice you have received and from whom?
We have two ears and one month and should use them in that ratio. I believe this is very important in business and often overlooked.
What advice would you give to someone starting out today in IT?
I would tell them to think very carefully about their career and choose wisely. The hours we tend to work today consume a whole lot more than it used to, so you need to be happy and passionate about what you do for a living. It would be pretty depressing if you wound up in the wrong job!
What's running on your smartphone?
Way too many applications that my kids have downloaded that send me messages at ridiculous times of the night.
What does the next five years hold for the channel?
For those that are focused on the video-conferencing market there are some big, but positive changes. Traditionally video-conferencing has been a specialised AV solution, typically CapEx funded and enterprise deployed. Vidyo is changing this to an OpEx funded cloud accessed solution, offering much greater longer-term revenue. CapEx focused channels need to consider the future implications for their business. Those channels that have not had the AV expertise for video conferencing now have additional revenue opportunities as Vidyo's solution approach to video conferencing is more aligned with IT and networking.
Tell us something most people do not know about you.
I'm passionate about horses. I ride every week and would ride every day if I didn't have to work.
What goal do you have to achieve before you die, and why?
There are two things that I'd love to do - one is a freefall or base jump, the other to experience blue water sailing. Sailing across the Atlantic to New York would be pretty challenging and rewarding.
What is the best book you've ever read?
Anything by Wilbur Smith, but the stories he's written about the seafaring Courtneys during the times of the East India Trading Company have to be my favourites.
And the worst film you've ever seen?
I'm not really one for watching movies. I don't seem to have time to sit down in front of the box.
What would be your Desert Island MP3s?
There are far too many to list but it would have to include The Killers, The White Stripes, Kings of Leon, Biffy Clyro, Coldplay… you are probably getting a feel for my type of music.
What temptation can you not resist?
Traditionally brewed local ales. There's nothing better!
What was your first car and how does it compare with what you drive now?
My first car was a Talbot Horizon. There is no comparison to any car on the roads today – there was so much rust on the wings you could see right through to the road and the tappets were so loud you could be heard coming a mile away!
Who would you least like to be stuck in a lift with? Why, what did they do?
Alan Sugar. I don't know what it is about the man but he just gets my hackles up. He doesn't even have to say anything and I find myself getting worked up!
If you could take part in one event at the Olympics, which would you choose and why?
They say it's the taking place that counts, but I think winning is hugely important. So any Olympic event where I could win would do me just fine.
If you were facing awesome peril and impossible odds, which real or fictional person would you most want on your side and why?
I think my mother. It's often said that if there was a worldwide nuclear war all that would be left is a cockroach and my mother!
And finally, a grizzly bear and a silverback gorilla are getting ready for a no-holds-barred rumble. Who is your money on and why?
In my limited experience of betting, which has only really been on horses or dogs, it usually comes down to how much I like the name – so it would depend on what the bear and gorilla are called!