Five Minute Interview: Darren Spence, Bytes
Successful Dragon's Den contestant and Bytes Document Solutions boss Darren Spence answers our probing questions in this week's Five Minute Interview
Tell us what you do for a living
I'm the managing director of the Xerox Managed Print Services partner, Bytes Document Solutions UK (a subsidiary of the Altron Corporation) so my job pretty much involves being a jack of all trades and master of none. I have also been known to tweet and author sales books.
Why are you the right person for this job?
I'm not sure I was ever the right person for the job but more like the only person willing to take the job on. When I was recommended for the role by my CEO in March 2010 the company had just lost £1m profit; was burning cash; owed £2.5m; and had fallen out of favour with Xerox. It wasn't in a good place. I didn't really think too hard about the challenge ahead which looking back was probably a good thing else I may have had second thoughts. I was naïve, inexperienced, and slightly blinkered but a well-used phrase from Risky Business kept playing over in my mind so I thought, what the hell. Fortunately things worked out okay as within two years the company had made over £1m profit; was generating a material amount of cash; had cleared all its debts; and picked up a number of gongs from Xerox and other industry bodies and vendors.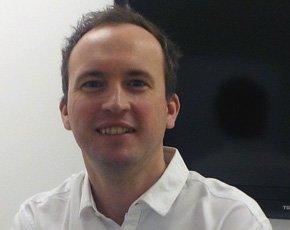 What gets you up in the morning?
Aside from the lorries hitting the pothole outside my house, it's the knowledge that every day is different and I can make a difference every day. One day I could be acting as social worker to one of the team and the next I could be meeting an industry analyst; a Xerox executive; or a customer for dinner in New York.
Who helped you get to where you are today?
A tidal wave of people around me, some I know personally and some I've simply read about and/or followed. One person however who did inspire me is someone I never had the chance to meet, the late Stephen Covey; The Seven Habits of Highly Effective People helped motivate me to look at things differently. Steve Jobs also summed this up perfectly, think "different".
What is the best business advice you have received?
Make sure you have the right people in the right roles – and if you're going to party to the early hours of the morning on a weeknight make sure you're in the office earlier than normal.
What advice would you give to someone starting out today in IT?
Don't reinvent the wheel, focus on finding ways of taking markets, not making them. Mark Zuckerberg is not the norm. There have been millions before him who have failed. Instead of focusing on revolution, focus on evolution by becoming a strategic business partner to one or two core vendors with strong track records, great high-margin technologies and effective management teams, such as Xerox, then find a way of enhancing what they do with a better service wrapper, niche products, and a flexible commercial proposition. It's the Virgin model. Spend less on making things and more on making other peoples' things better. Let them spend the money on R&D while you focus on the sales and marketing.
What is running on your smartphone?
LinkedIn, Sky News, Facebook, Twitter, UK Train Times and my own, "The 30 Minute Sales Professional" – and a load of music I currently can't listen to due to a self-inflicted technical hitch.
What does the next five years hold for the channel?
There will always be a channel. Those that win big will be those that continue to innovate and continue to give people what they need. Those people that lose touch and have their head in the clouds will lose out on the ground. The rules of running a great business have never changed.
Share something most people do not know about you?
I appeared on James Khan's inaugural episode of Dragons' Den in October 2007 and on the day I was filmed for it (2nd August) my first child was born – quite a day!
What goal do you have to achieve before you die, and why?
Re-coup the investment on the product I was pitching to the Dragons!
What is the best book you have ever read?
The Seven Habits of Highly Successful People, followed closely by Nobby Travels to Hollywood. They both changed my life.
And the worst film you have ever seen?
What would be your desert island MP3s?
Probably the Harry Potter audiobooks as if I ever needed a motivation to find a way back to civilisation that would be it.
What temptation can you not resist?
A gin and tonic at 35,000 feet.
What was your first car and how does it compare with what you drive now?
My first car was a Fiesta and my current is a 911. The former had foldable back seats but wasn't very cool whereas the latter is the exact opposite. I should have saved my money and bought a Smart car.
Who would you least like to be stuck in a lift with? Why, what did they do?
Anyone who's claustrophobic.
If you could be any animal for a day, what would you be and why?
A swan so I could meet the Queen and swan about all day.
If you could take part in one event at the Olympics, which would you choose and why?
The 100 metres; I'd like to see how slow I am compared to Usain Bolt.
If you were facing awesome peril and impossible odds, which real or fictional person would you most want on your side and why?
Peter Kay. He's hilarious. If you're going to go down you may as well go down laughing.
And finally, a grizzly bear and a silverback gorilla are getting ready for a no-holds-barred rumble. Who is your money on and why?
The bear as he has the most to lose – pubs, sponsorship deals, film deals.
Read more on Managed Print Services