Resellers, get into voice coaching, says Plantronics
On Tuesday Network Noise sat down at UC Expo for an interesting chat with Plantronics EMEA vice president and managing director Philip Vanhoutte. As I'm sure you don't need telling, Plantronics made its name developing peripheral headset, microphone and speaker systems.The vendor is using this year'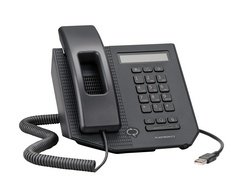 On Tuesday Network Noise sat down at UC Expo for an interesting chat with Plantronics EMEA vice president and managing director Philip Vanhoutte.
As I'm sure you don't need telling, Plantronics made its name developing peripheral headset, microphone and speaker systems. The vendor is using this year's event to show off its new Voyager Pro headset solutions that sense a user's physical presence and determine their UC presence from that.
Also on the stall are a series of new Microsoft Office Communicator and Lync optimised speakerphones called Calisto (pictured) that offer multi-device hands free connectivity and visual call management, among other features.
But with the unified comms conversation in 2011 dominated by video and tablet computing, the add-ons such as headsets and speakers are not the sexiest part of the overall solution, a truth Plantronics' own execs will concede.
However, argues Philip, they should not be overlooked.
"Our own research suggests that call quality in a UC installation is not really all that good. People think they can talk into their netbook's mic and are then surprised to find that it's not optimised for a softphone experience," he explains.
But when selling your customer an upgraded call quality experience, there is a more theatrical way for the channel to throw in a little value-add in a UC sale.
Why not, suggests Philip, taking a deep breath from the diaphragm, start to offer a spot of voice coaching?
Vocal technique coaching of the sort undergone by actors, singers and nervous public speakers sounds a little off-base as a channel play, but Philip believes that paying attention to what voice coaches call the 'four Ps' (that's pitch, pace, power and pausing) can pay off in terms of increasing call quality and, with any luck, projecting a good image and winning new business.
All together now, do ray me fah so lah ti do!
MicroScope+
Content
Find more MicroScope+ content and other member only offers, here.