ComputerLinks hits the target
These days it's possible to sponsor a fair bit if you are an inventive company and so it was perhaps no surprise that a javelin thrower set for the Olympics would be a target for a distributor. You can imagine now the potential for "hitting the target" and "Moving beyond the competit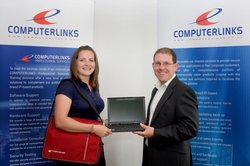 These days it's possible to sponsor a fair bit if you are an inventive company and so it was perhaps no surprise that a javelin thrower set for the Olympics would be a target for a distributor.

You can imagine now the potential for "hitting the target" and "Moving beyond the competition" marketing phrases in the run-up to London 2012 as ComputerLinks looks to get the most out of its support for British number one javelin thrower Goldie Sayers.

But there is another connection here with Sayers sharing her birth town with ComputerLinks making Newmarket famous for more than just horse racing.

You might be wondering what a distributor can give a javelin thrower to help in their training but the Lenovo laptop that was handed over by David Caughtry, director of core technology at ComputerLinks, who hopes that Sayers will be able to use the web to share her experiences on social media.

"Blogging is a great way for me to keep in touch with my family, friends and supporters, especially when I'm training or competing overseas. With ComputerLinks' support, I can now update my blog quickly and easily -wherever I am in the world. It's great to know there are people back home supporting you - even when you are thousands of miles away," Sayers said.

We look forward to reading her progress and the inevitable "hitting the target" campaign from ComputerLinks.



MicroScope+
Content
Find more MicroScope+ content and other member only offers, here.