VMC Viewer puts Androids in control of our computers
VNC Viewer is an app that connects to and controls any computer anywhere in the world. Given the omnipotence that grants the user, you'd expect them to come up with a better name. Dr Evil, Vengeance Will be Mine, I'm Going to Enjoy Killing You Last Mr Bond.... OK, those aren't great names, but sure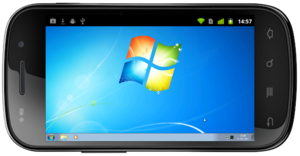 VNC Viewer is an app that connects to and controls any computer anywhere in the world.

Given the omnipotence that grants the user, you'd expect them to come up with a better name.

Dr Evil, Vengeance Will be Mine, I'm Going to Enjoy Killing You Last Mr Bond.... OK, those aren't great names, but surely they capture the zeitgeist of this gizmo better than VNC Viewer.

To be fair, it's not a gizmo. It's a piece of software that has run on iPads, iPhones and iPod Touches. Up until now, the authorities haven't noticed the potential threat this could pose.
But they will have to buck up their ideas after Mobile World Congress, because that it is when VNC releases the Android version of the Viewer.

To date the users of this software have been sensible professionals. Florida State University uses it for remote working. Boston Terracotta uses it to control its computerised kilns. A top photographer uses it.

But imagine what would happen if this fell into the wrong hands.

It's in Beta at the moment, but there's a special log in for journalists to get access to a review copy, from Friday.

Be afraid. Be very afraid.

MicroScope+
Content
Find more MicroScope+ content and other member only offers, here.