Trend Micro makes security industry sense of humour breakthrough
Here's to Natalie Severino, the genius behind a new computer game that teachesusers about security, without boring the pants off them. You can win prizes too! You know how boring security people are? Constantly yammering away about their petty policies and urging you to waste your life on their stup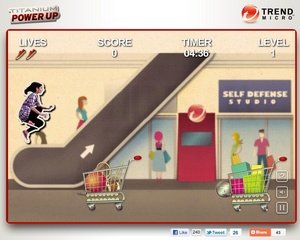 Here's to Natalie Severino, the genius behind a new computer game that teaches users about security, without boring the pants off them.
You can win prizes too!
You know how boring security people are? Constantly yammering away about their petty policies and urging you to waste your life on their stupid, unreadable door step sized handbooks.
You're never going to influence people like that, you fools!
Well, finally, a Titan has emerged from all these drones. Someone at Trend Micro has decided to use their wit and ingenuity to charm users into following them.
Well played Natalie Severino, Trend's consumer marketing guru, for the idea. Finally, someone in the security industry with a sense of humour.
They've created a game that teaches you about security while you play. Titanium Power Up ia an online video game, with characters and challenges. And prizes too.
It's like Super Mario Brothers or Pitfall, only in this game the conflict and challenges are all security related. You have to battle with slow speeds, annoying pop ups and viruses and stuff.
Better still, there are instant prizes to be won every day until December 31st.
You could win
A Toshiba - Qosmio Laptop / 18.4" Display / 6GB Memory / 500GB Hard Drive
A Bose - Companion 3 Series II Multimedia Speaker System (3-Piece)
A 27" Widescreen Flat-Panel LCD Monitor
Or One-year subscription for Trend Micro Titanium Maximum Security

MicroScope+
Content
Find more MicroScope+ content and other member only offers, here.