The business benefits of investing on booze - don't have drink problems, have drink opportunities
This lunch meeting is going well - because they're drinking Ketel One Vodka, a quality solution thesteak holderswill appreciate One of the the great unexamined business processes of British industry is alcohol consumption. It helps the techies think outside the box, it pacifies the angry footsoldier
This Article Covers
RELATED TOPICS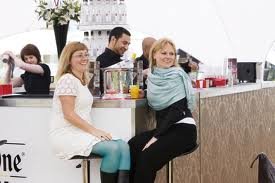 This lunch meeting is going well - because they're drinking Ketel One Vodka, a quality solution the steak holders will appreciate
One of the the great unexamined business processes of British industry is alcohol consumption. It helps the techies think outside the box, it pacifies the angry footsoldiers of the sales army and it creates the right atmosphere for business lunches.
Most of the crucial deals in this industry are struck in bars and at restaurant tables. And yet, and yet. Many IT companies (and indeed publishers) skimp on the quality of the entertainment. This has to be a false economy.
You can't be a premium service provider and drink plonk. The message you're sending out is this: we deliver second rate alcohol solutions to the steak holder!
There's a productivity argument to be made here too. Premium brands of beer, wine and spirits are generally devoid of impurities. Which means you can drink a bottle of Ivan The Terrible Vodka and still be at work the next day. This column has actually tested this. Cheap booze contains hideous additives, that cause hangovers that drastically cut productivity for up to two days. Skimping on the refreshments, then, is a terrible false economy.
This is a business process we intend to investigate. Watch this space for a series of in depth investigations.
As any philosopher will tell you: the unexamined life is not worth living.
Where do you stand on this important issue?
MicroScope+
Content
Find more MicroScope+ content and other member only offers, here.