The ad men score for Everything Everywhere
On my way to sink a Chinese meal and a few beers with some old friends in London last night, I spotted several adverts for Orange and T-Mobile's new venture, Everything Everywhere. As you will know, Everything Everywhere officially switched on network-sharing capabilities for consumer and business c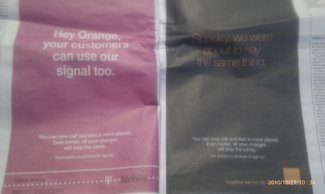 On my way to sink a Chinese meal and a few beers with some old friends in London last night, I spotted several adverts for Orange and T-Mobile's new venture, Everything Everywhere.
As you will know, Everything Everywhere officially switched on network-sharing capabilities for consumer and business customers earlier this month.
The ads, as you can see from the photo I snapped of their double page spread in yesterday's Standard, are pretty tongue-in-cheek.
It's common, especially in this industry, for a company to unveil a new logo and brand strategy amid great fanfare, only for it to fall flat on its face.
But in this case, Everything Everywhere has clearly taken its lead from high street bank HSBC, which eased customers through its transition from Midland Bank to HSBC back in the 1990s with a masterful campaign.
Both Orange and T-Mobile have committed to maintaining their separate brands for at least 18 months, and after that who knows what will happen, but all the same it's good to see a measured, focused and human approach to a corporate merger from a networking firm.
MicroScope+
Content
Find more MicroScope+ content and other member only offers, here.