The SAS Group boasts impressive numbers in awful market
In a tough market, the SAS Group has got going, with military efficiency. Though market conditions in 2010 gave rise to biblical levels of wailing and gashing of teeth, not everybody suffered. The SAS Group has just reported record growth for the last year. Makes you sick doesn't it? While we are a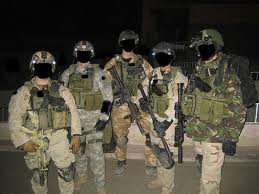 In a tough market, the SAS Group has got going, with military efficiency.

Though market conditions in 2010 gave rise to biblical levels of wailing and gashing of teeth, not everybody suffered.
The SAS Group has just reported record growth for the last year. Makes you sick doesn't it?
While we are all struggling, The SAS Group's CEO Charles Davis says his company is thriving. While we put our fingers in our ears, he outlined the company's fourth quarter and year end accomplishments for 2010 (period ending 31 August). It generated £8.7 million in revenue for year-ended 2010, a 22 per cent increase over 2009, he boasted. Yawn. Really?

Yes, said Davis. It also made £2.52 million in revenue for the fourth quarter, a 20 per cent increase over the same period in 2009, he continued. How utterly tiresome, we said. But there was no stopping him.

It achieved £1.28 million in earnings before interest, taxes, depreciation and amortisation (EBITDA) for the year, a 31 percent increase over 2009, he said, without even noticing our indifference.

He's got a thick skin this bloke, because he too no notice and proceeded to report a £1.05 million net income for the year ended 2010, a £0.29 million increase over 2009.

How positively ghastly, we commented. But there was no stopping Mr Boasty, who finished with a sort of verbal round robin, where he told us how the company achieved its gross margin target of 40 per cent for the year.

Yeah, gross, you got that bit right.

"2010 was a very strong year for SAS - we were able to report record financial results in all areas of the business," said Charles Davis, CEO for the SAS Group. "Our strategy for focusing on fast growth technology markets that demand a high level of expertise and customer service for their delivery and management has proven robust."

How utterly bourgeois!
Note he doesn't say how the company made this money? Would all like to know what niches they concentrated on, what services are in demand.
Come now Charles, chuck us a bone will you? Was it something sordid?
UPDATE
"We focused on developing a handful of key strategic relationships that have paid dividends for SAS and will continue to do so for the next three to five years," Davis has responded.

"Alongside this, there are some new relationships we are working on around cloud services which will both complement and augment our existing partner strategy," he said.
MicroScope+
Content
Find more MicroScope+ content and other member only offers, here.