Sir, the computer ate my homework
When I were a lad it was a question of using the old "dog ate my homework" line, or in the case of one classmate to try and explain why he had chucked his bag into the river. His "I feltI was being threatened" line didn't work then and probably wouldn't work now but would he have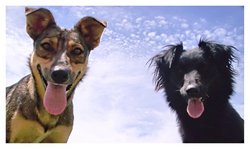 When I were a lad it was a question of using the old "dog ate my homework" line, or in the case of one classmate to try and explain why he had chucked his bag into the river.
His "I felt I was being threatened" line didn't work then and probably wouldn't work now but would he have fared better if he used a high-tech excuse?
According to research from storage backup specialists Mozy the excuses being used in school rooms now are of a much more modern variety. These are just some that you might hear, or dare I suggest prompt your children with, as your little ones head off having forgotten to do their homework:
"I finished my homework but deleted it by accident."
"The Internet was down."
"My printer broke."
"The computer crashed."
But the one that stands out for inventiveness is "the letters wore out on my keyboard so I couldn't type".
Sometimes the computer does crash and the Internet can go down but that keyboard excuse is pushing it perhaps too far.
But in terms of bringing excuses into the 21st Century, then full marks to those that have moved with the times. But if I could offer some advice; when all else fails the dog ate my homework story accompanied with graphic hand movements to illustrate and a pained expression on the face still stands as good a chance as any of working.
MicroScope+
Content
Find more MicroScope+ content and other member only offers, here.