Recyclebank nicked my idea for making recycling fun and profitable by turning it into a game
I'm livid! Nearly a decade ago, I devised an idea that would make recycling fun. The scheme would boost recycling rates, save money for the councils (possibly even the taxpayer!) and give people the chance to win prizes. It would turn rubbish from a cost into a form of revenue. I wrote to every cou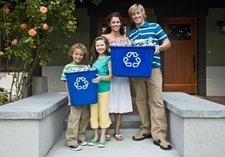 I'm livid!
Nearly a decade ago, I devised an idea that would make recycling fun. The scheme would boost recycling rates, save money for the councils (possibly even the taxpayer!) and give people the chance to win prizes.
It would turn rubbish from a cost into a form of revenue.
I wrote to every council in the country, so see if they were initially interested in the idea. Not a single council replied to my letters. Well one did, a man from Birmingham City Council wrote to say thanks but no thanks.
I wrote to my MP, Ed Davey. He wrote a polite letter saying it was interesting, but he was not interested. I tried phoning politicians on the radio and even pitched the idea, on air, to the leader of the Greens on LBC.
No interest whatsoever.
Now, I've discovered that green advocacy outfit Recyclebank is getting massive interest in its new idea to 'Gamify' recycling.
Hang on, that's my idea? How come everyone ignored me, but when an American company comes along and gives it a silly name, the councils all roll over?
Their press release doesn't really explain how they do it, but apparently their gamification techniques are massively raising awareness of recycling.
"We've already started implementing some of the lessons we've learned to create the best possible experience for our members and ensure that our future initiatives make the biggest impact on the environment," gloated Javier Flaim, SVP of global marketing at Recyclebank.
Oh well. Good luck with that, mate. I'm not jealous at all.
Photo courtesy Jupiterimages
MicroScope+
Content
Find more MicroScope+ content and other member only offers, here.