Pleb banned from drinking tea in IP row
Have you noticed how some people in the office put practically a bath full of water in the kettle, every time they make a single cup of tea? After they've heated it up, they throw it away. What a waste of electricity! If we all used water more sparingly when making tea, Britain's offi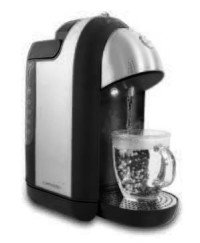 Have you noticed how some people in the office put practically a bath full of water in the kettle, every time they make a single cup of tea?
After they've heated it up, they throw it away.
What a waste of electricity!
If we all used water more sparingly when making tea, Britain's office workers could save enough electricity to run a Colt Modular Data Centre for a year. Probably.
Still, who can be bothered to measure out a cup full of water every time?
The Meno One Cup
The Meno One Cup is a compact hot water dispenser that can a single cup of water. It saves time (you can brew up in 45 seconds) and of course, electricity.
Making it the perfect green minded present to give to your reseller partners or clients, in an attempt to keep them thinking about you. Every time they boil the kettle, they'll be thinking "I wonder how those nice people are at Clouds-R-Us are doing. Maybe I should give them a ring and order some new services. Oh look, here's the number, written on the kettle."
TERMS AND CONDITIONS
The kettle may only give you a green cup of tea if you follow instructions.
Customers must pour a cup of cold water (150-300ml) into the water chamber, press the button and within seconds, it reaches boiling point and a hot cup of water is dispensed.
Boiling milk, petrol or cuppa soup may invalidate your claim to Corporate Social Responsibility.
Price: (I'd sit down if I were you) £79.99.
How much do you value your resellers?
Good news: There's a cheaper version coming out in August.
MicroScope+
Content
Find more MicroScope+ content and other member only offers, here.