It's been a hairy month for Firebrand Training
Over the past month more than 100,000 men across Britain have been growing mustaches in aid of charity. The annual Movember challenge creates an opportunity not just to raise money for the Prostate Cancer charity but also for some of the faces in the channel to take on a rather different look. Th
This Article Covers
RELATED TOPICS

Over the past month more than 100,000 men across Britain have been growing mustaches in aid of charity.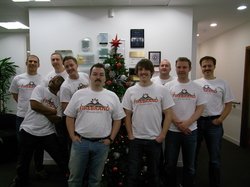 The annual Movember challenge creates an opportunity not just to raise money for the Prostate Cancer charity but also for some of the faces in the channel to take on a rather different look.

The channel has not shirked in the challenge to sport some hairy face furniture and a photograph has reached us from Firebrand Training. Click on the image to see it in its full glory.

The attached photo shows the Firebrand Training Movember team and an email from James Lapwood, pr manager, (who will be very popular with his colleagues for doing so) reveals that despite the challenge finishing there might be a few taches going the distance.

"We raised more than £1,500 - and managed to grow some ridiculous facial hair in the process. I can't bring myself to shave my Mo off on this cold December morning!," says James.

Well done to them and to all the others who raised money for charity.

If you have any pictures of your taches before you shave them off feel free to send them in to simon.quicke@rbi.co.uk and we can share them with the channel.

Having seen his effort half way through November keen to see how Veracode's Matt Peachey finished the month.
MicroScope+
Content
Find more MicroScope+ content and other member only offers, here.