If talk is cheap, surely that is great news for the quality of software?
Julian Dobbins, head of analyst relations at Micro Focus, discusses how IT, through the use of better tools and process support, can focus on delivering quality from start to finish Growth will return to the IT industry in 2010.

Download this free guide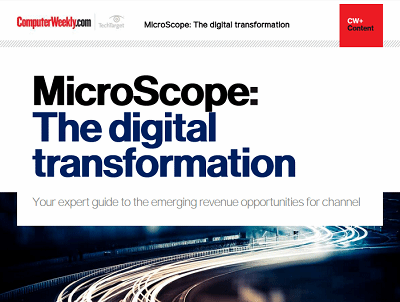 Emerging revenue opportunities for the channel with digital transformation
Digital transformation is a phrase that means many things to many people but for it to have any real relevance to the channel then it needs to mean a chance to make money. This guide will share some of the recent developments in the channel and the latest thoughts about the issue.

By submitting your personal information, you agree that TechTarget and its partners may contact you regarding relevant content, products and special offers.

You also agree that your personal information may be transferred and processed in the United States, and that you have read and agree to the Terms of Use and the Privacy Policy.

Julian Dobbins, head of analyst relations at Micro Focus, discusses how IT, through the use of better tools and process support, can focus on delivering quality from start to finish

Growth will return to the IT industry in 2010. Most industry commentators are in agreement on this, and so, while this is very welcome news, it is not actually tremendously newsworthy.


Perhaps of more interest is the fact that such recovery is expected to take place alongside zero growth in IT budgets or employee numbers, placing yet greater pressure on IT to deliver what the business needs. So, if 2009 was about cutting costs and stripping out non-essential projects, 2010 has its emphasis placed firmly on the 'more' part of 'doing more with less'.

To make matters worse, IT's ability to deliver successful projects currently has its "highest failure rate in over a decade", according to the Standish Group. And while Gartner figures suggest something less bleak, there continues to be enough high-profile examples of failure and waste in IT to suggest that many will struggle to meet the needs of companies focused on growth and profitability through the course of the next 12 months.

In January 2010, one UK national newspaper reported that a "series of botched [government] IT projects has left taxpayers with a bill of more than £26bn for computer systems that have suffered severe delays, run millions of pounds over budget or have been cancelled altogether".

Failure to communicate
In many cases, such as the UK's £12.7bn National Programme for IT, users were simply never consulted on what they wanted the new system to achieve or kept informed as projects rolled on and challenges arose.

This is surely completely unacceptable and, what's more, totally inexplicable. Especially when 70% of production defects are considered to have been created during requirements and design - not to mention that the costs associated with fixing these issues rise exponentially the longer they remain undiscovered.

In a March 2009 paper on software quality, Gartner analyst Thomas Murphy quite understandably (and with some degree of under-statement) observes that this is a cause of "IT versus business friction".

It is little wonder, therefore, that the tight linkages established in 2009 between IT spending and business performance metrics are considered to be here to stay.

With scrutiny and concern the order of the day, many of the industry analyst predictions that have appeared at the start of this new decade are focused on what IT should be doing to improve its success in the process of delivering quality software on time, on budget, and, perhaps more importantly, in line with the needs of the user.

The beginning of a beautiful friendship
Despite being cash-strapped and under-resourced, there are several factors that would suggest IT has reasons to be optimistic in 2010. Necessity has shown itself to be the mother, if not of invention, of adoption.

Organisations of all sizes are embracing new ways of doing things as they seek to break through yet another glass ceiling of productivity and cost efficiency.

One view, from Forrester Research, is that they need to start thinking like the "underfunded start-up that is always in the throes of a one-company recession".

It is not about working even harder than they do already. It is about working smarter. It is about working efficiently on the projects that matter, that drive revenue and growth. And staying close enough to the business along the way to know when priorities change and new goals arise.

It's also about knowing when enough is enough, so that software no longer arrives bloated with redundant features that seemed like a good idea on the drawing board.

Many companies find, as requirements are delivered incrementally and in line with business priority, that projects not only complete sooner, but the final 20% is often perceived as non-critical for deployment - and often never asked for again.

Such collaboration between all members of the software delivery team yields benefits for everyone. It creates what Murphy refers to as a "hive" mindset instead of being "adversarial", where the different disciplines (such as business analysts, testers and developers) bring their respective strengths and viewpoints to bear on the problems being solved, helping to deliver software earlier in the project lifecycle and reducing rework.

You had me at 'Hello"
In Gartner's December 2009 research note, Predicts 2010: Agile and Cloud Impact Application Development Directions, the analyst firm draws attention to a number of ways in which IT can raise its game and deliver yet greater value to the business, with closer collaboration and the need for a broader definition of software quality very much at the heart of this.

Perhaps one of the most fundamental statements the research note makes is that "software quality can't be tested at the end". The IT horror stories mentioned earlier are living proof of this. Companies must look to drive quality throughout the development lifecycle and make use of facilities and processes that support this.

Agile development methods are already helping. They are driving (if not demanding) greater levels of collaboration. And the fact that these methods are now starting to take root in mainstream development shops is great news for lovers of quality software.

Gartner believes that by 2012, "agile development methods will be utilised in 80% of all software development projects", and, furthermore, that companies who embrace it, and introduce the cultural and behavioural changes to support it, are already seeing "four times the improvement in overall productivity".

For IT to succeed in 2010, vendors have a responsibility to provide not only the tooling, but also the process support to help companies drive quality from start to finish on a project, including helping them shore up weak requirement practices.

By moving 'quality' upstream within the development process and linking it more closely with the beginning rather than the end of the lifecycle (for example, testing against user stories rather function points), business and IT will understand each other more fully and improve their chances to share a common goal.

Only then will the growth that everyone is predicting, the growth that everyone needs, come to the industry on the back of fundamental, grass roots improvement, rather than through increasing the stress levels of an already stretched group of people. As an industry, it is time to grow up. Once and for all. It is time to talk.

MicroScope+
Content
Find more MicroScope+ content and other member only offers, here.
Read more on Business Intelligence Tools and Services