Huawei's network 'gift' is a poisoned chalice
So, China is giving us the 'generous' gift of irritating loudmouths jabbering away on their mobile phones on the tube. That's if comms firm Huawei gets its way. The operation, to bring mobile network coverage to the London Underground, is being billed as a gift from the last Olympic host nation to t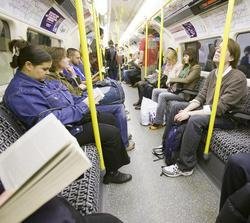 So, China is giving us the 'generous' gift of irritating loudmouths jabbering away on their mobile phones on the tube.
That's if comms firm Huawei gets its way.
The operation, to bring mobile network coverage to the London Underground, is being billed as a gift from the last Olympic host nation to the next.
If Huawei's bid - understood to be somewhere in the region of £50m - is successful, both the Jubilee and Central lines - which run to the Olympic Park in Stratford - will have mobile transmission technology installed by 2012, with other lines to follow.
It is thought Huawei will provide the transmission equipment alongside French firm Thales, with networks O2 and Vodafone coming on board in a partner role.
But predictably, the thought of allowing Huawei to provide mobile telephony services on the underground has not gone down too well with some people.
Tory MP Patrick Mercer has warned that the move could be a double-edged sword; while a mobile network would be helpful to co-ordinate rescue workers in the event of an accident or bombing, it also "answers a terrorist's prayers" by enabling remote detonation of explosives.
And with Chinese intelligence frequently accused of attacking western networks, he asks whether or not the UK really wants a Chinese firm providing key infrastructure.
Similar concerns have dogged Huawei's ambitions in the US before now.
However, Network Noise's concern is less that it will be blown up by terrorists or hacked by the Chinese, it's more that the tube remains a little haven away from the connected world, where (comparative) peace and quiet still reigns. Can't we try to keep it that way?
Photo courtesy: Ashley Cooper/SpecialistStock/SplashdownDirect/Rex Features
MicroScope+
Content
Find more MicroScope+ content and other member only offers, here.