How Salesforce CEO Marc Benioff made me feel small - then big again
At a Billy Graham-style rally in London last week, Marc Benioff told his converts to reject their government and follow him into the cloud. It was all very humbling. They can make you feel very small, these charismatic CEOs of billion dollar corporations. But Marc Benioff has got a knack of addressi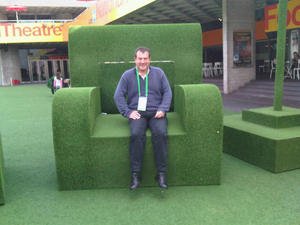 At a Billy Graham-style rally in London last week, Marc Benioff told his converts to reject their government and follow him into the cloud. It was all very humbling.
They can make you feel very small, these charismatic CEOs of billion dollar corporations.
But Marc Benioff has got a knack of addressing an audience and making it seem he's only interested in talking to you.
So, yes, there were a few other people there, but I still insist that Benioff gave me an exclusive interview (the other people there - analysts, newspaper journalists, people off the telly - were just MicroScope wannabes anyway)
Benioff leaned over, put his microphone to his lips, and whispered conspiratorially in my ear. He told me something about the UK government that made me feel terribly small again.
Your government's reliance on G Cloud sucks, he said. I'm paraphrasing.
In the US, Benioff said, the federal government plans to close half of its data centres in the next few years (in fact, the figure is 800 data centres by 2015, 40%).
Britain could emulate this by investing in cloud computing, he argued. "My message is: go cloud or die."
Given the influence of visiting UK bigwigs, don't be surprised if the UK government announces new cloud computing targets. I'd be surprised if Francis Maude knows the difference between day care and data centres.
These charismatic US CEOs are incredibly influential. In the last government, Cisco's man in the UK had the ear of Peter Mandelson. It's obvious that Salesforce obviously has legions of believers who see Benioff as some sort of messiah.
"If you think that was bad, you should see some of the Salesforce events in America," said one analyst.
Benioff is not against all data centres, however, He announced plans for Salesforce.com to open a UK data centre in 2012. "We should shut all the inefficient data centres," he said.
MicroScope+
Content
Find more MicroScope+ content and other member only offers, here.