Five minute interview: Nick Claxson, Comtec Enterprises
MicroScope puts its questions to Nick Claxson, managing director of Comtec Enterprises What is the best/worst advice you have received and from whom? Best: My dad saying "cash is king". Worst: My best friend saying "put it all on red". What is the best book you have ever rea
MicroScope puts its questions to Nick Claxson, managing director of Comtec Enterprises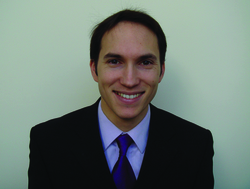 What is the best/worst advice you have received and from whom?
Best: My dad saying "cash is king".
Worst: My best friend saying "put it all on red".

What is the best book you have ever read?
The Da Vinci Code. Yeah, yeah, I know...

Tell us something most people do not know about you
I have an identical twin.

What temptation can you not resist?
Answering a ringing telephone.

What do you just have to do before you die?
I think life is all about fulfilling your potential and making a difference. I am still working on that. I would also like to travel the world, and on that front I have not even scratched the surface yet.

What is your most elusive goal?
To own a castle.

Which bit of technology would you want with you if you were stranded on a desert island?
My Blackberry. Even if it had no signal, I could still play Brick Breaker.

Who helped you get to where you are today?
My father-in-law, a very hard businessman who built a business from nothing and understood the challenges.

What do you believe in most?
You have to work hard for what you want in life.

What was your first car and how does it compare with what you drive now?
A Ford Escort 1.6 was my first car and its wheels fell off every so often. Now I drive a Bentley Continental GT. I prefer the Bentley.

If you could be someone else for a day, who would you be?
Oliver, my five-year-old son. He has no worries and only wants to have fun.

Who would you least like to be stuck in a lift with?
My personal fitness trainer. I am not sure I could keep doing push-ups while we waited to be rescued.

Describe yourself in a sentence
A lateral thinker with a perennially positive attitude who is always looking to achieve his goals.

Why are you good at your job?
I am determined to succeed, but always ready to listen to others.

If you were shipwrecked, who would you like to have with you?
Matthew Pinsent - he would have the determination to row us home.

Name three items you would like to have with you if you were shipwrecked.
A Swiss Army knife, my Blackberry and a stiff drink.

If you could be any animal for a day, what would you be?
A fly on the wall. I would spend at least some of my day in our meeting room.

If a grizzly and a silverback gorilla decided to have a no-holds-barred fight, which would you put your money on?
The silverback. Brains are everything in a fight, especially when you are as big and brutal as a gorilla.

Do you prefer cities or countryside?
I like the idea of cities, but the reality is not always what it is cracked up to be. Going home to the countryside makes you realise why you work.

Describe your perfect holiday
Simply being able to spend time with my wife and children without the mobile phone.

Sum up the IT channel in one sentence
Always changing, always challenging; on a good day there is no better place to work.



Share your thoughts

To take part in the five minute interview, e-mail georgina.tucker@rbi.co.uk for a list of questions. You can respond to all questions, or a select few. Interviews should be around 1,000 words in length.

MicroScope+
Content
Find more MicroScope+ content and other member only offers, here.