Five minute interview: Cliff Fox, SICL
MicroScope puts its questions to Cliff Fox, managing director at systems integrator SICL. What is the best/worst advice you have received and from whom? Best advice: "Look right, look left, look right again." - The Tufty Club, 1970. Worst advice: "One more won't harm."

Download this free guide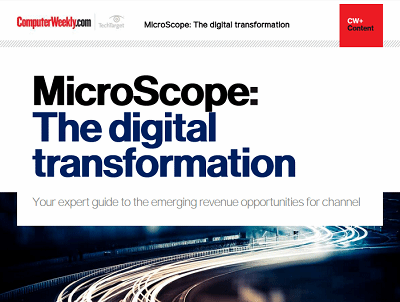 Emerging revenue opportunities for the channel with digital transformation
Digital transformation is a phrase that means many things to many people but for it to have any real relevance to the channel then it needs to mean a chance to make money. This guide will share some of the recent developments in the channel and the latest thoughts about the issue.

By submitting your personal information, you agree that TechTarget and its partners may contact you regarding relevant content, products and special offers.

You also agree that your personal information may be transferred and processed in the United States, and that you have read and agree to the Terms of Use and the Privacy Policy.

MicroScope puts its questions to Cliff Fox, managing director at systems integrator SICL

What is the best/worst advice you have received and from whom?
Best advice: "Look right, look left, look right again." - The Tufty Club, 1970.
Worst advice: "One more won't harm."

What is the best book you have ever read?
A Tale of Two Cities by Charles Dickens. "It was the best of times, it was the worst of times..."

Tell us something most people do not know about you
I hate cheese.

What temptation can you not resist?
Most things, except cheese.

What is your most elusive goal?
Bolton Wanderers' winning goal in the European Champion's League Final.

Where is the one place you would like to visit before you die?
Earth's orbit. I doubt whether reading about it is sufficient.

What do you just have to do before you die?
Spacewalk. Maybe someone will make it affordable in my lifetime.

Which bit of technology would you want with you if you were stranded on a desert island?
A satellite phone so that I could be rescued quickly. I don't do camping.

Who helped you get to where you are today?
My wife, parents, colleagues - the usual people, and I blame them all.

What was your first car and how does it compare with what you drive now?
An Austin Allegro. The dashboard fell off when you used the cigarette lighter. My car now is better, but it doesn't have a cigarette lighter - call that progress?

What do you believe in most?
Necessity is the mother of invention.

Do you have any pets? If so, what are they and what are their names?
An 18-year-old long-haired tabby cat called Pebbles. I didn't name her - I would have picked something slightly more esoteric.

If you could be someone else for a day, who would you be and why?
Ozzy Osbourne, just to see if it feels as bad as it looks.

Who would you least like to be stuck in a lift with?
Swampy, or anyone else who had not washed for a while.

Describe yourself in one sentence
Determined.

Why are you good at your job?
I write things down. It still surprises me how many people don't.

If you were shipwrecked, who would you like to have with you and why?
Megan Fox (distant relation). I need to explain?

Name three items (smaller than a fridge) that you would like to have with you if you were shipwrecked
Sat-phone. Cigarettes (in a box slightly smaller than a fridge). Fold-up hotel room.

If you could be any animal for a day, what would you be?
My cat - a life of luxury and 16 hours' sleep a day. Perfect.

If a grizzly bear and a silverback gorilla decided to have a no holds barred fight, which would you put your money on and why?
I would be the bookie offering odds-on prices on both the bear and the gorilla.

Do you prefer cities or the countryside?
Either, as long as they are safe, warm and provide sustenance.

Describe your perfect night out
Beer in a rough, sawdust-on-the-floor-style bar, playing loud rock music whilst I remain unbeaten on the pool table all night and the landlord breaks the law by allowing smoking. Immediately followed by fine dining.

What would be your perfect holiday?
First class around the world in 80 days with five-star treatment in every city.

Sum up the IT channel in one sentence
The IT channel is difficult...to sum up in one sentence.



Share your thoughts

To take part in the five minute interview, e-mail georgina.tucker@rbi.co.uk for a list of questions. You can respond to all questions, or a select few. Interviews should be around 1,000 words in length.


MicroScope+
Content
Find more MicroScope+ content and other member only offers, here.
Read more on Salesforce Management