File attachment you have clearance to land
The decision by RSA to use the description of air traffic control to describe the way security in a cloud world needs to be coordinated is an apt one. As users start to go through the virtualisation process ending at a cloud destination the requirement for better security controls and policies is cl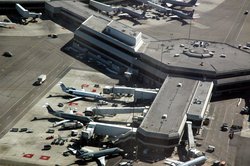 The decision by RSA to use the description of air traffic control to describe the way security in a cloud world needs to be coordinated is an apt one.
As users start to go through the virtualisation process ending at a cloud destination the requirement for better security controls and policies is clearly required.
Air traffic control is a good metaphor because of course they have to establish policies, for instance a certain plane is allowed to land at a particular airport, and have to have the capability to react to a threat and emergency.
RSA's chief executive Art Coviello spelt it out at the vendor's conference in London this morning in his keynote plainly enough.
"The security industry does not have a system that integrates people, process and individual security controls that can be managed with the same kind of correlated, contextual and comprehensive view used by the aviation industry to guarantee the safety of our airways," he said.
This is an interesting time to be giving that message because the security industry is facing a user base, particularly at the high and medium end, that is craving simplicity and ease of management without any reduction in help fighting the threats.
The result is that there seems to be a real appetite for the sort of air traffic control approach outlined by Corviello. Unlike some metaphors which end up being lost or consigned to speech makers history this time he seems to have struck a chord that might keep this discussion on the boil for some time to come.
MicroScope+
Content
Find more MicroScope+ content and other member only offers, here.