Egypt protesters turn to dial-up to beat broadband shut down
The Egyptian government may have switched off the internet in panic last week, but this hasn't stopped ordinary Egyptians from taking to the web. Within hours of the shutdown, ISPs in Europe were springing into action. Take the example of FDN, a small French firm that dug outsome redundant dial-up k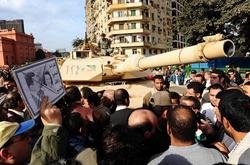 The Egyptian government may have switched off the internet in panic last week, but this hasn't stopped ordinary Egyptians from taking to the web.
Within hours of the shutdown, ISPs in Europe were springing into action.
Take the example of FDN, a small French firm that dug out some redundant dial-up kit that it kept in reserve, just in case it hit problems with its broadband service.
The firm checked the equipment to make sure it could be accessed on an international phone line and, more importantly, to make sure it was still working.
Then, with the help of the large North African community in France, they fed the phone number into Egypt. According to Deutsche Welle, FDN saw its first connection late on Friday and has been picking up a stream of traffic all weekend.
And it's not the only one to do so; ISPs and activist groups across the world have been ploughing a similar furrow.
Others have gone further; lists of ham radio frequencies, Facebook and Twitter proxies, free-to-access VPN networks and even tools to hide your IP address (inadvisable) are all being made freely available across the internet.
Whatever the rights, wrongs, or ultimate implications of the ongoing crisis, the determination of Egyptian netizens to be heard by the wider world backs up a point that Network Noise has made consistently; the internet is a basic tool of day-to-day existence and as such it is independent and cannot be policed in a heavy-handed manner.
As a result of the Egyptian government's actions, the worldwide network has behaved autonomously and found a way to send traffic around the problem.
MicroScope+
Content
Find more MicroScope+ content and other member only offers, here.