Comms gadget-fest continues as RIM tablet touches down
It's shaping up to be a busy couple of weeks on the comms gadget front, which is of course just how we like it. Following the launch of Avaya's Not-A-Tablet tablet earlier in September, BlackBerry-picker RIM weighed in with a now-fulfilled promise to pleasantly surprise everyone, albeit in a thoroug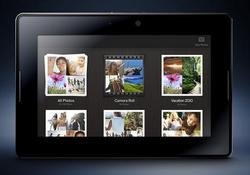 It's shaping up to be a busy couple of weeks on the comms gadget front, which is of course just how we like it.
Following the launch of Avaya's Not-A-Tablet tablet earlier in September, BlackBerry-picker RIM weighed in with a now-fulfilled promise to pleasantly surprise everyone, albeit in a thoroughly predictable manner.
Yesterday, moblity expert RIM unveiled its heralded tablet device at its developer conference in San Francisco.
It's called the PlayBook, it's running on a new OS built by recent RIM acquisition QNX. It has 1GB of memory, two cameras to support videoconferencing and with a seven-inch screen, weighs slightly less than a pound, making it both smaller and lighter than the iPad.
In terms of what the PlayBook will do there are no real surprises here that I can see. RIM seems to have pitched it firmly at the business market, providing out-of-the-box enterprise support through BlackBerry Enterprise Server, as well as a development platform for IT departments, according to the blurb.
As predicted it will need to be tethered to a BlackBerry smartphone to access a mobile network. RIM says this is important because the smartphone will store all the data, with the tablet having access only to a temporary cache. The firm claims this will eliminate major questions over mobile enterprise security.
We can expect to see them winging their way across the Atlantic before June 2011.
Meanwhile, this morning an analyst contact tweets with the news that Cisco is inviting reporters to an event, also in San Francisco, next Friday. The invitation promises a "new Cisco consumer experience ... hosted by John Chambers". Now, we know well here what sort of thing John's into, so I expect we'll be talking about home telepresence in a little under a week.
Photo courtesy Research in Motion. All rights reserved
MicroScope+
Content
Find more MicroScope+ content and other member only offers, here.