Cloud computing will take IT out of IT's hands
Cloud computing will prove just as expensive and unmanageable as all other attempts to save money and bypass the uppity jobsworths in the IT department, warned delegates at yesterday's Mobilising the Cloud event in Esher. Delegates had heard the analysis of Jeffrey Peel, CEo of Quadriga Consult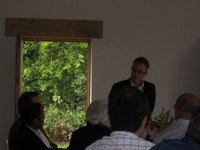 Cloud computing will prove just as expensive and unmanageable as all other attempts to save money and bypass the uppity jobsworths in the IT department, warned delegates at yesterday's Mobilising the Cloud event in Esher.




Delegates had heard the analysis of Jeffrey Peel, CEo of Quadriga Consulting, on how the consumerisation of IT is creating a groundswell of public appetite for cloud services.




But enterprises are not keen at all however. Delegate Charles Davis, CEO of telecoms service provider SAS Group, said that only around 20 per cent of enterprises showed any enthusiasm for cloud services. "They know that migrating all their systems onto the cloud will be a huge undertaking," said Davis.




It's like the mainframe days allover again, said John Lunt, MD of software asset specialist Certero. "This is no different from the days when people by passed the IT department, because they were so unwilling to help, and went out and bought their own Unix systems or PC Lans. Eventually, of course, this will have to come back in house."




Since they are easy to purchase and set up, cloud services could be used by departmental heads who want to by pass the uppity jobsworths in the IT department, it was argued.




"But they need to shake up their ideas if they want people to buy it. It's all very uncertain at the moment," said Lunt. There is a narrow window of opportunity, he warned. "In a few years time there'll be another craze that's being hyped."




By that stage, nobody would want cloud services, he warned.
MicroScope+
Content
Find more MicroScope+ content and other member only offers, here.