Can managed print services revive the printer market?
Over the last 18 months the topic of print management, or managed print services, has begun to feature more and more on the radar of vendors, customers and resellers. The credit crunch has only heightened interest in the subject.

Download this free guide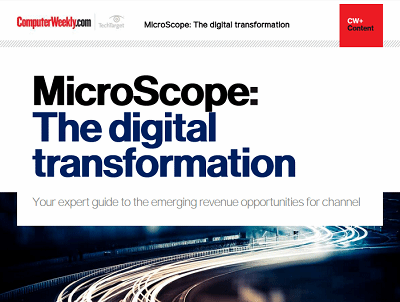 Emerging revenue opportunities for the channel with digital transformation
Digital transformation is a phrase that means many things to many people but for it to have any real relevance to the channel then it needs to mean a chance to make money. This guide will share some of the recent developments in the channel and the latest thoughts about the issue.

By submitting your personal information, you agree that TechTarget and its partners may contact you regarding relevant content, products and special offers.

You also agree that your personal information may be transferred and processed in the United States, and that you have read and agree to the Terms of Use and the Privacy Policy.



Over the last 18 months the topic of print management, or managed print services, has begun to feature more and more on the radar of vendors, customers and resellers. The credit crunch has only heightened interest in the subject.

And if anyone needed further convincing of the merits of managed print services, analyst firm Gartner provided a supporting argument
last month when it reported an 8% year-on-year decline in shipments of printers, copiers and multi-function products (MFPs) in 2008.

Pointing to the challenging sales environment across all form factors and channels, with businesses delaying upgrades or cancelling investments in office equipment, Gartner senior analyst Tosh Prabhakar said: "Businesses should consider adopting strategic and deployment alternatives such as managed print services, smart MFP and fleet document systems to help better control costs".

This point is echoed by Matthew Searle, head of Canon's Partner Channel: "In the current climate, people are looking to save costs wherever possible," he says.

"Print costs are pretty large and most users don't have visibility of them. They don't understand their print costs."

Using Canon's Uniflow Output Manager product, resellers are able to provide print audits for customers that can be used to get an overview of their print requirements.

Searle says the big benefits are reduced wastage and the ability to use the most efficient output device with the most efficient options. With full visibility of everything printed in an organisation, companies can also charge back print costs to individual departments.

Searle claims resellers have had a lot of success over the past six months on the back of Uniflow Output Manager.

"The pipeline moving forward is really strong," he says.

"Despite the doom and gloom, we're feeling upbeat, as are our
partners."

He says the big difference between the copier and print channels is that companies with copier backgrounds understand print and its benefits, so they know how to sell it, whereas many on the print side have come from a background where they sold a variety of peripherals, of which printers are one.

A good channel reception
Helen George, UK services marketing manager at Ricoh, says the impetus for print management is reflected in the fact 31 dealers have signed up for its @remote product in the past two months.

"It's been taken up very well by the channel," she claims. Some dealers have signed up because their customers have demanded it and they were keen not to find themselves locked out of their customer base. Others have been quick to understand the benefits in cost savings and revenue generation offered by managed print services.

George says many of those who have signed up were attracted by the ability to automate meter readings.

"To be able to invoice out and get paid on time is absolutely critical for smaller dealers. It helps with their cashflow. It's an absolute no-brainer and gives them a competitive advantage," she explains.

George points to the issue of toner, for example. Some dealers don't want to have a lot of their money tied up in toner stocks if it's not necessary, With a managed approach, they can manage their stock levels and still make sure customers get toner when they need it.

She adds that although the tools to build a managed approach to print have been around for a while, they haven't been taken to market.

"There's a difference between the technology being there and people actually doing something with it," she says.

But dealers are increasingly interested, especially with IT under pressure to deliver more for less. George says the recession has really focused people on where they're spending or doing things they don't have to do.


Evolving trend
Alan Hatfield, channel development manager for HP Imaging and Printing Group, says the trend for managed print services is definitely evolving.
"We're planning for significant increases in our amount of contractual business in fiscal 2009," he reveals.

HP is aiming for 60% growth across EMEA for Smart Printing Services which, Hatfield admits, will be challenging, adding the UK will be pleased with 30%.

In a bid to boost its competitiveness against other vendors, especially the copier channel, on a cost per page basis, HP is heavily discounting its supplies business through the contractual channel.

"Customers can get particularly aggressive HP supplies pricing with managed print services through the channel," Hatfield says.

For partners, the margin model is about 20%, significantly greater than with transactional sales, while customers get the supplies business at a lower price, which is effectively price-protected: "If a customer wants to make immediate cost savings, they can take a contract out," explains Hatfield.

There are also cost savings to be made through better management and upgrading of a customer's existing fleet, typically resulting in a reduction in devices in the fleet by up to one third.

Hatfield says resellers can generate a ROI on fleet optimisation over 18 months. While some suggest many customers prefer to have at least two vendors, he argues customers are very happy to have a single vendor, optimising on one brand and fewer models.

A managed environment can provide an appropriate contract and optimisation of processes with automated supplies, controls around the usage, pool printing, job accounting and rules-based printing, providing significant cost savings. But Hatfield admits that managed print services is a learning experience for print and IT resellers.

Copier legacy
The copier channel is very interested in selling HP products, he claims, because it takes them into the IT infrastructure.

"The challenge for organisations with a copier legacy is to get into the IT world," he says. For their part, some print or IT resellers are bringing in expertise, often by recruiting from the copier channel, to be able to provide a managed service.

"What works is to have a centre of excellence in print, not a thin veneer across a number of sales people, because they will default back to their comfort zone and you won't sell anything," Hatfield claims.

IT or print resellers without the expertise to sign contracts and deliver a managed print service can sell HP's Smart Printing Services where the contract with the customer is held by the vendor.

"If they don't have the ability to [do it themselves] and don't intend to build expertise around it, they can sell our service. It's a bit like being an insurance broker," Hatfield explains. And the partner gets the full three-year commission for the contract up front.

Similarly, a reseller in a datacentre environment, for example, might not want to build up expertise in the managed print space, so HP has appointed Computacenter Distribution to act as a Smart Print Services partner. CCD offers the reseller its expertise and they share the bonus and commission.
Like Hatfield, Kerry Reid, director of marketing at Epson, is placing a significant emphasis on print managed services this year.

"With every aspect of cost under scrutiny in the current climate,
businesses that put a coherent print strategy in place, such as a print managed service, will reap the benefits of significant savings in print costs, capital outlay and admin," she says.

While Epson always works with resellers on print managed service contracts, the level to which a reseller is involved "is dependent upon the degree to which they wish to be involved and the match of their expertise to the requirements of the contract".

Martin Tierney, UK services director at Kyocera Mita, agrees that managed print services is the way to go. He points to the vendor's "all-encompassing" consumable and service package – Kyo Print Pack.

Using Kyo, resellers can pre-configure products using an online web tool, and install and commission all machines at a customer site.

"The key is that we've kept it very simple and very flexible," Tierney
explains.

"It takes away all the pain. From the point of order, resellers never see the machine."

Customers can buy a set amount of prints up front, which gives them a clear idea of what they're paying for.

"They're not paying for something they're not using," Tierney adds.

"They buy the print pack as they need it and if they run out they can extend it up to the guarantee of three or five years. You can order as many print packs as you like. It's a very nice, simple system."

Rules-based printing is also available. "We have all the tools and software to deliver it. It's something we're heavily involved with and will see it more and more as it's driven by the customer as a requirement."

Size matters
While recognising the significance of print management, Alan McLeish, senior product marketing manager at OKI Printing Solutions, says opportunities will depend on the size of the customer and the significance of print costs within the overall cost of doing business for that company.

There are potential benefits for resellers across the whole spectrum of print management with the opportunity to generate higher margins. But they need to commit a significant amount of time in conducting print audits and convincing the customer of the need to make an investment in a managed service, warns McLeish. They will also need to carry out a proof of concept to demonstrate
how the approach would work in practice.

In the case of larger customers, resellers will need to invest in systems that can remotely monitor printer fleets, remotely and routinely collect meter readings and provide the necessary management reports, as well as service when things go wrong, says McLeish.

He adds that resellers will need specialist pre-sales and post-sales support to carry out an audit and to implement the solution. Some might find it difficult to promote print management because of their traditional 'volume' approach than a 'value-add' strategy, but he believes that "with the correct support and knowhow, this can easily be overcome".

Off-the-shelf package
Like Kyocera Mita, Lexmark has introduced a solution – Lexmark Value Print (LVP) – that allows partners to engage with customers with a managed print offering.

"We're very focused on this," says UK channel sales director Marcus Harvey. "It's a key area for us."

Within the next month or so, it plans to introduce an off-the-shelf package, which the reseller would front and Lexmark would deliver to give print/IT resellers the opportunity to compete with the copier channel in a managed services
environment.

"The copier channel has been running managed copier services for 20 or 30 years now. The desire is there [for print/IT resellers] to be able to compete but they haven't had the tools. To sell printers on a click model is one element but the copier channel has the legacy and infrastructure in place to support the products once they're in situ."

Until they can provide the right levels of support, print/IT resellers won't be able to compete with the copier channel in its current installed base.

One reseller that has been busy in the print management space is Canon partner Annodata. Managing director Andrew Herman says big corporates have been driving software like Uniflow Output Manager into systems to identify where they are spending costs and to manage them more
effectively.

"It's a great door opener for us to get into customers," he comments.
"It's an easy concept to sell. The most important thing is to have buy-in from the IT department because you need to install it on their systems. If you don't get it, you're not going to be effective."

Annodata has made a significant investment in people, software and technology, and established a managed services division. It takes a big investment in people, Herman warns, and contracts do not happen overnight.
"It can take a year to get a conclusion and some times you won't get it. It took us 18 months to get our first deal," he says.

Herman is sceptical, in the current economic environment, whether many people will be willing to invest in the people and expertise needed to be able to offer print as a managed service.

At present, most vendors have their own software tools to audit
devices and provide reporting information, but they don't provide as much detail on products from other manufacturers, making it more difficult to provide a comprehensive managed print service for a mixed environment.
Herman says Annodata has overcome this issue by investing in sniffing software that picks up information from multiple devices.

"We're going into big multinationals with a fleet of products across a number of different devices and sites. This software can enable the client and us to capture information," he explains.

The message from the vendors is that there are developments taking place that will help to improve the process across different platforms.
"I think you'll see broad tools trying to go deep and deep tools trying to go broad," says George.

"The major players developing these tools have a big interest in full managed print and outsourcing management of a multi-vendor environment. The manufacturers have a vested interest in looking at this."
Searle at Canon is less circumspect. "You can expect to see developments from most manufacturers and software providers in the next few months," he predicts.


Sponsor's profile: Kyocera




Sustainable design






Long life – low cost






Kyocera Corporation was founded in 1959 to develop products based on ceramic technology, and nearly 50 years later the company's wide-ranging portfolio of products including solar panels, catalytic converters and environmentally responsible laser printers and multifunction copiers, is the driving force behind the success of one of the world's top 500 companies. Sustainable design is one of the core principles of Kyocera's philosophy. In 1992 Kyocera launched its range of ECOSYS laser printers, designed from the start to reduce the amount of waste and raw materials associated with office printing. At the heart of ECOSYS technology is a long life print drum, which lasts up to 30 times longer than the OPC drums used by most cartridge-based printers. This means that rather than replacing the drum every time the printer runs out of toner, it is a long life part of the machine. This approach dramatically reduces the number of parts in a toner cassette, from around 60 components in a conventional cartridge, to just five in Kyocera's equivalent product. This makes Kyocera toner cassettes less resource-heavy to manufacture and far easier to recycle than the complex cartridges used in most laser printers The purchase price of a printer is only a small part of the cost that will be incurred over its lifetime. Replacement toner cassettes, servicing and maintenance all have a financial impact. The simplicity of Kyocera ECOSYS printers means that the cost of replacement toner cassettes is up to 50% lower than competitors' equivalent products, while the long life design guarantees reliability and reduces the amount of servicing and maintenance the machines require over their lifetime. Going beyond hardware, Kyocera also offers a range of software products designed to give IT managers complete control over the financial and environmental costs of the print network.
MicroScope+
Content
Find more MicroScope+ content and other member only offers, here.
Read more on Business Intelligence Tools and Services