Ah, Houston? We have an iPhone
Mobile phones do tend to wind upin odd places. I suppose it's down to their small size. Take the example of a Ukrainian named Rimma Golovko, who while taking a photo of a crocodile at at a Dnipropetrovsk zoo, had her device ripped from her grasp by the hungry croc. The crocodily presumably now follo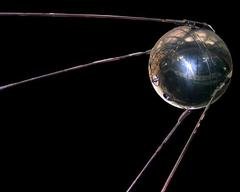 Mobile phones do tend to wind up in odd places. I suppose it's down to their small size.
Take the example of a Ukrainian named Rimma Golovko, who while taking a photo of a crocodile at at a Dnipropetrovsk zoo, had her device ripped from her grasp by the hungry croc.
The crocodily presumably now follows Rimma at a distance, ringing occasionally. There's a Crocodile Dundee gag in there too, somewhere.
But here at Network Noise we're less inclined to smirk at such silliness. So here's another contribution to our occasional series of posts on the application of networks and science, about mobiles in space, instead...
We've all lost reception going into a tunnel, but researchers at the University of Surrey, alongside a space tech firm called Surrey Satellite Technology, hope to find out if they can make a smartphone work in outer space.
The team has developed a satellite called STRaND-1, which contains an as-yet undisclosed make of smartphone as its payload (that's astronaut talk for cargo).
Once in orbit, the team will activate the device using a computer on the ground at the University's lab, check which components of the phone have survived the trip and which have gone haywire, and attempt to beam messages and photos back to Earth.
We should note at this point that you genuinely can't get ordinary reception in space, so they'll be using a radio system at this point.
After this part is done, the boffins will attempt to operate the satellite using the smartphone.
Says STRaND-1 lead researcher Dr Chris Bridges: "Smartphones pack loads of components, such as sensors, video cameras, GPS and Wi-Fi radio, that are technologically advanced but a fraction of the size, weight and cost of components used in existing satellite systems.
"And because many smartphones run on free operating systems that lend themselves to online software developers, the creators of apps for smartphones could feasibly develop apps for satellites," he adds.
If the device can be proved to work in space, it will potentially open up space technology to far more people and research outfits that could never have hoped to get involved before.
But if it all goes pear-shaped, however, the team can take comfort in the fact that the smartphone cost under £300, and the whole venture, apparently, less than a family car.
Photo courtesy: Rex Features
MicroScope+
Content
Find more MicroScope+ content and other member only offers, here.