Bett Show 2013 is taking place Jan 30-Feb 2 2013, at the London Excel Centre. Thousands of attendees will visit the education show for a look at some of the latest technologies and to hear from some of the industry's hottest speakers.
Find out all the news from the show and keep up to date on the latest IT skills and education hot topics.
News from Bett Show 2013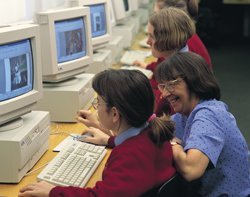 Reading and writing taught on laptops in Sweden
All students in Sandviken, Sweden, have access to personal laptops. Two schools share how they use theirs to teach children to read and write.
How tech has transformed education at Nordahl Grieg
Nordahl Grieg Upper Secondary School in Bergen reveals how and why it chooses to use technology to enhance students' learning experiences.
Case study: How technology has transformed education in Denmark
Digital devices have transformed the learning environment for schools in the municipality of Odder, Denmark.
BETT wrestles with BYOD in action
One of the major challenges facing schools is to deal with the rising number of pupils that want to use hardware in a more flexible way.
Bett Show: A great week for the computer science curriculum
Computer science curriculum enjoys great week with speeches from education leaders, Microsoft support and becoming a part of the EBacc.
Bett Show: Bring together technology and educators to drive innovation, says Cable
Vince Cable opens the Bett Show at the Excel Centre this week, with message of collaboration between technology, educators and businesses.
Computer science to be part of English Baccalaureate
Computer science will be included in the new English Baccalaureate as one of the options for science study.
Students flock to study computer science degrees
The number of prospective students seeking to study computer science has increased by 12.3% to 86,294, according to UCAS.
Bett Show: L&D crucial to business survival
Education industry leaders share advice on how to develop and grow a workforce, through learning and development.
More news on education and skills from Computer Weekly