Fotolia
Why the PC?
Apple's CEO might have mused on the reasons for a PC in the age of the iPad Pro and he has got Billy MacInnes thinking about the humble desktop and its role
"I think if you're looking at a PC, why would you buy a PC anymore. No really, why would you buy one?"

The question was posed by Apple CEO Tim Cook to a group of journalists at an event for the iPad Pro in the Covent Garden Apple Store recently.

Unsurprisingly, he asked the question as a means of talking up the iPad Pro, suggesting people who tried Apple's superiPad would "start using it and conclude they no longer need to use anything else, other than their phones".

As they say in Scotland, "I hae ma doots". It's true that sales of PCs are declining but it doesn't follow that they're falling at the expense of tablets. In fact, the tablet market has troubles of its own. IDC recently revised its 2015 forecast for tablet shipments, predicting a decline of 8% (compared to its original prediction of a 3.8% fall).

IDC noted that that the commercial market had been "very reluctant to migrate toward tablets", largely due to an unclear value proposition. While 2-in-1 tablets, a category which includes Microsoft's Surface product line and the iPad Pro, would find opportunities within the commercial market, IDC said IT buyers had been "slow to move toward mobile devices beyond smartphones and do not yet see tablets or 2-in-1s as a true PC replacement".

Nevertheless, it was upbeat over the prospects for 2-in-1s. Jean Philippe Bouchard, research director for Tablets at IDC argued that once IT departments had evaluated the Surface Pro and iPad Pro, "they will start migrating some of their portable PC and tablet installed base towards 2-in-1s, which will accelerate the adoption of the form factor".

The message from IDC was more nuanced than Cook's appeared to be but they were more or less on the same page in terms of explaining why larger tablets might be successful. While IDC said IT buyers did not yet see them as a true PC replacement, Cook argued that once they started to use the devices, they would be quickly convinced of their effectiveness as a PC replacement.

It's a difference of emphasis to some extent but the crucial point is that IT vendors like Microsoft and Apple need to get their devices into the hands of commercial users if they are to have any prospect of becoming viable PC replacements.

Even so, I find it difficult to see the cause for Cook's bullishness. Also, as the head of a company which now holds fourth place in the top five global PC makers, I'm not sure he should be making such unequivocal comments about the merits of the iPad Pro compared to PCs.

In the same week, Cook made a little joke in a speech at Trinity College, Dublin when he revealed how honoured he was to be in a city where some of the most enduring literary works of all time were produced. "They were produced by hand and by typewriter," Cook said. "Imagine what they could have done with an iPad."

Try as I might to imagine it, I'm far from reassured that having access to an iPad would have radically improved the works of WB Yeats, James Joyce, Samuel Beckett and Brendan Behan. Would Yeats, for example, have been able to find the meditative contemplation required to write Long-Legged Fly with its refrain,

"Like a long-legged fly upon the stream
His mind moves upon silence"

on an iPad with his thoughts incessantly interrupted by an alert for an incoming email, text message or notification? Would he be able to resist playing another level of Candy Crush or looking at just one more funny cat video on Facebook? How would anyone using an iPad be able to understand a mind able to move upon silence?

A more apposite (and well-worn) Yeats couplet to describe the effect of modern IT devices and their constant distraction and interruptions on human culture and thought process can probably be found in The Second Coming:

"Things fall apart; the centre cannot hold;
Mere anarchy is loosed upon the world."

I suspect there are quite a few IT buyers and channel partners out there murmuring: "My sentiments, exactly."

Download this free guide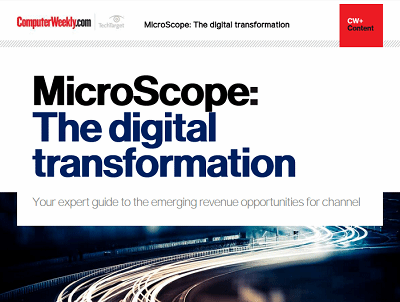 Emerging revenue opportunities for the channel with digital transformation
Digital transformation is a phrase that means many things to many people but for it to have any real relevance to the channel then it needs to mean a chance to make money. This guide will share some of the recent developments in the channel and the latest thoughts about the issue.
Read more on Business Tablets