Evoswitch energy managers for the data centre
Evoswitch has a new plan to help you shed tons of ugly CO2 and firm up your bottom line. Evoswitch claims it can design a carbon neutral data centre. (Uh-oh, that's a bad sign. An over ambitious claim in the very first sentence.)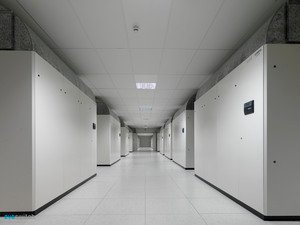 Evoswitch has a new plan to help you shed tons of ugly CO2 and firm up your bottom line.
Evoswitch claims it can design a carbon neutral data centre. (Uh-oh, that's a bad sign. An over ambitious claim in the very first sentence.)
It claims it can achieve this through the following:
Cold air corridors, that allow cold air to be drawn to the front of the sealed cabinets as warm air is efficiently extracted at the back. By separating the hot and cold air flows their system proves more energy-efficient and eliminates a major source of wasted energy, as equipment runs at a constant optimal temperature.
Free cooling, using outside air to keep the data centre cool.
High-frequency lighting with sensors that detect when people are not around.
100 per cent sustainable green energy supplied by the DELTA company (this is how it claims to be carbon neutral)
We asked: how does it work, how much does it cost and how much it saves. They didn't really answer, skirting the issue with "an energy monitor on all servers means you pay for what you use" and "The organisation looks to achieve energy savings of around 80 percent compared with traditional datacentres."
EvoSwitch's PUE was 1.5 in 2009, in 2010 it was nearer to 1.4 and, with its new 5000 m2 data hall set to launch early 2011, it claims its average PUE will 1.2, the say.
IT In Context says: You never lose weight if you keep weighing yourself.