BETT wrestles with BYOD in action
One of the major challenges facing schools is to deal with the rising number of pupils that want to use hardware in a more flexible way
If you want to go and see a vertical market that is really facing up to the BYOD trend in the here and now and not just as a theoretical exercise then the education space is the place to go.
Although bring your own device has already dominated acres of newsprint and air time there are still many that believe that in reality only a relatively minor proportion of the customer base has embraced it. Education is a market where BYOD has crept up on them just like everyone else but unlike some corporates opting for a lock-down is not going to work.
Along with the usual heavy presence of interactive whiteboards and specific software to help with numeracy and literacy the other couple of themes at the education show in Excel, BETT, where BYOD and child safety.
On the BYOD front it is not just a case of schools having invested heavily in iPads but the expectation from children that they could now start bringing in their own tablets. One school teacher talked of how only a relatively short time ago the attitude towards someone bringing in something like a tablet was for it to be confiscated, locked up and returned with a ticking off at the end of the school day. There was an element of that being for their own safety as the school tried to stop theft but it was also to prevent the pupil from wasting time and doing their own thing.
But now most schools are using tablets and pupils that saw their parents get a 'family' Nexus or hybrid for Christmas are also bringing those in to learn with.
What does that all mean for the channel? Well it's not just a chance to talk about the hardware but perhaps more importantly there are numerous conversations to be had about infrastructure. What is going to underpin this wireless school revolution needs to be able to actually work. Plus with some schools looking to promote their community involvement there are also pressures there to provide wi-fi to a much wider audience.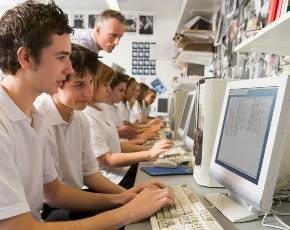 For any of that to work there needs to be decent infrastructure, very good security and a plan for the future because as the last couple of years have shown this is a market evolving quickly.
As well as security of data and child records there also needs to be more done to deliver child safety. There is a fine line between locking down everything and giving the pupils the flexibility to explore and learn at their own pace.
Walking through the stands at Excel and catching overheard conversations from teachers it does sound as if most are only too aware of the challenge that they and IT in education faces.
Making sure everyone is able to learn in a flexible and safe way is going to provide many resellers with an income and if it is delivered in the right way it should also provide our children, the next generation, with a chance to leave school armed with the right skills to take on into further education and the workplace.
So next time someone asks you if BYOD is all hype and to give them a current example just point them in the direction of your local primary and secondary school .