Enterprise security threatened by galloping consumption
Here's the Advent Vega, one of the many tablets which will be consumed this Xmas. Saucy little number isn't it? But what happens when everyone starts using these gadgets at work? The Binatone HomeSurf 8 Touch Tablet with its exceptional viewing pleasure and stereos speakers is going to be a big sell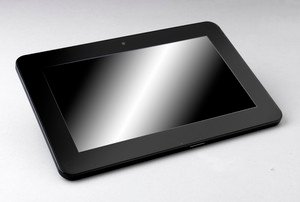 Here's the Advent Vega, one of the many tablets which will be consumed this Xmas. Saucy little number isn't it? But what happens when everyone starts using these gadgets at work?
The Binatone HomeSurf 8 Touch Tablet with its exceptional viewing pleasure and stereos speakers is going to be a big seller this Xmas as it's only £180.
For the same price you can get an Android 2.1 too, such as the Disgo Tablet 6000. It's got Wi-Fi and Flash that make it a great tool for searching YouTube, FaceBook, and Twitter.
And a fantastic tool for undermining your company's security.
ViewSonic's new 10 incher with its whopping 16GB in storage and a gigabyte of memory will please a lot of people too. But not the security managers.
And let's not forget the flash enabled tablet the Advent Vega (£249.99) which has a Gigahertz of processing power. That's enough computing power to put a man on the moon! Its battery is so strong it can undermine your security for ten hours between charges!
We haven't seen this sort of threat to security since the PC became poularised. Speaking of which, Dell caters for 'on-the-go' entertainment (Dell's phrase) with a Streak, which is 5 inches of gorilla glass touchscreen giving you access to 100, 000 apps. The Samsung Galaxy is another device that will trouble the enterprise security manager too.
Mike Welbrock, Orange's head of data, says you can't crack down on people using these devices. He should know, if anyone. "It will be counter productive to stifle people at work. It helps if you send out automated reminders if they look like they are doing something inappropriate," he said. "you know the type of thing - are you sure you want to email that spreadsheet?"
Nick Lowe, Check Point's head of sales, says security need to do more to communicate to staff about their responsibilities. "Secuirty is perceived as a blocking function. It should be seen an an enabler."
David Ellis, Computerlinks' head of technology, says the consumerisation of technology is polarising the channel. "There are those who want to sell a black box and keep the whole issue of security a mystery. And there are those who concentrate on offering a service that caters for openness and workability," says Ellis. This new breed of security service provider is being created by the opportunities created by cloud computing.
"We're going to see a lot of consolidation in the security industry," says Bob Tarzey, principal analyst at Quocirca, "mobile management will be a key area."
MicroScope+
Content
Find more MicroScope+ content and other member only offers, here.