You, cloud salesman, are a CAD
Resellers who try to lead SMEs into a virtual world of pain have created a new genre of product – Cloud-as-a-Disservice (CAD), says Nick Booth
A new 1&1 TV ad aims to educate SMEs about the latest necessary elements needed in 2013 for an SME website to succeed. It lists the usual business imperatives that SMEs can't ignore - social media, search engine optimisation and web applications – all that stuff.
Got that? So if you're a dentist, say, it's no longer enough to keep up with managing your staff and familiarising yourself with everything that the General Dental Council and the British Dental Association are throwing at you, all the while keeping up with new developments on dental technology and occlusion techniques.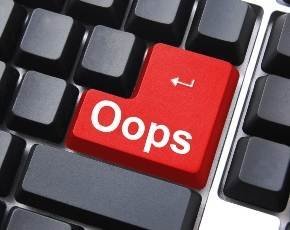 No, silly, you need an education, from an IT services vendor, about becoming a global brand. So you'd better start listening to what the teachers tell you about Pinterest, Google +, Twitter, YouTube, Bottletop, Yardbird, Kitten, PurpleTooth, BlueFin and LinkedIn* (top tip: if there's any bridgework you're particularly proud of, it only takes a minute to snap a digital picture on your Samsung Galaxy or iPhone, and that image can be Instagrammed in minutes to all your new followers in China).
And don't forget to blog about it too.
When you've done all that, then you can start thinking about all the patients that are getting restless in reception.
It's a wonder, given all the bum advice that's forced on them, that SMEs ever buy any technology at all.
Now these poor enterprises are being told to use cloud services by 'IT experts' who know all about leveragising the zeitgeist of the new paradigm. Does that sound smellier than a freshly pulled tooth? You might think that journalists have a bad reputation, but according to a study from Six Degrees Group, technology firms are even less believable! The focus group it quizzed said tech firms are twice as bad as politicians or bankers and five times worse than lawyers for using waffle and jargon to confuse us.
They're completely puzzled by the concept of the Cloud computer. In fact, so is at least half the IT industry. One fifth of office managers think that Platform-as-a-Service is a new philosophy for railway management, according to the study. I can't wait for the full report to come out next week! Apparently, 15% thought cloud computing was a new free internet service.
Could this be because - like banking products – cloud services have been mis-sold? Ash Patel, EMEA cloud business development manager for Insight, says the industry must protect its integrity by clarifying where and when companies should be sell anything 'as-a-service'.
A lot of cloud services resellers need to be more aware of their clients' compliance processes and security standards, he says. "What internal policies will these types of services break? Very few generic commercial storage offerings are suitable straight out of the box," says Patel.
"Financial and private data must adhere to standards and safety regulations that are set by governed bodies. Commercial offerings do not take these into account for businesses," he says. So the channel, in this case, could be offering the Cloud-as-a-Disservice (CAD) to the SME.
Karl Mendez, CEO at CWCS, despairs at the lack of authenticity offered to SMEs by some cloud backup services.
"Even if you want to add more security, it's not always possible. You don't always know the physical location of the servers or where your data is being held. It's not always clear who owns the data once you've transferred it to the storage service." Worse still, the SME's precious data could be spirited away into some kind of laboratory in the ethersphere and experimented on by evil marketing scientists. "You're not sure how often your data is backed up. Your data will probably be used for research," says Mendez.
Many SMEs don't really want to go global, says Alex Rabbetts, MD at MigSolv, because it can be more trouble than it's worth. If you put your data in cloud storage, for example, you're not discovering new vistas of opportunity, you're opening Pandora's box. "Data is typically located in the US which means data can be used by the provider for commercial purposes and is subject to the Patriot Act," says Rabetts. "Often the data transfer is expensive and adds an additional charge to the storage expense making it less attractive."
The industry needs a new, more supportive and understanding way to talk to SMEs, according to Will Rowley, cloud broker evangelist at Cloud Direct. They should stop 'educating' the clients, and try counselling. Counselling's a doddle. All you have to do is ask people questions and listen and the client will gradually, by unravelling their emotions, work out their own solution. If you don't believe me look it up on Bing.
"Services like Dropbox or iCloud are alright for consumer use but SMBs [need to be able to] rely on the service support from their suppliers. The premium they pay isn't for the day-to-day operation of the solution, it's the peace of mind if something goes wrong," says Rowley, "They want to know they can get on the phone to a specialist."
Got that? The key phase there, when talking about dealing with SMEs, is get on the phone. The thing about an SME is that you can phone them, go into their office or meet them in the pub. Tweeting's for losers!