When I think about cloud, I think about dirt and the rule of 78
For dramatic effect, when presenting on stage to reseller audiences, I often open with the line, "When I think about Cloud, I think about dirt"; Dirt? Yes, piles of dirt, filling the same hole each month, writes Jason Beal.
For dramatic effect, when presenting on stage to reseller audiences, I often open with the line, "When I think about Cloud, I think about Dirt." Dirt? Yes, piles of dirt, filling the same hole each month.

Download this free guide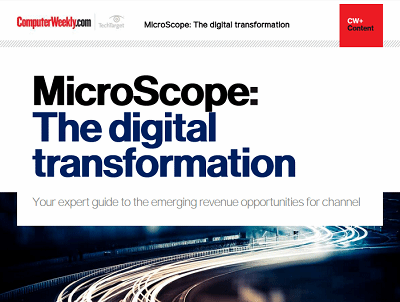 Emerging revenue opportunities for the channel with digital transformation
Digital transformation is a phrase that means many things to many people but for it to have any real relevance to the channel then it needs to mean a chance to make money. This guide will share some of the recent developments in the channel and the latest thoughts about the issue.
By submitting your personal information, you agree that TechTarget and its partners may contact you regarding relevant content, products and special offers.
You also agree that your personal information may be transferred and processed in the United States, and that you have read and agree to the Terms of Use and the Privacy Policy.
It was a mentor of mine who started to champion to his company the benefits of building a managed services and Cloud services practice. This wasn't a technology-driven motivation, but rather it was a financial one.
You see, each month we start at zero. Zero revenue on Day One of the moth, zero percent towards our quota goals, zero percent of our expenses covered. "We have to keep filling that same hole every month, scooping the same piles of dirt each month to fill that hole and hit our numbers," he'd say to his team, often, monthly, over and over.
Managed services and Cloud services value propositions for the end-user are based on business agility and innovation, the pay-as-you-go and pay-for-only-what-use economic advantages, IT budget predictability, and technology ubiquity and scalability among others.
Stop filling the hole
For the channel, managed services and Cloud services give IT resellers the opportunity to stop filling that same hole every month. They present a significant financial advantage: the opportunity to develop an monthly recurring revenue stream and a predictable future income.
Product sales, hardware or software, and most professional services give the channel one-time revenue and gross margin pops. Renewals of software licenses and hardware warranties do present some degree of future revenue opportunities and repeat business. However, by and large, the IT channel has not developed a recurring revenue and profit model.
By transforming business models towards managed services and Cloud services, the IT reseller community has the opportunity to establish an 'annuities' model and to start growing Monthly Recurring Revenue streams (MRR).
Shifting from sales of products and one-time services to selling monthly service contracts, whether fixed fee or utility-based, creates this annuity model. Annuities, oh beautiful annuities, and the magic of the Rule of 78.
My co-workers know that the Rule of 78 is near and dear to my heart. They are undoubtedly tired of my fascination with and teachings on the Rule of 78. I talk, nay preach, about it endlessly inside the company and out on the road. It's this Rule of 78 which demonstrates the benefits of the annuities-model and the incredible financial advantages it can bring to the reseller community.
Monthly Recurring Revenue
The goal of an IT reseller moving to managed services and Cloud services is to grow the Monthly Recurring Revenue base to a point that it covers the company's Sales, General, and Administrative (SG&A) expenses.
The annuity-base entering a month becomes larger than the basic monthly expenses. I know hundreds of IT resellers across the globe who have now met this threshold. Imagine the comfort and security you would feel as a business owner or executive when you know that you can cover all your monthly expenses even if your sales team did not sell one additional pound in the month.
Imagine being able to share this with your teammates and give them the assurance that your company is this secure financially. Imagine how this would improve your relationship with your bank and what this would mean for current or future investors. Quite a relief, quite a powerful position, and quite a difference to your company operations compared to starting every month again at zero.
The IT reseller community now has the opportunity to start selling IT-as-a-Service contracts to build their Monthly Recurring Revenue base. This brings a lot of new advantages: predictable revenue, increased company valuation, future up-sell and cross-sell opportunities, increased customers 'stickiness,' and a degree of financial security. Most importantly, the transition to managed services and Cloud services allows all of us in the channel to stop filling the same hole every month with the same shovels full of dirt.
---
Jason Beal is executive director, Advanced Solutions Division, Europe at Ingram Micro
Read more on Cloud Platforms